When I joined this fun group of bloggers to share ideas on outdoor decorating, I knew I wanted to talk about how to make your outdoor space cozy. Cozy like a living room, but outdoors on the porch.
Our summers in Connecticut by the shore are so beautiful, but they don't last forever like in California. When we entertain in the summer, it's always outdoors. It may be in the backyard, the beach, a park, or the steps of The Met for a picnic, but it's always outside. Recently we hosted a small dinner in our garden; you can read that post here!
An idea I've been waiting to work on was taking the indoors out for an evening and making the porch feel extra cozy. What does that mean?
Here's what we are going to need to make the porch extra cozy
We want the porch to feel like an outdoor living room so we will need things like an indoor living room.
House plants – (not just outdoor plants like boxwood, but houseplants in baskets and planters like indoors.
Textiles – Indoors, we have fabrics on furniture, pillows, and throws. We will need to bring some outdoor furniture to mix with the existing furniture.
Lighting – We may need a lamp or two from inside to make it extra cozy.
Mirrors – A mirror for a little candlelight reflection
Rugs – Outdoor, plus maybe add one from indoors
Chairs – We use our favorite Tucker chairs from Serena & Lily on the porch. These chairs are perfect for any style and are quite comfortable.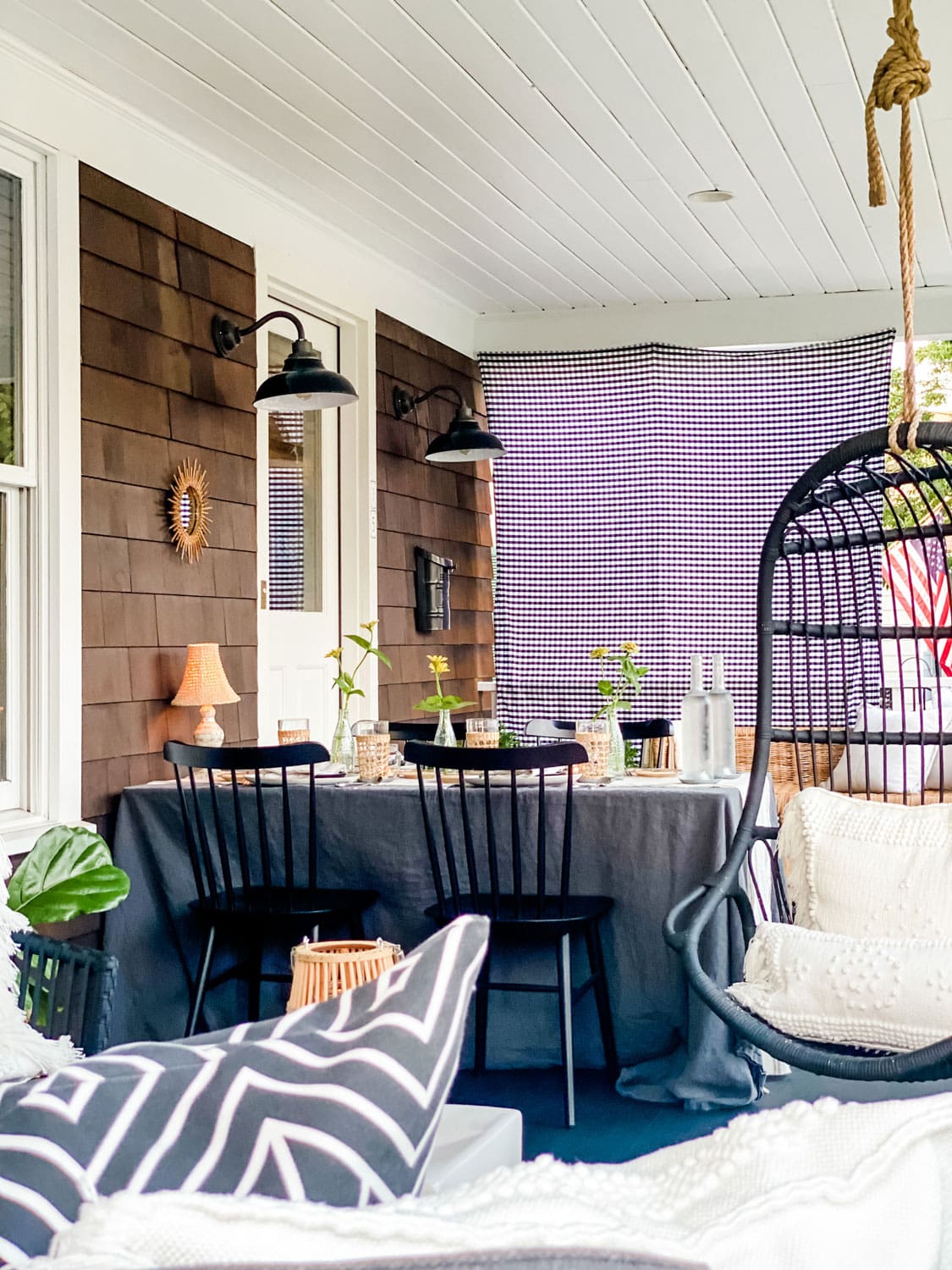 Add outdoor curtains for a little extra privacy.
Since our porch is the front porch, and we live in a beach community where the homes are close together, we added a gingham sheet on each end of the porch for a little extra privacy from our neighbors. The idea is not to close the porch or block the view but to shield it for more privacy.
I love the idea of adding a bar and having actual curtains that can be easily moved into position for privacy and sun protection. The sheets were a temporary solution just for the evening.
Set the table for outdoor decorating
No melamine here; it's like we are indoors, but not. So we will use stoneware and glassware just like indoors. We've stuck to the black, white, and natural color theme and used a linen sheet from Garnet Hill in black.
Use indoor chairs
Leave the garden chairs in the garden. Bring out the dining room chairs. It makes it feel more like a living room or dining room if we

Coastal views
As the sun sets, we make sure everyone has a small bottle of All-Natural Insect repellent
You can read more about the essential oils I use for my insect repellent in this post! It really works!
Blogger's Best Summer Series – Outdoor Decorating