How to Make mini pumpkin planters with real pumpkins is something I've been thinking about for a while now because this pin is my most popular pin on Pinterest! The image really resonated with people. It's not like most pumpkin planters that use succulents, but just a few simple fall flowers that you can buy or you may have them in your yard. I went on a quick walk in my neighborhood to find the yellow flower that's probably a weed!
Use these mini pumpkin planters down the table or at each place setting. They could easily be made into place cards and then each guest can take it home as a little parting gift! Your table decor turns into a little gift!
Here is what you need to make three mini pumpkin planters with fall flowers
3 mini pumpkins
9 tiny mum flowers
3 -6 Aster flowers
Some sort of trailing flower (I found mine on a walk in my neighborhood)
Any other kind of flower that you like
Tools needed to make mini pumpkin planters
A power drill with a 1 1/8″ drill bit
A spoon
a damp cloth
Here's how to make these adorable planters inspired by Pinterest
Choose pumpkins without a stem or remove it by cutting as close to the stem as possible
Drill into the pupkin to create the vessel to hold a little water.
Clean out the seeds and flesh just as you would when carving a regualr size pumpkin.
Clean pumpkin with a damp cloth
Fill the vessel with a little water
arrange the short stemmed flowers in the pumpkin
And that's it! They will stay fresh for several days if kept out of direct sun and heat
Sugar Pumpkin with Evergreens
We also made a mini pumpkin planter using a sugar pumpkin and a few evergreen clippings from the yard. I love the way it turned out. We have evergreens, mini Japanese Maple, and boxwoods in all of our planters for fall and winter so it was easy to find an assortment of evergreens.
You may also like this post for winter/holiday that also uses evergreen clippings!
Lots more DIY Pumpkin ideas from 12 other bloggers!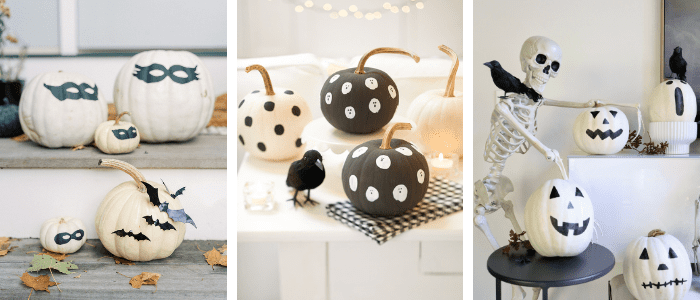 Painted Mask Pumpkins || Finding Lovely
Ghost Painted Pumpkins For Kids || Happy Happy Nester
No-Carve Pumpkin Ideas || My Sweet Savannah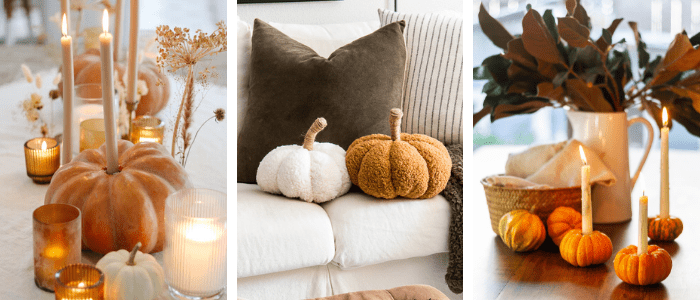 Heirloom Pumpkin Candle Holders || Modern Glam
Cozy Pumpkin Pillows || Inspiration For Moms
DIY Pumpkin Candle Holders || Zevy Joy

How to Make Easy DIY Floral Pumpkin Vase || The Design Twins
DIY Boho Chic Pumpkin Decor from Dollar Store Pumpkins || The DIY Mommy
Light Up Pumpkin Farmhouse Wreath || Tatertots & Jello
DIY Faux Clay Pumpkins || The Happy Housie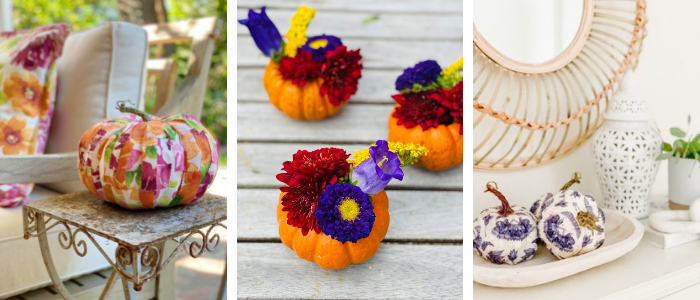 Easy Fall Cinderella Pumpkin Crafts // My 100 Year Old Home
How To Make Pumpkin Planters || Most Lovely Things
Blue and White DIY Pumpkins || Life Is Better At Home
Title:
How to Make mini pumpkin planters with real pumpkins
Keywords:
How to Make mini pumpkin planters with real pumpkins
Last Updated:
October 6, 2021