How to make easy painted candles with just a few supplies. They are fun to make with a few friends or give as gifts. The cost for a pair is around $3. Can you think of a better gift for $3?
What supplies will I need to make painted candles?
Here are a few tips on painting your candles
Prepare your pens before starting. This takes a few minutes, but you'll want to get each pen started before you begin creating your designs on paper, then on candles.
Once your pens are ready, practice some designs on paper before starting to paint on candles.
Wipe candles gently with a damp cloth and then dry them with a lint-free cloth.
When making the designs on the candles, work your way around and then down, ensuring not to touch the paint until it dries.
Have candle holders or cups ready to place painted candles in so they can dry without the paint getting smudged. It only takes a few minutes to dry, depending on how much paint is applied.
I keep the designs very simple, using dots & dashes.
I know my limitations when painting on a round or cylindrical candle. I keep it very simple and make a combination of dots and dashes.
Are painted candles safe to burn?
Yes, I think so. The paint is water-based, but never leave a burning candle unattended. This article talked more about that.
How to wrap your candles for gifts
I like to use what I have to wrap gifts, and wrapping up these candles for my friends is no exception. I cut 3″ strips of kraft paper and wrapped them around a pair of candles. I then used a frayed canvas ribbon and knotted it around the kraft paper.
Add a simple tag tied up with twine or raffia. You could also add a clay tag. We added a little tag stamped with LOVE on Madeline's candles for her friends.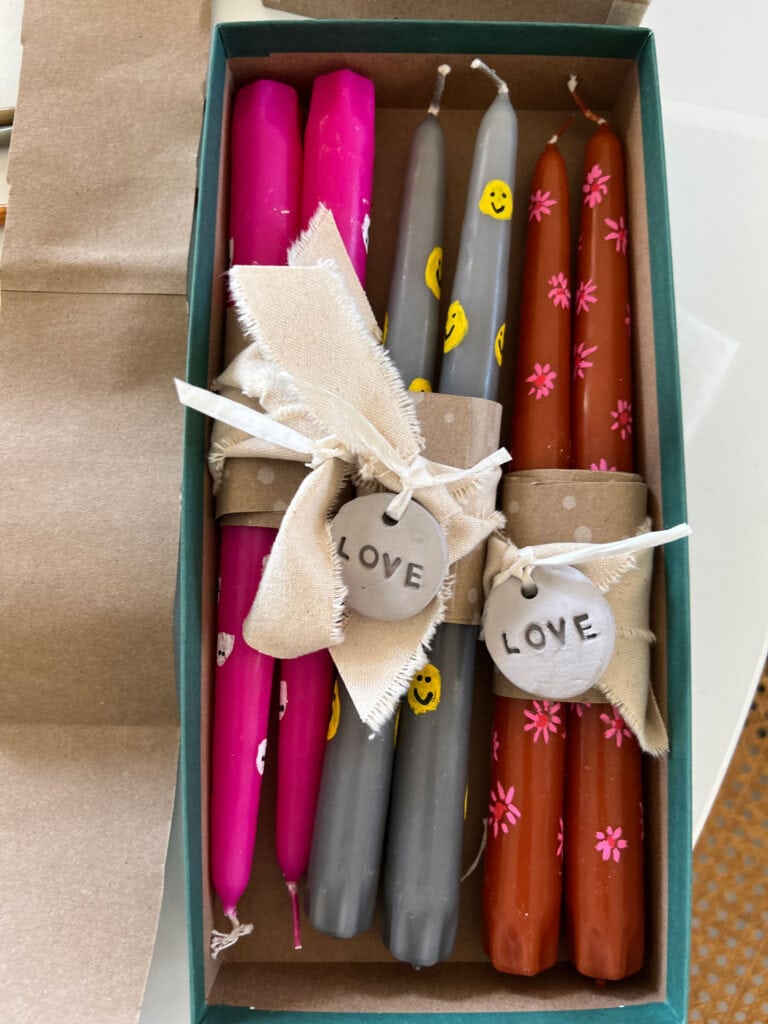 I love giving a pair of candles as a gift because even if the color or design is not perfect for the recipient, it's okay. The candles are meant to be burned and enjoyed over an evening. It's like a bottle of wine; enjoy it! Drink the wine, burn the candles!
Pin for later!
Shop for Supplies