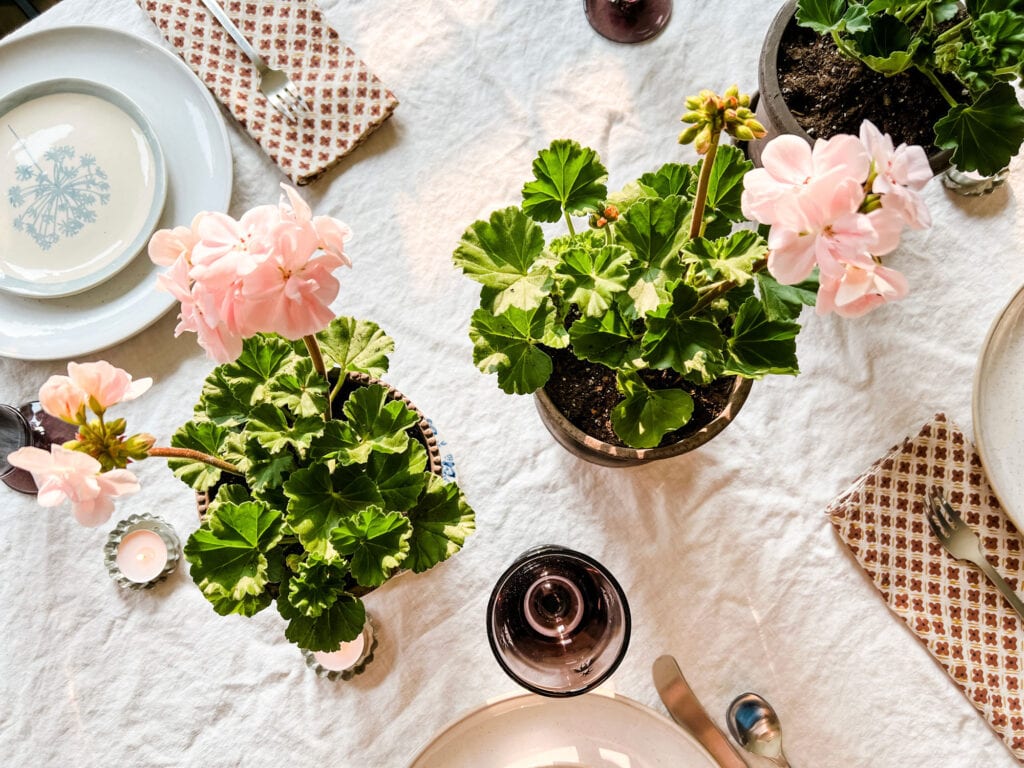 Before discussing how to get the cottage look, happy Mother's Day to all the moms, mother figures, and the moms in heaven.
I'm with my mom today in Denver, and as nice as that is, of course, I miss my kids like crazy!
As I do every Sunday, I am joining my dear friends Cindy and Mary Ann. I'm not sure how long we've been doing these Sunday posts together, but it keeps us connected. It's like our weekly chat. With all of us living in three different states, it keeps us connected as if we were just down the road from one another. We help each other, support each other and love each other.
So thank you for stopping by and reading our posts each week so that we can be connected to you, our wonderful and supportive readers! We can't thank you enough!
1. Janet's Newly Painted White Cottage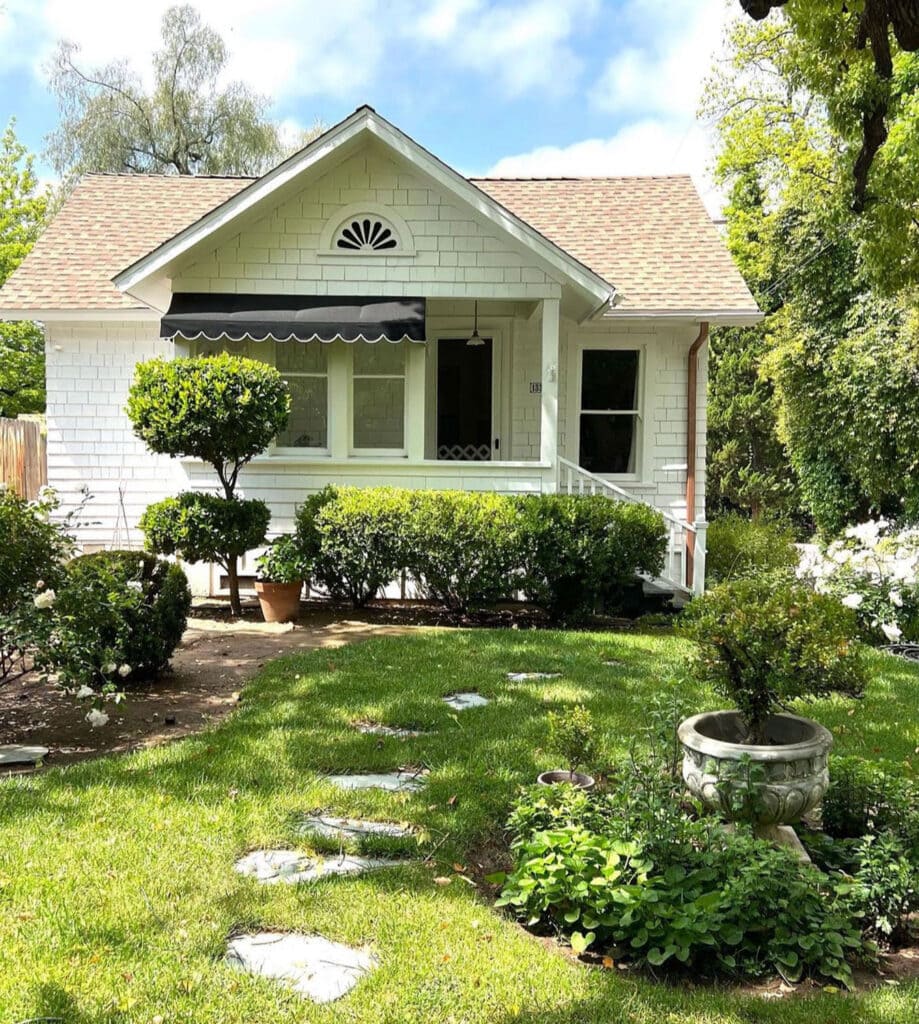 Janet painted her cottage white! Many of you probably follow The Gardeners Cottage and remember when it was red, then black, and now it's white, and it just seems right. You can mainly find Janet on Instagram these days! @mrskorff
What is it about a cottage painted white? Artist Patricia van Essche illustrated Janet's cottage white years ago. And at that time, I believe it was red, and Janet debated painting it dark or white. It was dark for several years, and she posted a new photo this week! And I think it's safe to say, with the amount of "shares" on social media I saw, that everyone loves it!
2. Scalloped Things I Love…Perfect for Any Cottage
I love this little lamp from Serena & Lily. Perfect for a bedside table or the kitchen counter, as shown in the kitchen of Nesting with Grace. It comes in five gorgeous colors with a raffia wave shade. Raffia shades are my favorite for diffusing warm and cozy light.
Also from Serena & Lily, A wicker tray with a scalloped edge. It comes in two sizes. Perfect on a bookshelf, table, or just about anywhere in a cottage. Wicker is a must for the cottage look. This wicker scalloped pendant lamp is also quite perfect! Very 1970s.

I have been a fan of this pottery for quite some time and only recently added to my collection. I always have to stop and look at it when I visit my local Terrain store in Westport. I love to mix and match the Scallop Pots with the Palace and Dotted Pots.

Rugs with a Scallop Edge
I love this one from Pottery Barn called Pure Salt Parikia Handwoven Jute Rug and this one from Serena & Lily that comes in six sizes.

3. Geraniums Indoors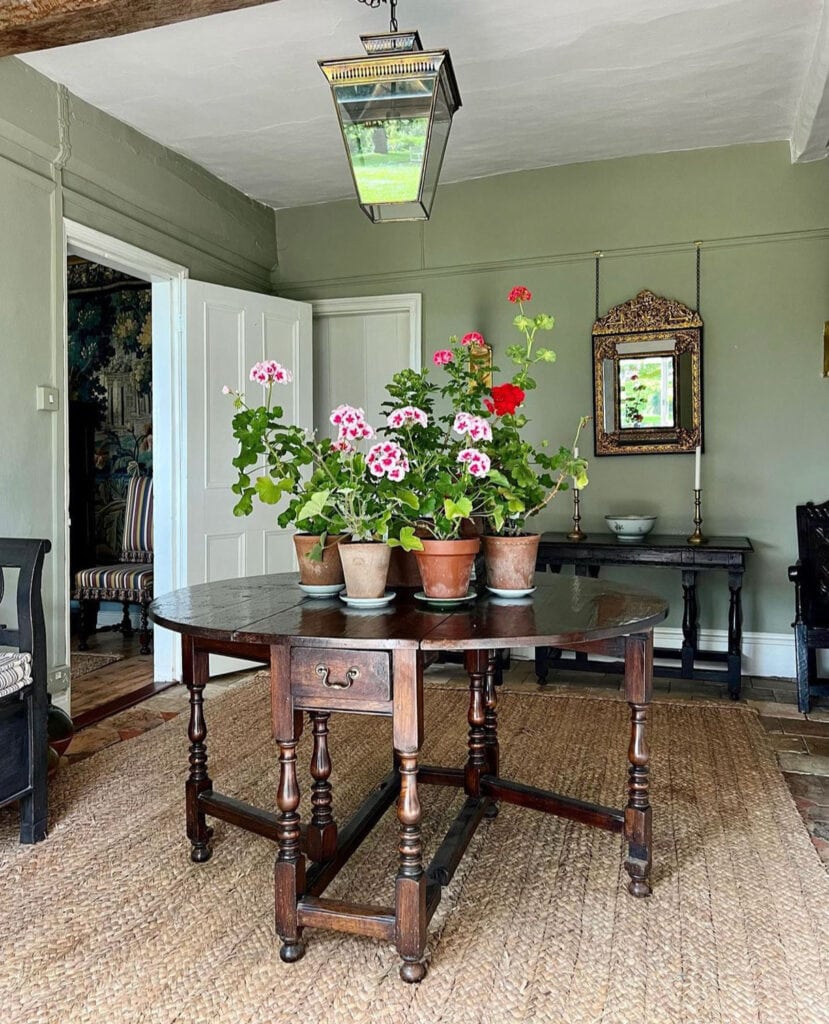 I see so many cottages on Instagram (often in the Cotswolds) with geraniums in pots indoors. It's like the perfect cottage look.
4. Collected Over Time Gallery Walls
Rachel Waller @inhersixties
5. Incandescent Light
Nothing replaces the warmth of a good incandescent light bulb. I buy mine at Rejuvenation or Schoolhouse. A must for any proper cottage is a warm glow from the outside looking in! And then, of course, inside the cottage, the lighting feels cozy, with soft lighting in dark corners.
Think of the 2006 movie The Holiday. Rose Cottage on a snowy night as she arrives home after dark and the glow inside is so warm.
6. Skirted Sinks and Cabinets
Rachel Waller – @inhersixties
We cannot forget to mention skirted sinks and cabinets for the cottage look. There's nothing that says cottage more than a skirted sink! I have one in my laundry room and one in my dining room on the coffee bar. It adds that the cottage looks instantly. I saw this photo from Rachel Waller as well as the gorgeous gallery wall!
7. Wicker is a must for the cottage look
Lamps, lamp shades, tables, trays…wicker in small doses is a must for the cottage look. It adds texture and warmth if it's a natural rattan color.
That's all I'm going to say about how to get the cottage look. Let's see what Mary Ann and Cindy found this week.
Pin for Later