Have you tried a golden latte?  I hadn't until today, but it's delicious.  It was the perfect mid-afternoon treat while looking at the new Diane Keaton book, The House that Pinterest Built.  It's the most beautiful book and filled with so much inspiration.  Annnnnyway, back to the golden lattes.  There's so much information about anti-inflammatory foods we should all be eating and almost every search lists turmeric as number one, like this article.  I did have to search a few markets for fresh turmeric.  I finally found it at an Indian market.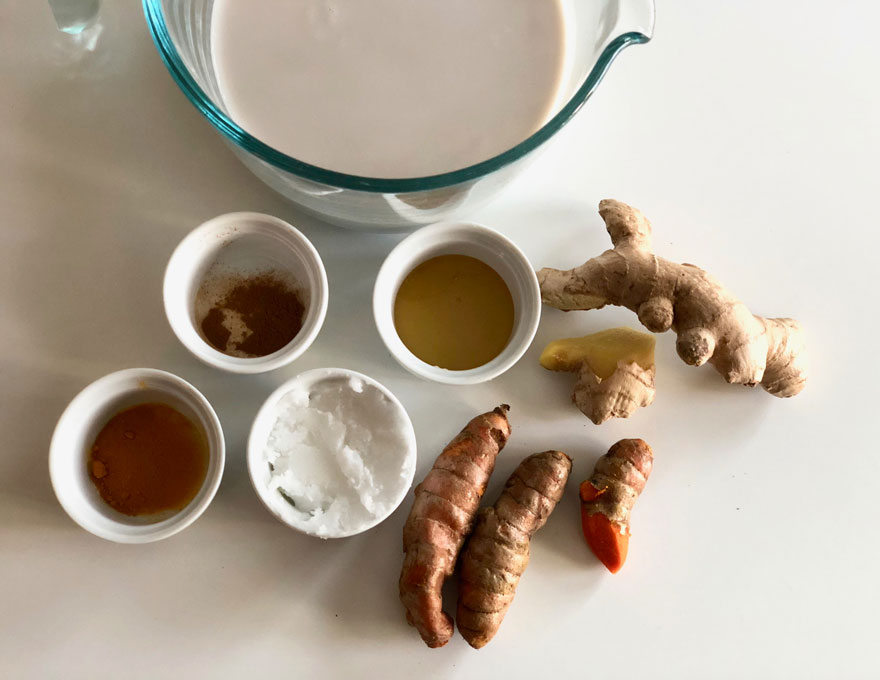 Golden Latte with Fresh Turmeric and Ginger
recipe adapted from Martha Stewart
Print
Golden Latte
Prep Time:

15 minutes

Cook Time:

5 minutes

Total Time:

20 minutes

Yield:

2 cup

s

1

x
Scale
Ingredients
2 cup

s unsweetened almond milk

1 tablespoon

fresh ginger, peeled, thinly sliced and crushed

2 teaspoon

s coconut oil

1 tablespoon

fresh turmeric, peeled and thinly sliced

1/4 teaspoon

ground cinnamon

1 tablespoon

honey

1/2 teaspoon

ground dried turmeric for serving
Instructions
Heat the almond milk, fresh turmeric, ginger, coconut oil, cinnamon and honey in a small pot over medium heat just until it begins to simmer.  Reduce heat, cover and simmer five minutes. Remove from the heat, strain and discard the solids.  Whisk until frothy and pour into two cups. Serve with a dusting of ground turmeric.
A reader left this comment about Turmeric:
Hi Annie: A bit of Tumeric info you might find helpful – The body has a difficult time absorbing the nutritional benefits of Tumeric (curcumin). I believe it's termed low bioavailability. But lab studies show that the addition of black pepper (piperine) increases the absorbtion rate by A LOT. Less than an 1/8 teaspoon increases the absorbtion by over 2000%. So that's why a lot of recipes add a bit of pepper with the Tumeric. I don't know how that changes the flavor of the golden latte but it might be worth giving it a shot.
A Golden latte and a page from Diane Keaton's new book
Every page of this book is beautiful and inspiring.  Last year we bought a new home by the shore.  Our thinking was that we wanted to live by the water.  Now we are not at all sure if we want to move, but we do know that we can't wait to get started renovating the "The Little House by the Sound."  Currently we have renters and while we do we are gathering ideas from Pinterest, of course.  This is the board where we gather ideas for walls, doors, floors and all the details it takes to make a beautiful home.  I call it The Little House Inspired by Pinterest.

You might also like this post.
SaveSave
SaveSave
SaveSave
SaveSave
SaveSave
SaveSave
SaveSave
SaveSave