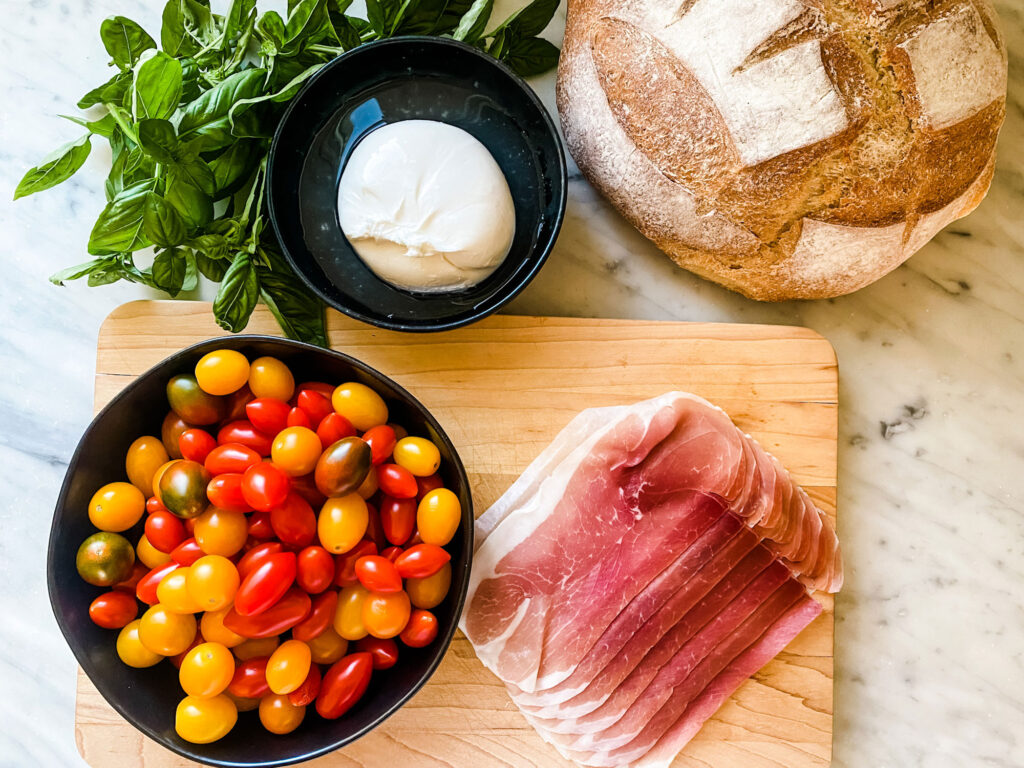 We love to make a burrata cheese board as a first course or as a fun summer dinner outdoors! The ultimate burrata cheese board is easy to make and just requires a little assembly to make it colorful and delicious. It's the perfect thing to put together for two or for a group! Today I am joined by a few friends that love to travel and we are all sharing our favorite appetizers inspired by our travels!
Burrata Cheese Board Serve Outdoors under the Hydrangea tree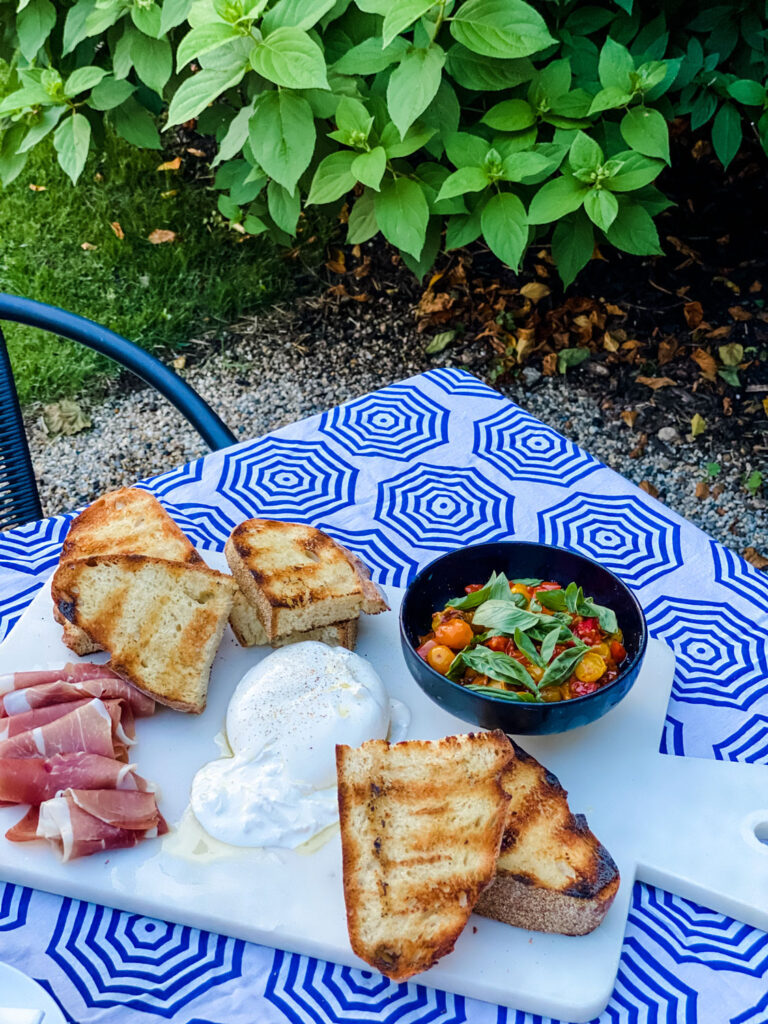 Borgo Scopeto Relais in Tuscany
For me, it's Italy today and specifically Tuscany. We've visited Tuscany several times and I am never not amazed by the colors of the Italian countryside. Driving around the hills of Tuscany is like being in a movie. We would set out for an adventure after a day at the pool and just see what we could find for dinner. It might be the place at the bottom of the hill from our hotel, or a little restaurant opens only in the summer set amongst the vines. Dinner almost always started with some kind of cheese board.
Read more about our favorite place to stay in this post and also this one.
What ingredients will I need to make the ultimate burrata cheese board?
Burrata, of course! It's the star of the show!
olive oil
tomatoes
basil
bread
meat like prosciutto
Print
burrata cheese board with roasted tomatoes
Author:
Prep Time:

10 minutes

Cook Time:

25 minutes

Total Time:

35 minutes

Yield:

4

-6

1

x
4 cups

cherry tomatoes (I like a mix of yellow and red)
olive oil
salt and pepper
red pepper flakes
fresh basil
Instructions
Preheat oven to 425º
Wash the tomatoes and leave them whole or cut them in half.
Prepare a lined baking sheet lined with foil.
Toss the tomatoes on the baking sheet with olive oil and toss with salt and pepper.
For a little heat, add some red pepper flakes and toss again.
Bake uncovered for 25 minutes.
Serve in a shallow bowl sprinkled with fresh basil.
Notes
I think it's easier to eat when the tomatoes are sliced in half. Imagine a greasy tomato sliding off someone's toast just as they were about to take a bite!
You can either chiffonade the fresh basil or I like to use the tiny leaves whole! I have tons of basil growing in the garden, so it's easy to do.
Keywords: roasted tomatoes, fresh tomatoes, cherry tomatoes
What is Burrata anyway?
You probably already know the answer to this, but I recently saw it on one of the Searcing for Italy episodes with Stanley Tucci, and naturally, it made me hungry for Burrata.
The word burrata means butter!
Burrata comes from the Italian word burro which translates to butter. Well no wonder we love Burrata! The outside is mozzarella and the creamy inside is the stracciatella. It's best consumed fresh, as in the day purchased.
Best place to buy burrata
When possible we buy at Murray's Cheese Shop in Greenwich Village. We always have luck with street parking in front of Father Demo Square and Murray's is about one block away! We keep a cooler in the car in the summer. Or we buy it at one of our favorite cheese shops on Arthur Avenue in the Bronx. It's also available at places like Whole Foods and even Trader Joe's. It won't be as fresh, but it's still good! That's if you don't have your own favorite Italian market!
What makes an easy Burrata Board the perfect summer appetizer?
A burrata board is the perfect summer appetizer, partly because it's easy, but it's also colorful and beautiful. I love to serve this any time of year, but especially in the summer when we have fresh basil growing in the garden and more tomatoes than we can possibly eat! It's the freshness of the ingredient that makes it seem summery. But it's a wonderful appetizer or dinner to serve anytime of year.
Please visit my friends to see what they have for appetizers inspired by travel!