You can find flea markets or brocantes in almost every city and town in France. However, there are two flea markets that stand out and would give you the best all-around experience. Whether looking for a one-of-a-kind piece of furniture or many small but memorable treasures, a visit to Lyon and Paris is the perfect combination.
Planning Your First Flea Market Trip to France?
Visiting the Paul Bert flea market is a true Parisian experience; many say it's the largest flea market in the world. Then we will visit a flea market in Lyon, France. Both are quite different but are equally wonderful experiences. If you love flea markets, treasure hunting, and immersing yourself in local culture, this post is for you!
Let's Start in Paris
Many people that go to Paris don't have the time to travel to other towns and cities, and that's okay; you will have a lovely experience at the largest flea market in Paris. Paul Bert is visited by 5,000 people every weekend! It's so large though, that you won't feel like it's too crowded. In fact, the people-watching is all part of the experience.
Paul Bert Serpette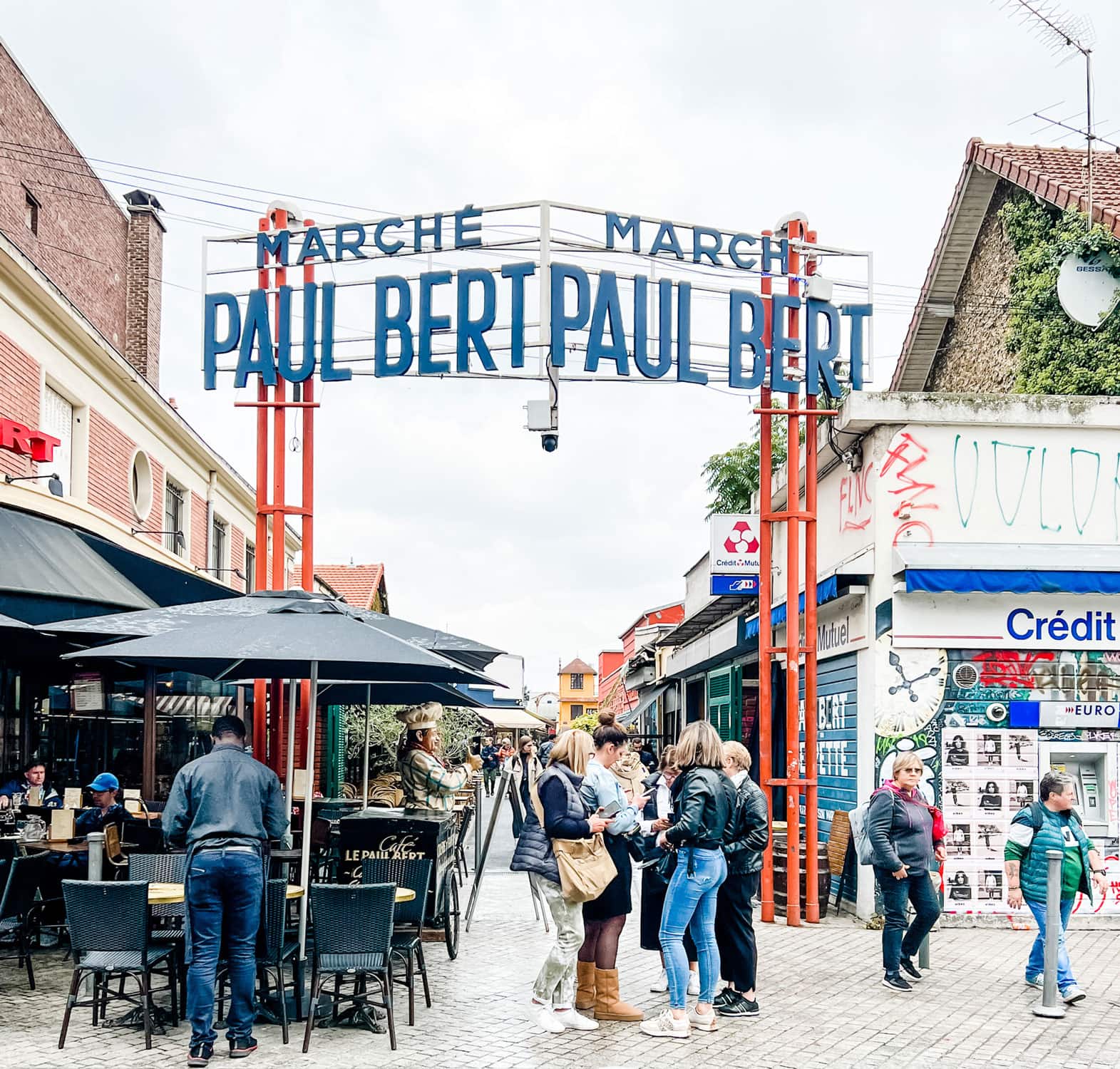 Paul Bert Serpette is located in Saint-Ouen-sur-Seine. It is a suburb of Paris, just north of Montmartre.
Paul Bert Serpette is accessible by taking the Metro – Metro stations: Porte de Clignancourt (Line 4) and Garibaldi (Line 13).
However, we used Uber while staying in this area. It's 15-20 minutes by car, and I think the charge ranged from about €15 to €20, depending on the time of day.
What You'll See
Everything from furniture, jewelry, art, lighting, dishes, linens, art, sculpture, vintage clothing, and just about anything else you can think of, you'll find it here!
Vintage Rattan, Mid-Century Stained Glass Art, and Parisian Café Tables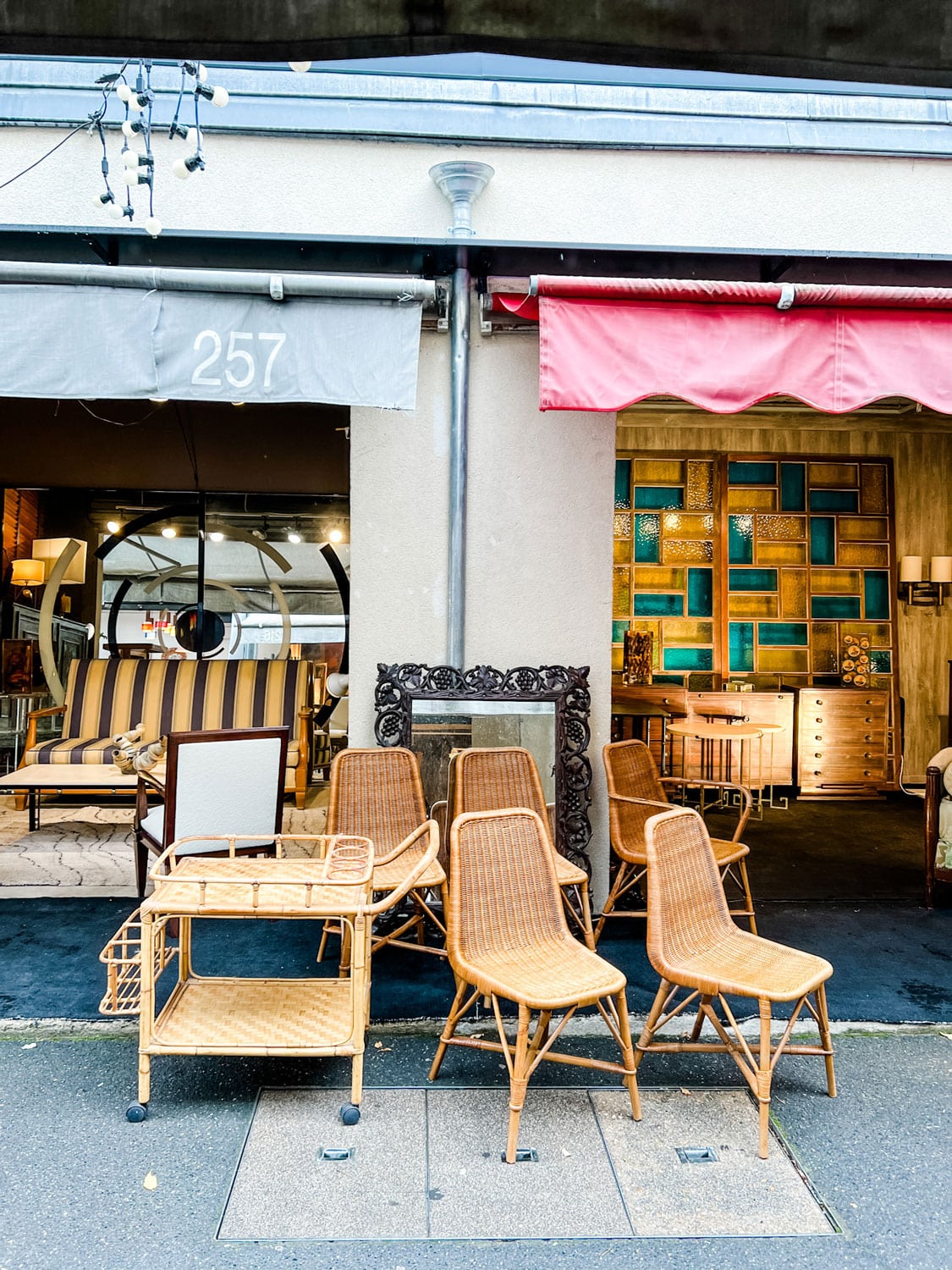 Vintage French Copper Molds, Frames, Mirrors, and Urns
From Modern to Traditional to Eclectic
Vintage Seltzer Bottles, Pitchers, Ashtrays, and Stacks of Dishes
A Blue French Chore Coat and Vintage Placecard Holders for Something Easy to Pack
A Pair of Vintage Eiffel Tower Lamps
Make Sure to Stop at the Café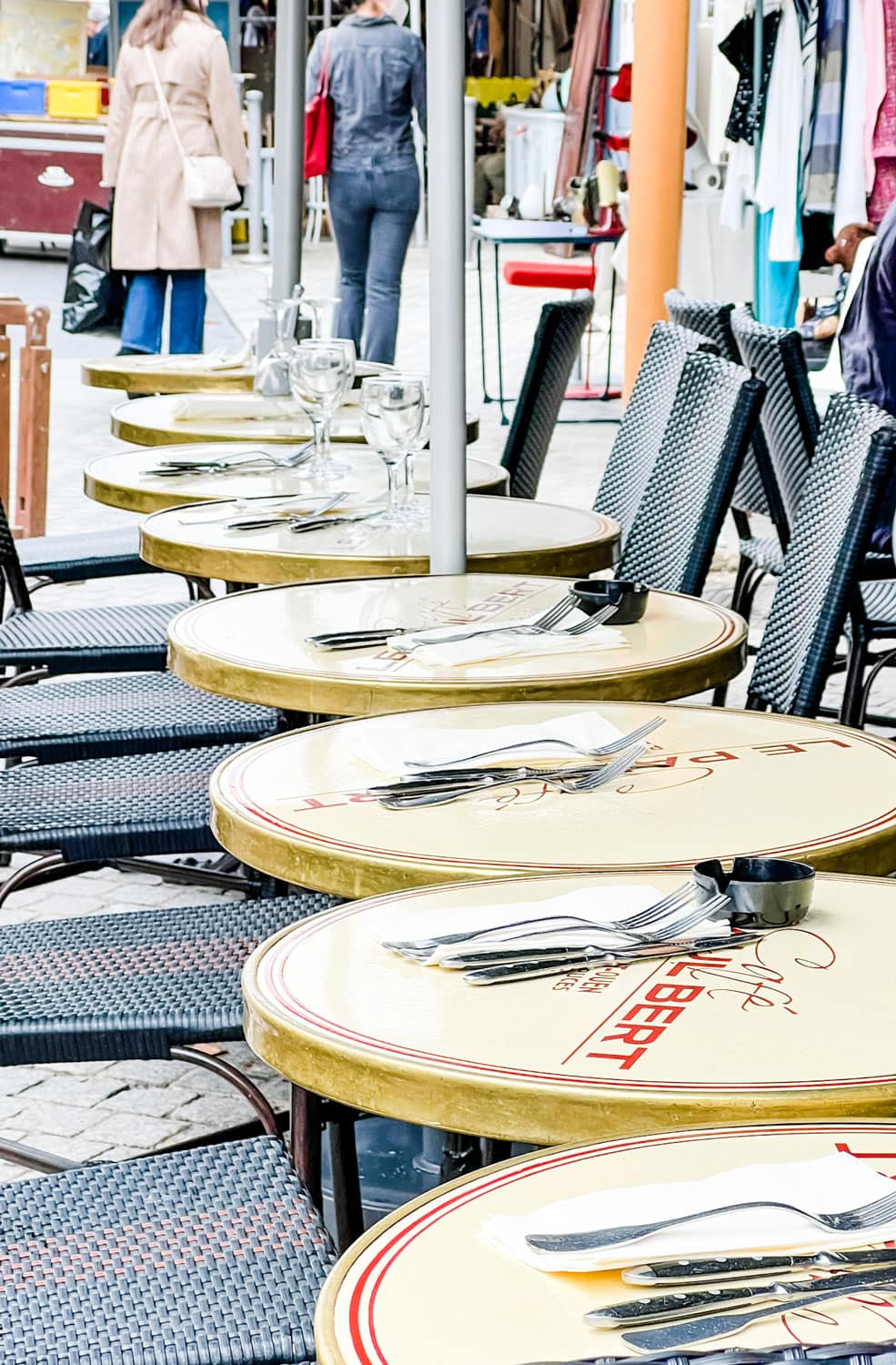 Chances are, when visiting Paul Bert, the largest flea market in Paris, you will need a little sustenance. You can have a meal or just a coffee or a glass of wine. I love how the French have a glass of wine at 10 o'clock in the morning.
Where to Stay When Visiting the Paul Bert Flea Market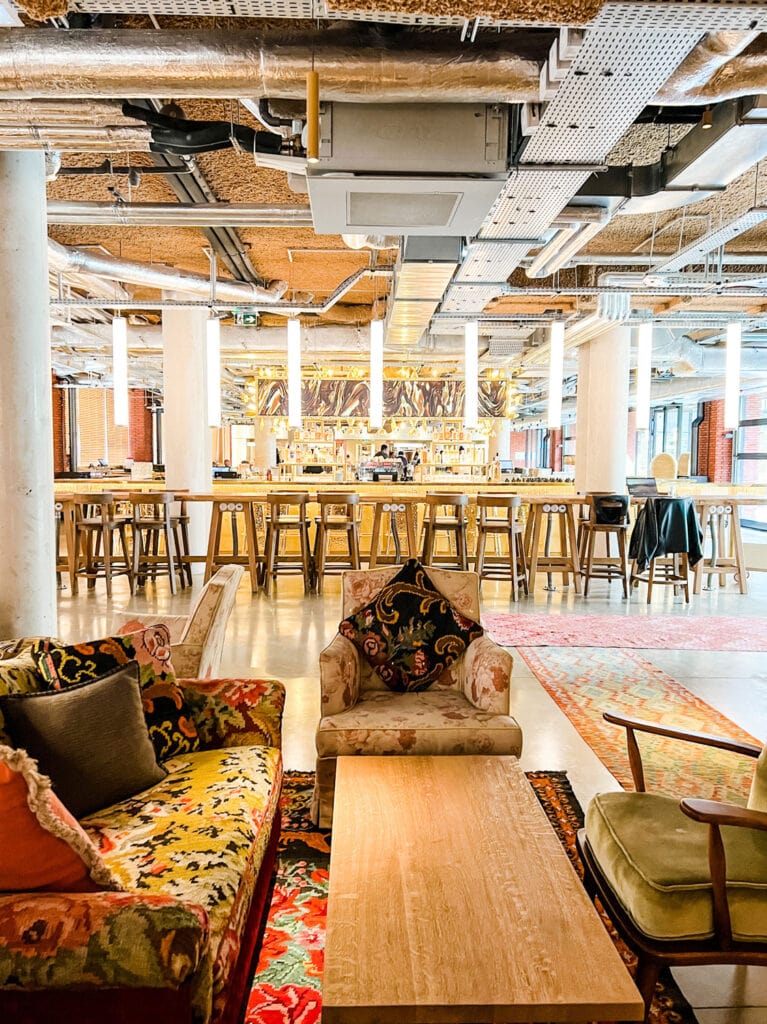 Well, of course, you could stay in Paris proper, but we recommend staying at Mob House Hotel, that's a two-minute walk from the hotel to the market. It's a beautiful hotel and one that we will return to every time we visit Paris. You can read more about the hotel in this post! If you are determined to stay in Paris, we love Hotel Therese and have stayed quite a few times. You can read more in this post.
Now Let's head to Lyon, France
If you are driving from Paris to Lyon, it will take you approximately five hours.
The train from Paris to Lyon takes about two hours.
A Trip to Les Puces du Canal
I would say that the main difference between Paul Bert Serpette in Paris and Les Puces du Canal in Lyon is the formality. The Paris flea market caters to serious dealers, designers, collectors, locals, and tourists.
At Lets Puces du Canal, there's a much more relaxed vibe. There are serious sellers that have a lot of inventory in their stall or shop, but a little digging is sometimes necessary. But that's part of the fun.
In the center of the flea market, there are casual sellers that simply set up a table or have their wares on a blanket spread out on the blacktop.
You can negotiate at Les Puces du Canal on everything! The sellers are willing to come down in price, especially if you buy multiple items from one shop or stall. Speaking of prices, the prices in Lyon are significantly lower than in Paris.
What You'll Find at Les Puces du Canal
Dishes, Linens, Copper
Silver, Beer Glasses, Ashtrays
Furniture, Lighting, Linens
Tables & Chairs, Signs, Glassware, Tureens
Parking and a Café
If you are driving to the flea market, you can easily find parking on the streets surrounding the flea market or pay €3 for parking right inside the flea market. This makes it easy to take things back to the car and then continue shopping.
The Café
There is a café inside the flea market to have lunch or a café créme and Pain au chocolat. It's a great place to take a break and connect with friends if you are traveling in a group.
Where to Stay When Visiting Les Puces du Canal
We stayed at an Airbnb that was really more like a hotel but with the conveniences of a washer/dryer and a full kitchen. I highly recommend staying here. The owner has three suites on the second floor of the building.
It was quiet, very safe, and in a convenient area. You can read more about it in this post.
A Few Tips on Bringing Your Items Home
We knew that we would make a lot of purchases. We packed our clothing in carry-on bags and then each checked a large suitcase. Inside our suitcases, we had a lot of packing material like bubble wrap, flattened cardboard boxes, and some packaging tape. The boxes did come in handy to pack some smaller, more breakable items to keep them safe from the more heavy copper pots. Everything made it home safely!
We learned a lot from our first flea market trip to France. We visited a few smaller brocantes in several towns all over France, but these are the two that we will return to again, hopefully soon! Let us know if you have any questions, we will try to answer them!