A visit to Beaune, France, and The Cook's Atelier was a great part of our trip. We are back in France, so I am sharing today's trip to Beaune, France, and The Cook's Atelier for Sunday Favorites With Cindy and Mary Ann.
Maybe you have been or plan to visit if you are a fan of The Cook's Atelier. We were driving to Lyon, and as I looked at the map, I realized we would be driving right through Beaune. At first, I thought maybe we would make a stop in Dijon, but then I quickly realized the place I wanted to visit (The Cook's Atelier) was in Beaune, and it was on the route.
I have wanted to visit Beaune since the cookbook came out in 2018. I was thrilled it was just off the Autoroute and not out of our way!
That's what I love about traveling by car. Change of plans happens often. We thought about taking the train from Paris to Lyon on this trip, but we would have missed out on Beaune.
We stopped on the way to Lyon and then again on our way back to Paris. Yes, we loved it that much, plus we had just missed The Cook's Atelier and thought we could walk through town and then return the next day during the open hours.
Beaune is a walled town at the center of the Burgundy wine-making region. The town has cobblestone roads, and the town itself is surrounded by the Côte d'Or vineyards. There is an annual wine auction held at the Hôtel-Dieu. The 15th-century former hospital is now the Hôtel-Dieu Museum.
It has many small shops, cafes, patisseries, cheese shops, and The Cook's Atelier.
Brent created a little video of our brief time in Beaune. I think it gives you a pretty good idea of what you'll find.
Market days in the Beaune Region
Market day in Beaune is Wednesday and Saturday morning. From March to November, the Saturday Market also includes a flea market.
The Burgundy region offers a different market every day in Beaune, Santenay, Meursault, Nolay, and Chagny. Markets are open early until about 1 pm. You can read more here if you are planning a visit and want up-to-date market information.
Where is Beaune?
By Car
Beaune is 311 km or 193 miles from Paris on Autoroute and takes about 3 hours to drive by car. Then, from Beaune, it's another 155 km or 96 miles to Lyon. There are tolls along the way. You can calculate the cost using this website. It was a beautiful drive, as you can see!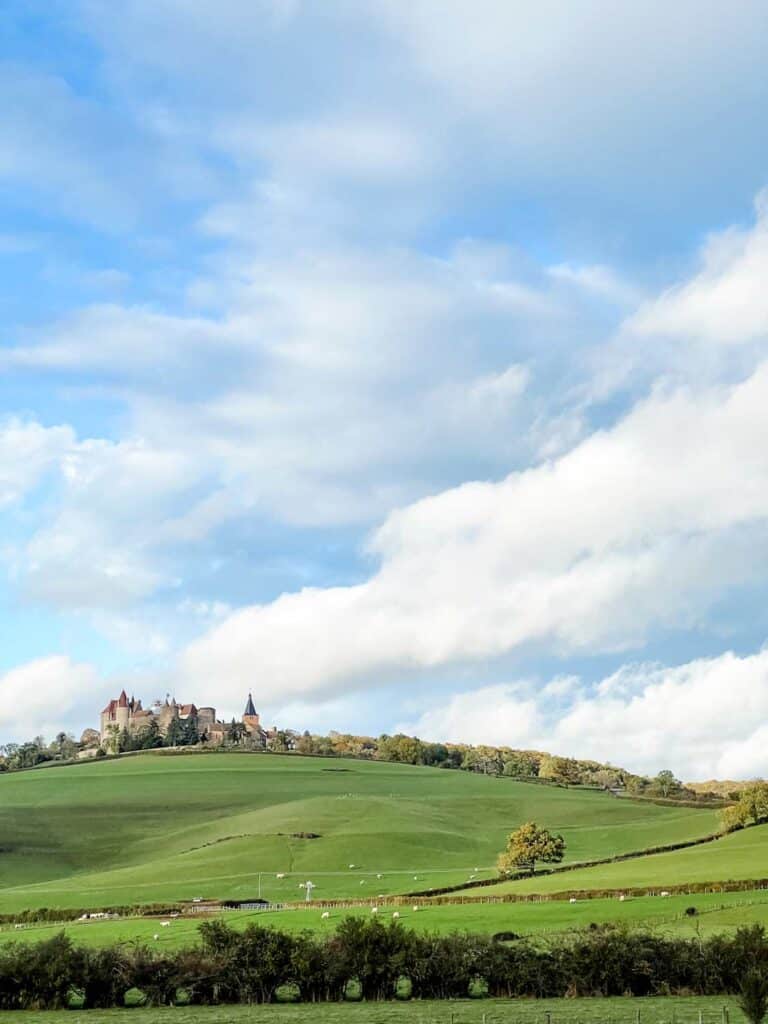 By Train
If you were to take the train to Beaune from Paris, it takes about 2 1/2 hours on average. There is a TGV INOUI that takes only 1 hour 30 minutes. There are 15 trains daily with a transfer in Dijon. If you plan ahead, you can get reduced rates, and if traveling with family or friends, you can travel four for the price of three; I do love train travel in Europe. And Beaune would be a lovely little city to visit for a day trip.
The Purpose of Our Trip to Beaune: The Cook's Atelier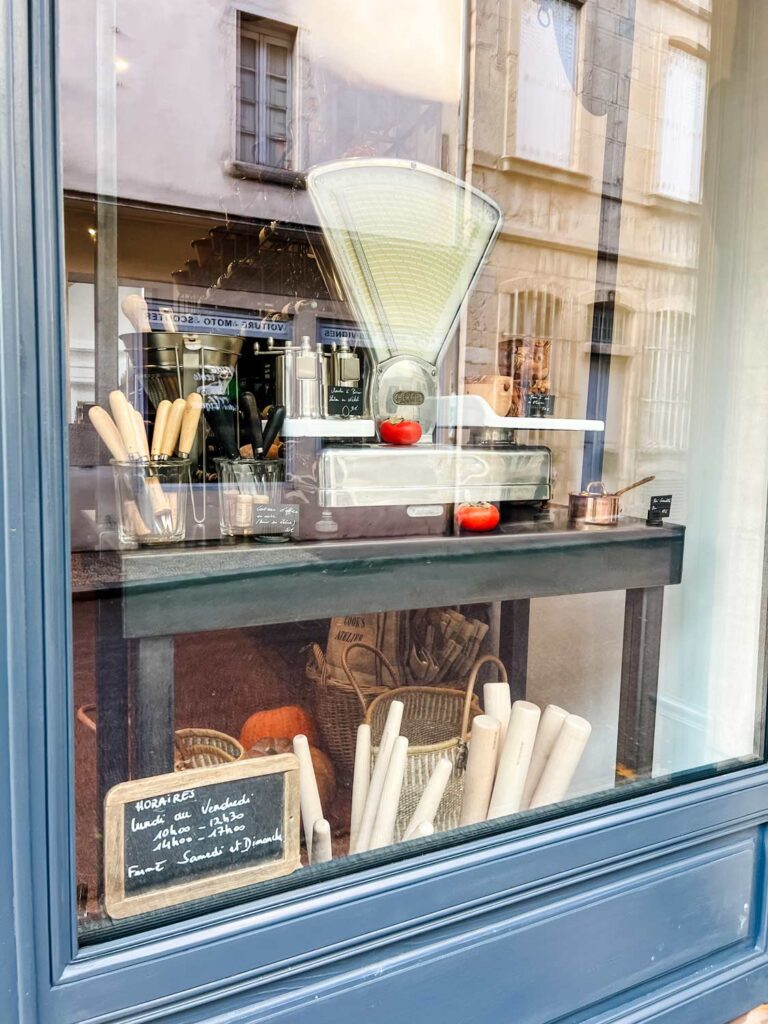 We loved seeing The Cook's Atelier in person. After following them for several years on Instagram and pouring over their beautiful cookbook, it was even better than I had imagined. (And I have a huge imagination)!
They have many cooking and baking tools available, as well as a large selection of vintage and new copper pots, preserving pans, crocks, and a basket of copper handles whisks that graces the cover of their cookbook.
And they said they are working on a new cookbook. I cannot wait! The first one has been the inspiration for many table settings in our home. The simplicity of a single stem in bottles down long tables lit with votives in tart tins is so pretty!
Wouldn't it be a dream to attend one of their cooking classes? This post may be a little different than the usual Sunday Favorites, but it seems apropos as the timing of visiting is when I start thinking of my favorite finds of the week.
Today's gift guide: French Inspired finds for your kitchen
We love to visit the shop in Le Marais, Merci. They have a wonderful kitchen and home shop on the lower level, which always gives me ideas. You can find many of them in my Amazon shop. Click here!
If you enjoyed reading A Visit to Beaune and The Cook's Atelier, you may also enjoy these posts on France:
Parisian Chic Redefined: MOB House Hotel in Paris
Touristy Things I love to do in Paris
Fashionable Women Are (still) Wearing Sambas in Paris
Let's see what Cindy and Mary Ann found this week!