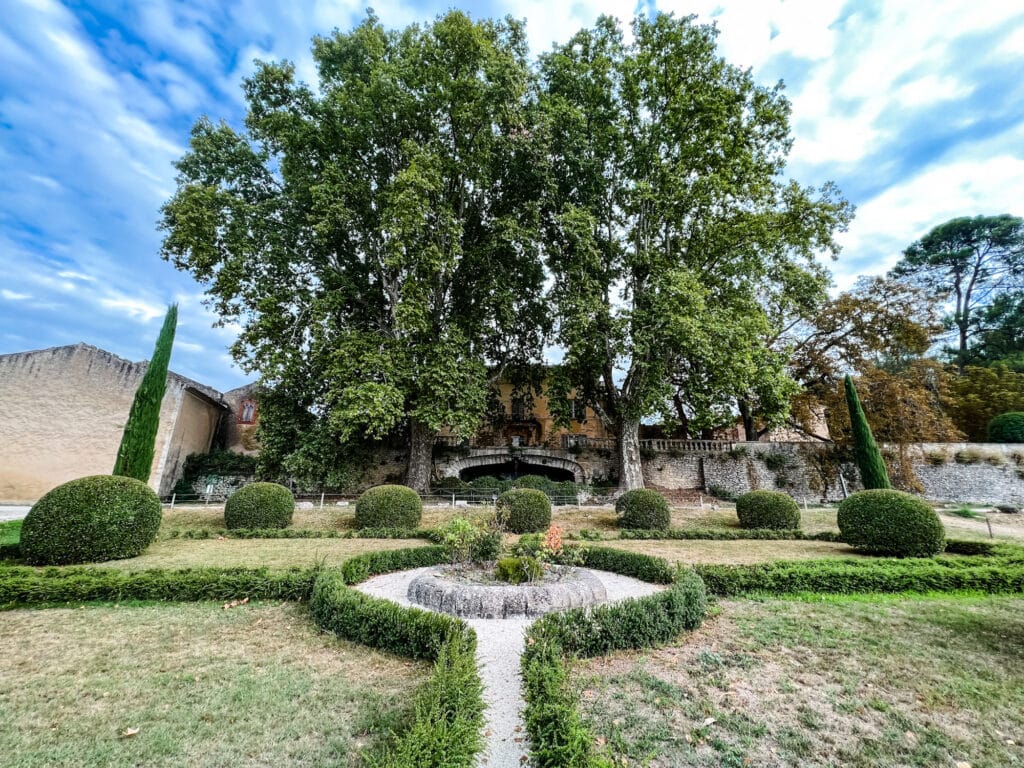 Dreaming of Provence? I suggest watching "A Good Year." Whenever I want an escape, I watch one of my favorite movies. And since 2006, the film "A Good Year" has always lived up to my expectations. There are a few films I can watch over and over just for the scenery, the music, and the sappy love story.
The film with Russell Crowe and Marion Cotillard takes place in the Provence region of France, and although we have been to this area before, we never really had the time to explore it. On this trip, we had plenty of time to check out many of the villages and even hit some of them on market day.
A Visit to the Chateau and Vineyard in September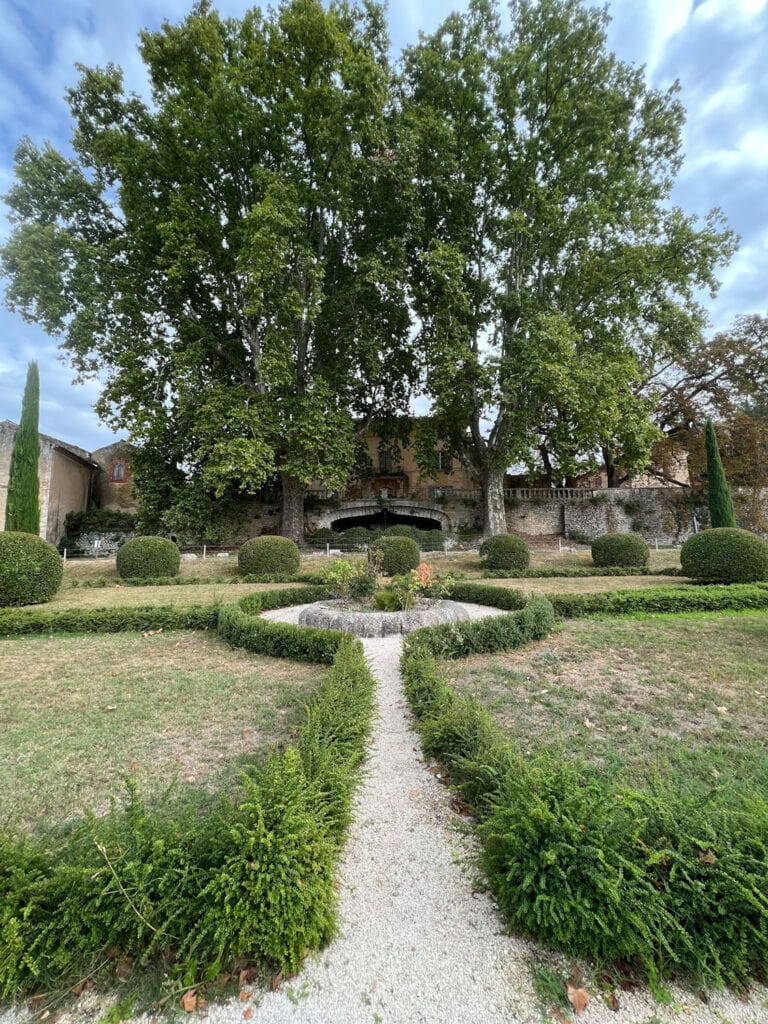 Chateau la Canorgue, where much of the movie takes place, is actually a working vineyard. You can visit, taste, and shop.
Cucuron is a small village where Max and Fanny have their first date. Thanks to this article by Vickie Archer, we could visit yet another lovely spot where the movie was filmed. We did not, however, get a seat at the Michelin Star restaurant Vickie recommended. We arrived at 2 pm and were extremely fortunate to have an amazing lunch at a restaurant a few doors down from La Petite Maison de Cucuron.
Cucuron
If you love France, and you haven't seen this film written by Peter Mayle, I suggest adding it to your list for when you are looking for a movie that takes you away from the everyday!
More Favorites Finds of the Week –
Now on to more favorites from the week! If you are new to reading MLT, every Sunday, no matter what, I join my besties, Cindy Hattersley and Mary Ann Pickett, to share our favorite finds of the week. A movie from 2006 may seem like an odd thing to share since it's obviously not new, but in my Instagram stories, I was surprised to learn many people had not heard of it!
2. A Story About Thank You Notes
You can imagine my surprise when I clicked on a link for a story on thank you notes only to discover it was written by my own daughter, Madeline Diamond!
3. Thieves Laundry Soap
I have been using Thieves Laundry Soap for about three years. I explained more in this post. It's highly concentrated, which means you only need a tiny bit. While traveling, I found that I loved it even more!
Thieves Laundry Soap is great to use daily, but it's also great to bring a small bottle with you when traveling! It works beautifully for hand washing clothes. When traveling, I often wear these t-shirts from Lululemon. They don't look like a workout t-shirt in black and black with a white stripe, but they're easy to handwash and hang to dry quickly!
I love Thieves so much that I sell it! Ask me anything! Here's a link to my favorite Thieves items, plus lemon, which is a great stain remover combined with dish soap.
4. This Simple Floor Mopping Tool
I think I mentioned this simple floor mopping tool in a previous post, but I am again reminded of why I love it so much. When shopping in Monoprix (France's version of Target), I saw a rough-looking rag or cloth that looked very French. It was white with one thick red stripe, but I wasn't sure exactly what it was until I used Google Translator and discovered it was for floors.
I found a link for a similar cloth/rag on Amazon. It's the perfect thing to go with your Cuban Wood Mop Stick.
You can read more about the Cuban Style Mop on Remodelista.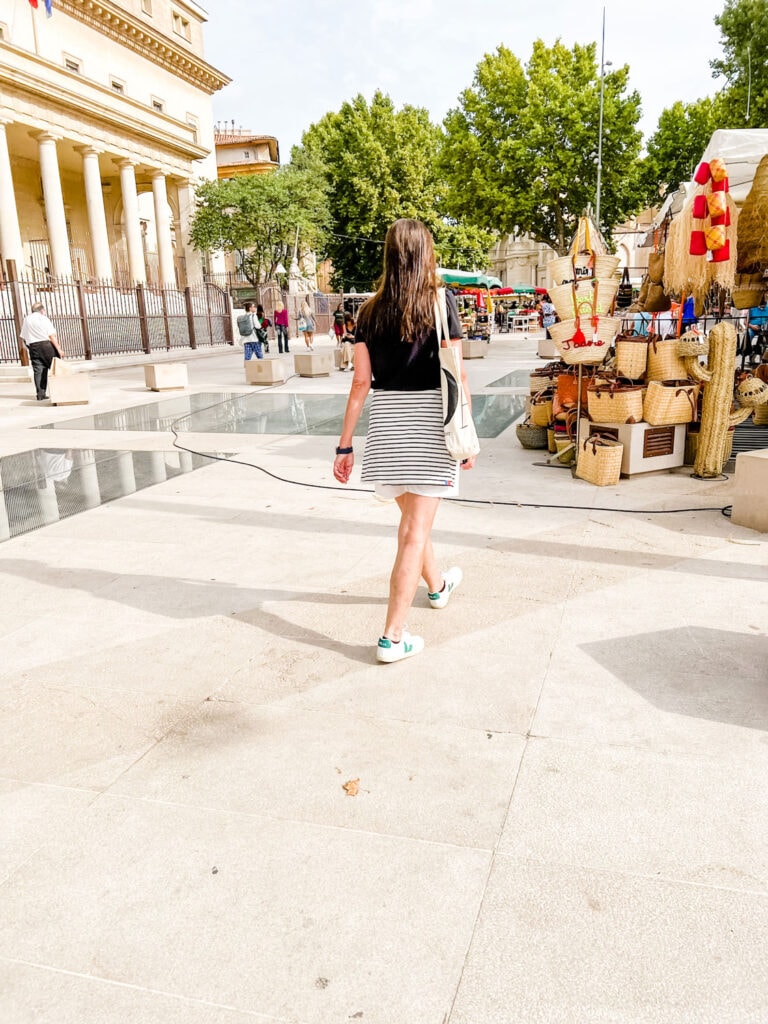 The perfect long-sleeve top to wear everywhere with everything. I have been wearing this almost every day! Under a blazer, white shorts, pants, black and blue denim, khaki shorts, my black CP Shades maxi skirt… everything I brought! I even wore it with my favorite beach shirt (dress) tied at the waist. There are many options, but the cut of this one is roomy and thick so that you can throw it over a shirt, a dress, or a t-shirt…you get the idea! Read more about what I packed in a carry-on bag in this post.
Okay, that's it for me; let's see what Cindy and Mary Ann found this week!