Today I'm joining a few friends to share our winter coat fashion. I live in Connecticut and visit the city often and the others all live in California. So we have warm coats and California coats! Let's see what that looks like!
Maybe one great coat is all I need is a bit dramatic. What I mean by that is that I need only one great coat for every type of weather. Living in CT/NYC requires several types of winter coats due to the weather. You need options for cold wet weather and warm wet weather. Trust me, those are two very different types of coats. When I lived in Arizona and California, the packable warm puffy coat was just coming onto the scene. So smart for people that don't live where it's cold six months of the year. So yes, I have one of those parkas, two chore coats, two GAP jean jackets, one (men's) quilted barn jacket, two sweater coats, two rain parkas, and now one really great cold-weather wool coat. This coat will be that coat that I wear to run errands or to bundle up, pop the collar, and wear with a warm turtleneck underneath for walking around NYC for hours. Slipping it on feels special. It better, because it's expensive. But I've had my share of inexpensive wool coats that pill, and are heavy (in weight, not necessarily in warmth). It's an investment piece for sure. If you were to look in my closet, you might see why I trust this buying method. I share a relatively small closet with my husband and we actually have very few clothes and shoes compared to the average person. We know what we like and we wear our small wardrobes over and over. So let's take this coat out for a spin in the city!
One of our favorite parks, especially in November when the Ginkgo trees change to gold and drop its fan-shaped leaves.
Let's have a picnic at The Met
Over the last few weekends, we have walked at least 10 miles a day all over the city. Last Sunday turned out to be the perfect November day and we decided to have a picnic on the steps of The Metropolitan Museum of Art.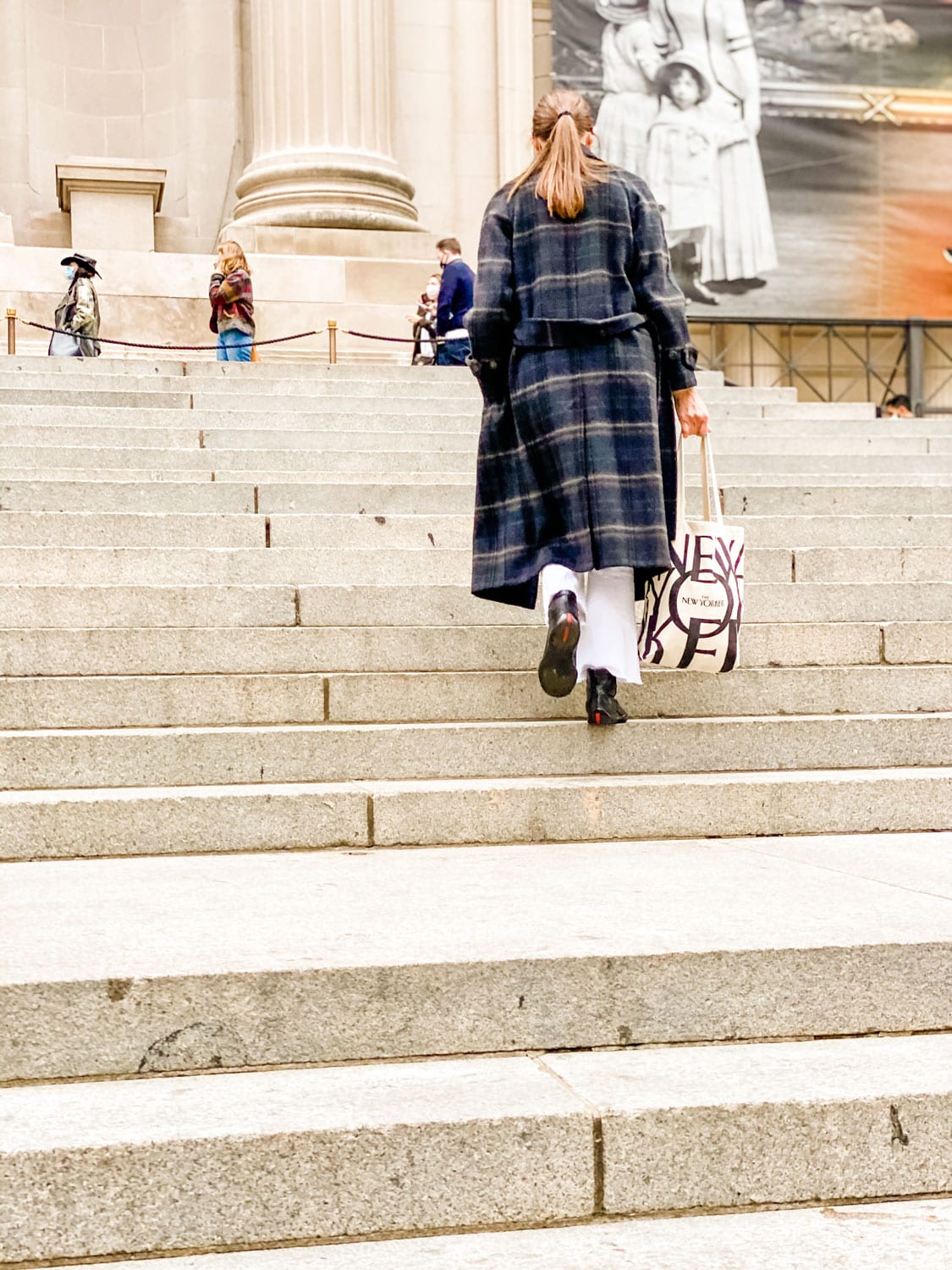 Across the street from the met
This is the view from the steps of The Met. It's great for people watching and perfect for a socially distanced picnic. We packed a tote bag with some fruit, cheese, crackers, and paté. Nothing fancy, just what we had on hand. Sometimes the best ideas are those that are unplanned. I threw in a cheese board, spreaders, and cloth napkins that were a gift from Cindy!
Please make sure to visit my friends!
Shop my coats

I recently read that the average woman buys 68 new items of clothing a year! That seems like a lot! Next year I am going to be mindful of every purchase and at the end of the year, see how many articles of clothing I purchased, gave away, or sold. Who wants to do this little challenge or maybe it's better to call it an exercise with me?
I use thredUP to donate clothes. They make it easy by sending you a bag or you can print out a label.