Work from Home Attire
I always work from home, but not without going out a few times a day and at least one or two trips into the city each week, so I get dressed like I'm leaving even if I don't have a concrete plan. This new normal has been something to adjust to in terms of dress. For about a week I leaned into the soft pants, hair in a bun and a cozy turtleneck sweater, but as the days turned into weeks and the weeks turning to months…enough. I personally feel better and am therefore more productive if I get up, keep my same routine of getting ready as I would before all of this happened. This is just my opinion and I'm completely in favor of whatever makes you happy! I'm joining my friends Mary Ann and Cindy to discuss this topic. So make sure to head over to Classic Casual Home and Rough Luxe Lifestyle to get their perspective on the new normal of dressing to stay home.
Jenni Kayne WFH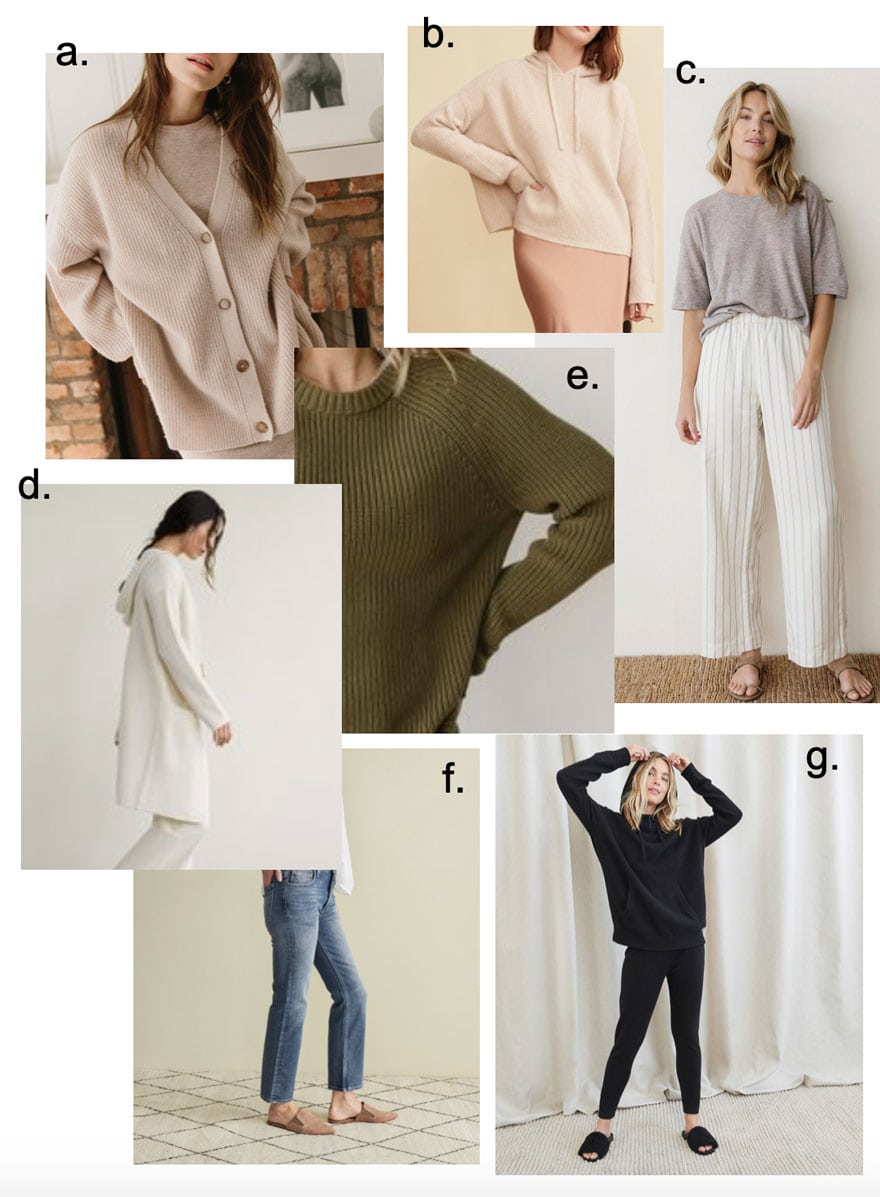 a. cashmere cocoon cardigan // b. cashmere fisherman hoodie// c. cashmere tee// d.waffle hooded sweater coat// e. cotton fisherman sweater// f. field mid-kick jeans// g. cashmere lounge jogger
I always dress comfortably. Flats, a cardigan sweater, a t-shirt, and jeans. So how has that changed since we have all been quarantined? Not that much. I have only a few pieces from Jenni Kayne, but I think I could be very happy wearing sweaters, a cashmere t-shirt, jeans and mocs now during quarantine and after…forever. My wardrobe has always been limited to basics…Jenni Kayne's WFH attire is perfect for my lifestyle now and later. These are just a few of my favorites! I would rather have 10 great pieces than 100 just okay pieces. I feel like I wear the same thing almost every day anyway! Do you like a closet full of basics or a closet full of choices in colors and patterns?
Do you have a pair of blue-light filtering glasses?
Left to right: Percy, Felix, Morgan, Butler
Not surprising that everyone seems to be talking about blue-light filtering lenses these days. Both of my kids swear by them. I personally am in favor of taking short breaks, going outside and then going back to the computer. That's what works for me, but if you think you want to try blue-light filtering lenses, Warby Parker has home try-on and virtual try-on options which are always nice options, but right now…it's a game-changer.
Are you a strict shoe off-at-the-door kind of house?
Shoes. We have never been a strict shoe off in the house family. Going forward we will be a "shoes off at the door" house. It's just not a good idea to track whatever inside the house. I'm wondering what other changes this will bring for households in the future. How will this change things? Well first off, we will need to have a house shoe to slip on at the door for each member of the family. If it's going to be successful, we need to be prepared. I also am wondering if we need to have something for guests to wear? How do we feel about this? A nice basket with a few slides in different sizes that are kept clean seems like a good plan.
A recipe for a pantry meal
One thing is for certain. We are doing a lot of cooking. We used to shop for the meal going to the store every day. We are now going about every four days. Does that seem like a lot? With our son home from college and our daughter home from Manhattan, feeding four adults, three meals a day…it seems about right. My husband has been making some amazing dinners. We've made this Paleo Whole 30 Chili a few times and then there's always the 3-ingredient pasta sauce that is so good! And seriously, it's as easy as opening a jar, but way better. Have you made it lately?
Update: A kind reader made me aware of the original source for this recipe and some of you probably already know, but I feel as though I must give proper credit! A quick google search and up popped the recipe in the NY Times. "This is perhaps the most famous recipe by Marcella Hazan, the cookbook author who changed how Americans cook Italian Food."
Print
The 3-ingredient Sauce
Once again, the three-ingredient sauce is making a come back. I think the first time I made this was about 10 years ago. While we are all quarantined, it seems like a good time to revisit this simple recipe.
one

28 ounce

can San Marzano Tomatoes (whole, diced, crushed) whatever you have in your pantry

one

onion, peeled and cut in half

1/2

stick butter

one

pound pasta (again…whatever you have on hand, short, long…)
Instructions
In a medium heavy saucepan like a Le Creuset, empty the tomato can into the pot.
Add the onion and the butter.
Bring the sauce to a simmer and then lower the heat and let it simmer for a good 45 minutes.
If you are using whole canned tomtoes, using a wooden spoon, crush them against the side of the pan to break them up. This is why I like to use diced tomatoes.
After 45 minutes, remove from the heat and discard the onion. Add salt as needed.
Prepare the pasta and serve on top or add the pasta to the sauce and combine.
Notes
This recipe is so simple that you may never open a jar of a sauce again. It's the butter and the onion that makes this simple sauce velvety and delicious. There are no spices, no red pepper flakes, no glug of red wine or garlic to chop…it's just tomatoes, onion and butter…how can that be? If you haven't tried it…go…try it!
Thank you . . .
For taking time out of your day to read my blog. I have made so many wonderful connections through this blog over the years and I hope you know how much I appreciate your support. These are difficult times and so now more than ever, I want to be sensitive about what I put out into the world. So today it may be a few wishlist items from my favorite brand and a super simple recipe. I hope that's okay! From the bottom of my heart…thank you for being here!
Shop the Post