I have a small wardrobe and a small closet. Today we are talking about closet organization. Cindy, Mary Ann, and I asked a few friends to join us to share our ideas on organizing the closet. I have to say that since moving into this house two years ago and starting a new business, I haven't had a lot of time to organize.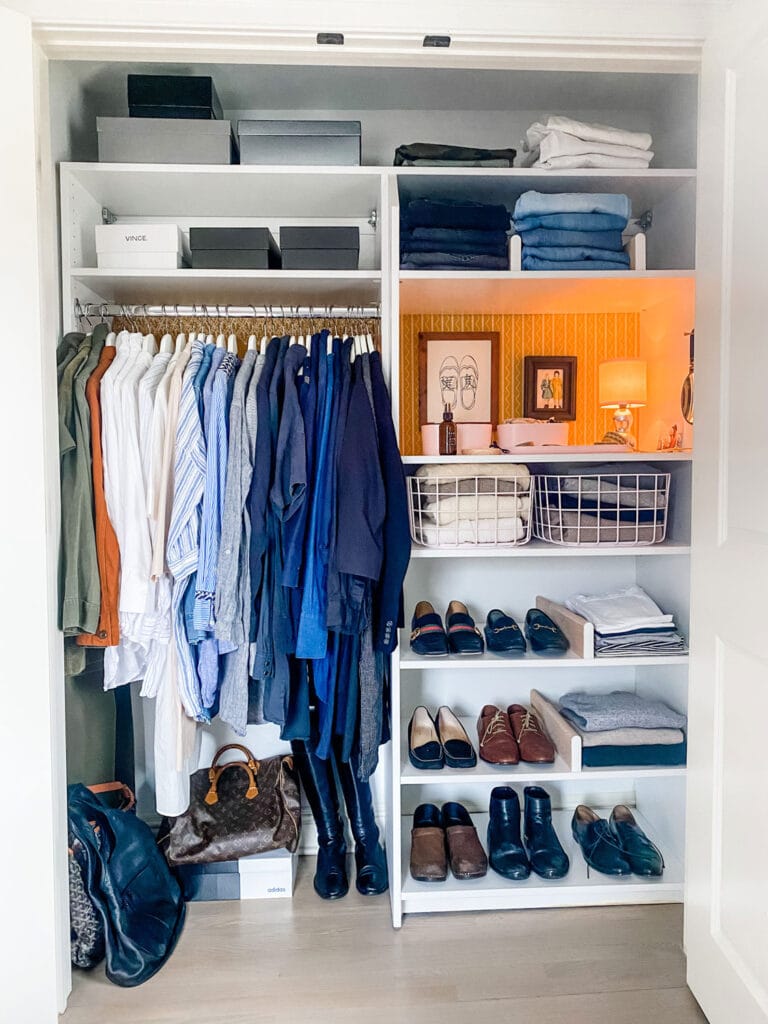 It's these Project Designs that have pushed me to get a few spaces organized in this house. Like last year when we did our pantry. The timing on that turned out to be perfect right before the pandemic.
Open Spaces Baskets, Bins, Dividers
So now it's closet organization. Now that it's done, I am relieved and thrilled. I had the opportunity to work with Open Spaces for a few things to pull it all together. I used what I had in terms of the actual closet. It had your typical shelving on one side and a bar on the other. I do also have a dresser where I keep underwear, pajamas, workout wear.
Open Spaces makes beautiful home storage. Every item I chose will be things we use and move around with us for years to come. They are so well made, sturdy, and with smooth edges. Like the large baskets, I was wondering if I would want to store sweaters in them, but they are made so well, with no rough edges, that they are perfect for stacking cashmere sweaters in. I like that I can easily see what's in the basket at a glance when I'm standing there deciding what to wear.  
I have a very small wardrobe so once I took everything out of the closet (that's the only way to clean a closet in my opinion), I sorted, donated a lot of clothes, and moved a few things to our attic storage closet. It's still cold in Connecticut, but there are a few things that I won't wear until next year, and I am ready to move in a few spring things. 
I love a mini lamp in my closet
I always have a mini lamp in my closet. Lighting is so important for mood and starting the day off right. This lamp is one I've had for years, but Target has so many little lamps that are perfect in closets and other small spaces.
I also used Tempaper wallpaper that I used in my office in this space. On the left side, I hung a scarf on the back that is the same color as the Aztec Gold Nesting with Grace Tempaper. The small bins and nesting trays are all from open Spaces as well. I used wood golf tees to hang a few necklaces and a mirror. Turns out they are the perfect size for the pre-drilled holes.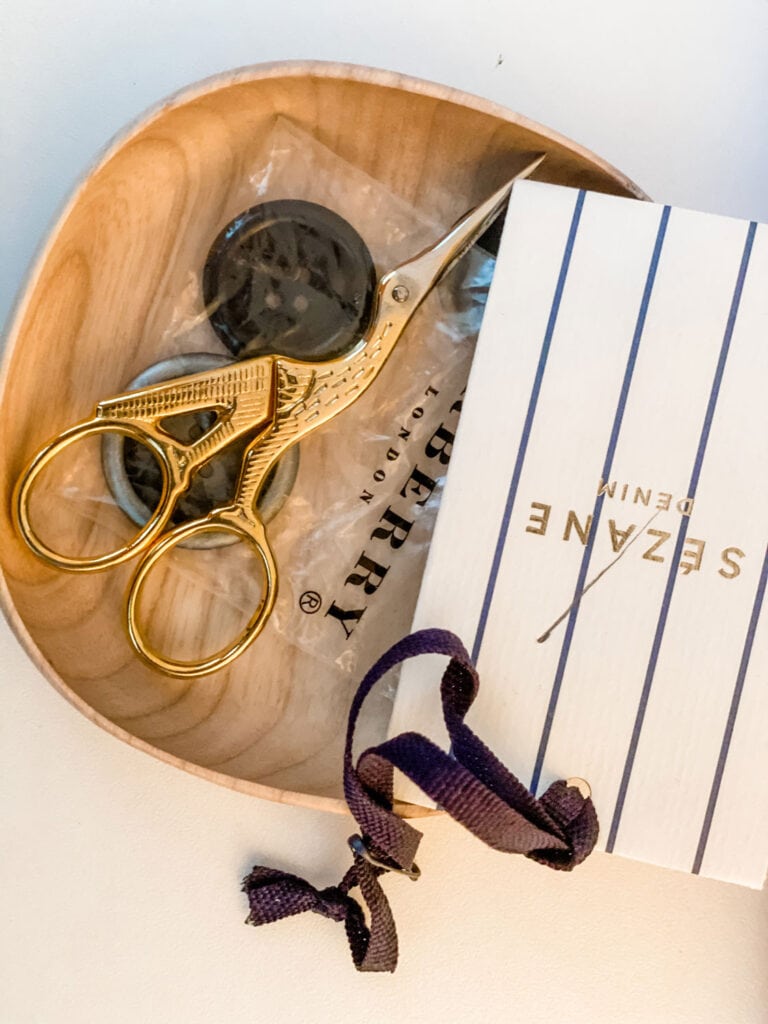 Make a Closet Spray
Ever since I began using essential oils, I have found numerous ways to enhance every space in our home. I use a spray that I made specifically for using in my closet. I call if Fresh & Clean. It's so simple to make and it's toxic free. Every morning when I open my closet, I spritz a little in the closet on my clothes and it freshens everything without causing harm to me or my clothes.
Print
Fresh and Clean Closet Spray
A closet spray made using essential oils.
25-30 drops essential oil
thyme
bergamot
ylang ylang
pine
lavender
cedarwood
teaspoon witch hazel
water
Instructions
In a 4-ounce glass spray bottle, add the essential oils, witch hazel, and top off the bottle with water. Shake a little each time.
The Entryway Rack is perfect for our tiny entry. It keeps everything neat and tidy and with a minimal look. You can see more about our entryway in this post.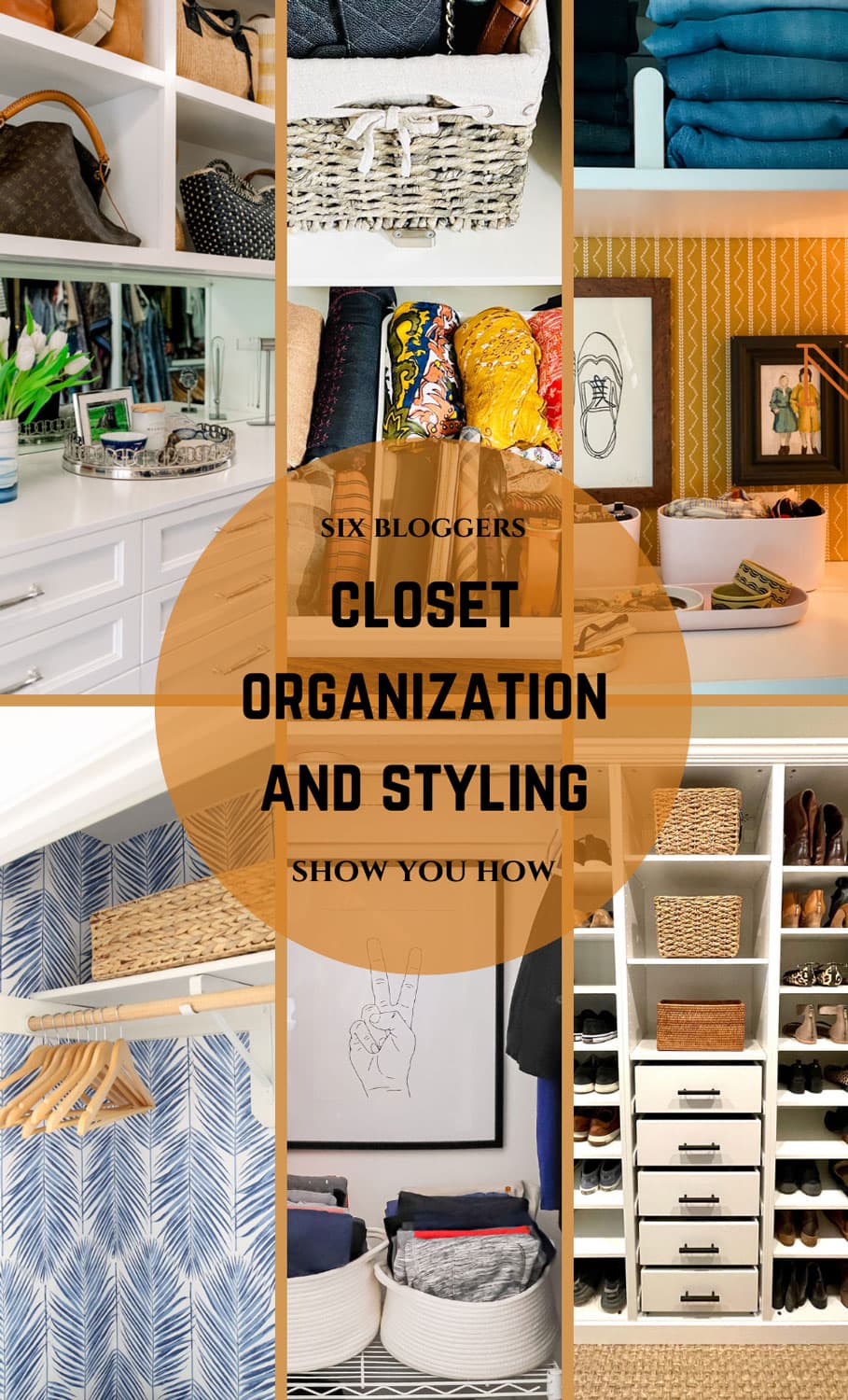 Make sure to stop by these bloggers today to see their closets.
Cindy – Cindy Hattersley Design
Mary Ann – Classic Casual Home
Annie – Most Lovely Things
Lisa – Shine Your Light
Ana – Modern House Vibes
Juliet – Make Mine a Spritzer
Shop the Post