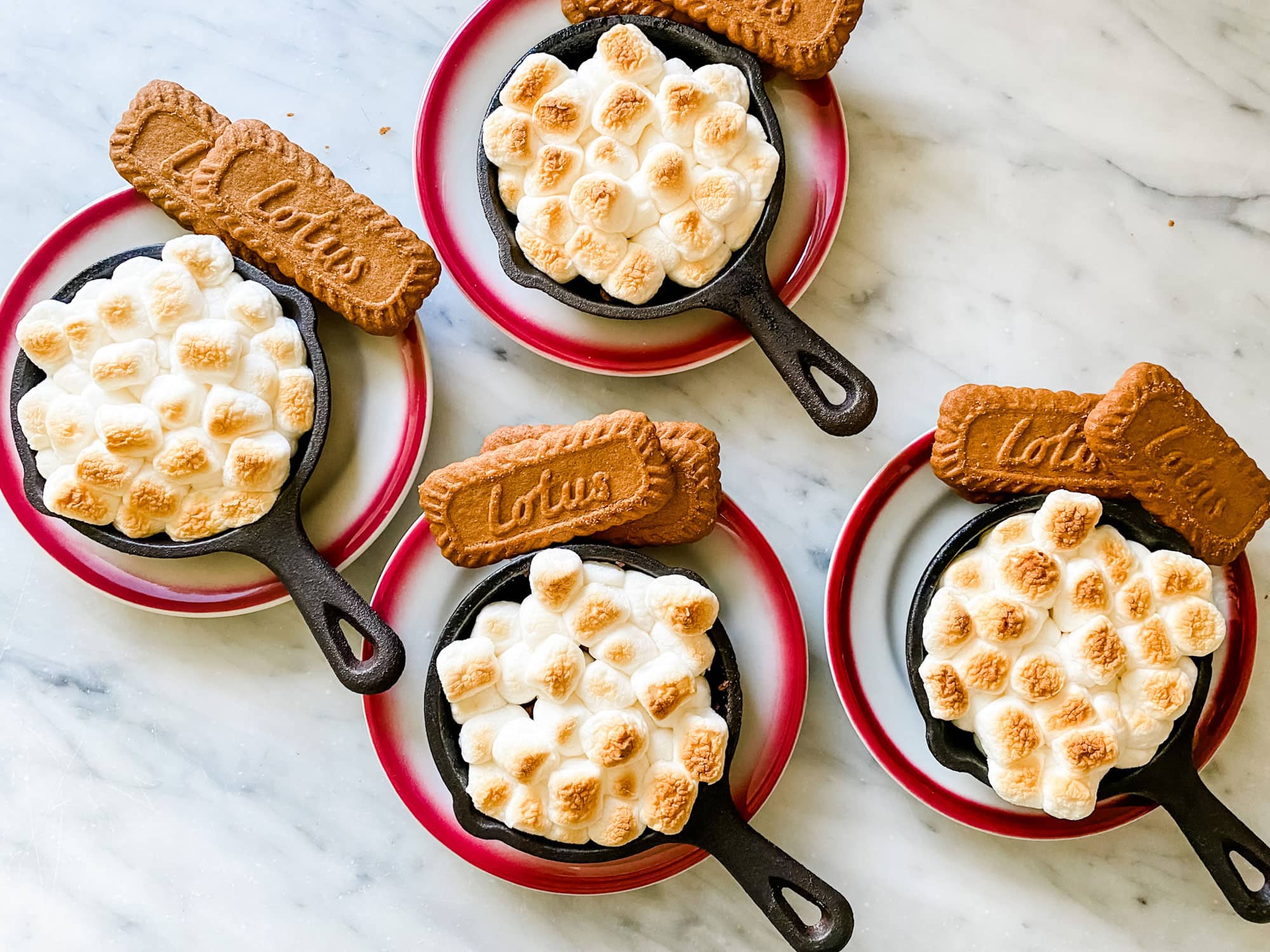 One of my favorite summertime desserts is s'mores. I'm not sure if the flavor of gooey marshmallows, warm melted chocolate on crunchy graham crackers, or the nostalgic feelings of childhood and warm summer nights make them taste good. Regardless, this classic campfire treat is just plain fun, and no other dessert feels more like summer than s'mores.
Over the years, we've stopped making traditional s'mores with roasted marshmallows layered between a piece of chocolate and graham crackers made over a campfire or modern-day fire pit glow. We've opted for a little bit less messy, more convenient way of making them in a cast iron pan. They are much less messy, and you won't go home with sticky fingers and smelling like smoke.
[mv_video doNotAutoplayNorOptimizePlacement="false" doNotOptimizePlacement="false" jsonLd="true" key="rnyryfitds8xz8dk33ak" ratio="16:9″ thumbnail="https://mediavine-res.cloudinary.com/v1655001545/zblhjdoa5qoft0h9zt7a.jpg" title="Adult S'mores" volume="70″]
Simple ingredients needed for skillet s'mores
Chocolate bars (your favorite type of chocolate, milk, dark, or even white)
Bag of marshmallows
Biscoff cookies, graham crackers, or your favorite cookies
Special equipment needed
How do you make them?
What I love most about this dessert is it's so easy to make. You can have everything assembled and ready to go when it's time for dessert. Cover the skillet's bottom with the desired amount of chocolate and pop the skillets into the oven to melt the chocolate. Next, place the mini marshmallows on top of the melted chocolate; once the chocolate has melted, top with marshmallows. Put them back in the oven, but turn them to the broiler setting this time. In about 30 seconds, they are ready to be served.
Can I use chocolate chips instead of chocolate bars?
Nope, chocolate chips won't melt. They are made to retain their shape, so getting them to melt is very difficult. I've tried on occasion when it's all I had, and it's a very slow process. It's difficult to get chocolate chips to melt without burning them. This article from Bob's Red Mill explains why.
What's the best chocolate to use for melting?
For making skillet s'mores, I have to say that I really like using traditional Hershey's chocolate bars. We kind of associate s'mores with Hershey's, so even though we are making these slightly fancier (in a completely rustic) way, I still prefer Hershey's. You can use milk chocolate morsels if you don't have Hershey's.
What makes skillet s'mores different?
Skillet s'mores are more like a delicious dip. And you still get golden brown marshmallows, warm and melted chocolate, and crunchy cookies. Skillet s'mores could be made family-size to share in a large 10-inch cast iron skillet or as individual s'mores in mini skillets as we have. I think it would also be fun to use this 8″ Lodge skillet for two!
Print
Easy recipe for making cast iron skillet s'mores dessert
The most effortless 4th of July dessert is a little bit fancy in a rustic way!
Author:
Prep Time:

5 minutes

Cook Time:

8 minutes

Total Time:

13 minutes

Yield:

4

1

x
Category:

dessert

Method:

bake
Two Hershey's chocolate bars

One cup

of mini marshmallows
One package of Biscoff Cookies
Instructions
Heat the oven to 375º.
Put the individual skillets on a baking sheet and place four pieces of chocolate in each skillet.
Melt slowly, rotating the pan halfway through. It takes approximately 5 minutes.
Then remove from the oven and put 1/4 cup marshmallows on top, and put back in the oven under the broiler.
WATCH CLOSELY! It takes very little time for the marshmallows to take on a golden color.
You could use a kitchen torch if you have one, but it's easier to use the broiler.
Remove from the oven and carefully place each skillet on a small plate.
Serve immediately with Biscoff cookies or graham crackers.
Enjoy!
Keywords: s'mores, dessert, individual desserts, campfire desserts, summer desserts, outdoor desserts, fun desserts, skillet desserts
Pin for Later
If you enjoyed reading– the best recipe for amazing cast iron skillet s'mores dessert, you may also like this recipe: