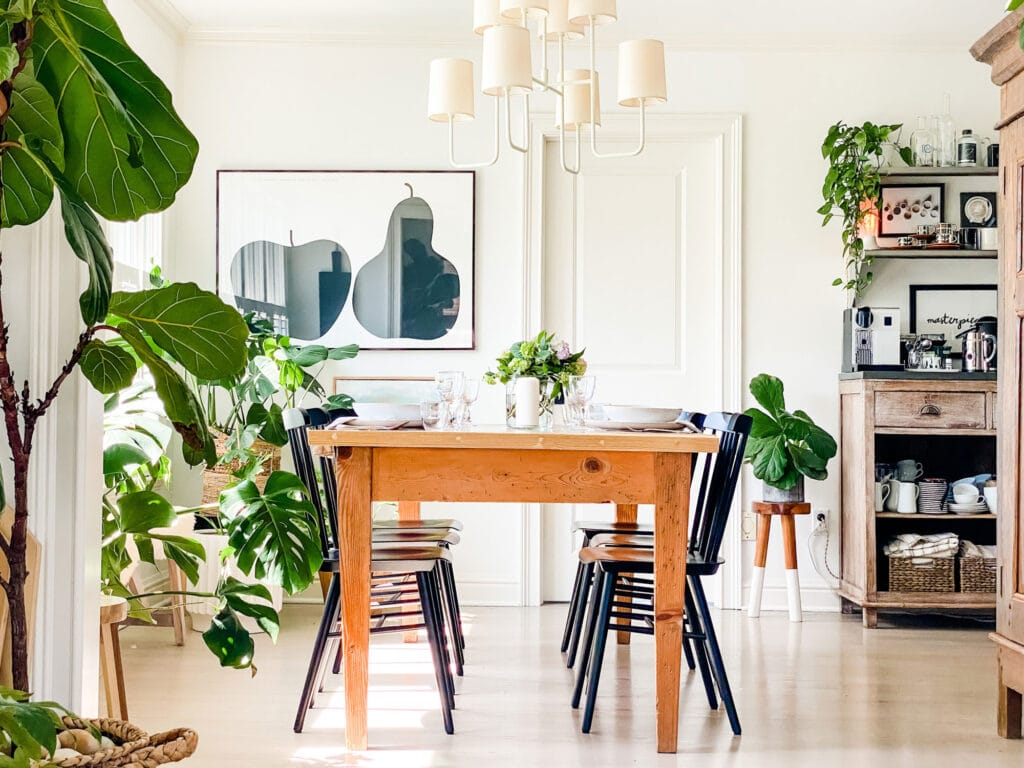 Why this simple chair is the best for any style table from farmhouse to traditional to modern. The Tucker chair is one of my many favorites from Serena & Lily. I knew when I bought them that they would work perfectly with our existing farm table. I call it a farm table, but I'm not really sure that's appropriate. It was the look we were going for about 30 years ago while living in Southern California. I wanted a table that would seat at least eight and I wanted an old farm table, but back then they were usually antiques from France and not exactly in our price range back in the early 1990s, so we made a table. When I say we, of course I mean my husband. We determined the size based on the tablecloth sizes in the Williams Sonoma catalog. (This was way before you could Google it)! Then I went to work trying to find distressed wood. Again, not easy living in Orange County, California in the early 1990s… I searched many places when I finally found used scaffolding that a lumber store was willing to sell me for cheap! Thirty-plus years later and we still love the table. We had wicker chairs that I painted about 20 times over the years before finally finding the perfect chairs at Serena & Lily.
In our last home we had the Santa Barbara pendant over the same table and while I still love the look of the black wicker, in this space we wanted a chandelier that would disperse more light into the room. In this dining room, the only light aside from a small Ion lamp on the coffee bar is the Fairmont chandelier. Of course, we have it on a dimmer, but it is nice to be able to turn it on and fill the room with light if and when we need it. The Fairmont in all white seemed like the best option and once we moved in and had it installed, I knew we had made the right choice. It's more casual than the Fairmont with brass and more modern than the Fairmont with wicker shades.
The Tucker chairs are well made of European beech wood. Handcrafted with a bentwood top rail, seven smooth spindles, and a waterfall seat edge making it quite comfortable for a compact, yet sturdy chair. They are surprisingly lightweight, but still feel substantial. Their design is unpretentious making them the perfect chair for any style table from farmhouse to traditional and modern.
The Tucker Chairs come in black, white, fog, and midnight. We almost chose white, but I knew at some point I might want to use them with our white round Saarinen table and I like the black for contrast, but I kind of think white would look beautiful with a white table too!
The Tucker Chairs work well with our modern Saarinen table
We love the Tucker chairs just as much with our modern Saarinen table. The chairs are well suited for any style and will last a lifetime. We noticed many cafes in Copenhagen that our exact chair and have since noticed many cafes and restaurants in the US to have the Tucker chair as well, including the Tavern at GrayBarns. You can see them in this post They used sheepskins on the chairs in winter, which of course inspired me to do the same during the winter months.
Hydrangeas on the table in a large glass jar are as unpretentious as the Tucker Chairs
Our dining room is casual and so are the flowers. I love to grab big Anchor Hocking jar or two and fill them with garden hydrangeas. I trim the leaves at the water line exposing the woody stems in the clear glass. I make smaller arrangements for the powder room, the coffee bar and one for the porch as well with DIY citronella candles.
Shop the Post