Make this quick and easy pita pizza for Mother's Day or whenever you need a quick meal. We made ours today with pear and gorgonzola, but the options are endless, just like traditional pizza.
I'm joining a few friends today to share Mother's Day brunch recipes, and today I decided this quick & easy to make pita pizza is just the thing to share.
This simple recipe caught my eye for Mother's Day because, often, moms and kids prepare the meal together. This is something that older kids could do on their own, and younger kids could certainly help assemble the pizzas.
Why Pita Bread for Pizza?
This is what makes it so easy. Even if you buy your pizza dough (although I always make it), using pita bread makes it quick. Pizza dough is tricky to work with and has to be at the right temperature…after letting it rise.
Making pizzas traditionally or using pita bread is still a great idea for Mother's Day! This recipe was inspired by one I saw from Caroline Recipes. Caroline is French, so I made a few changes based on ingredients available in the U.S. The measurements are loose, so add as much or as little as you like. I think the amount of toppings is a personal choice with any pizza, no matter the topping.
Recipe for Traditional Pizza Dough
I always make my own pizza dough. It takes only five minutes to make, but then you must let it rise. On a nice warm day, it will rise pretty quickly. On a cold day, though, it could take a few hours. That's why pita bread is such a great option! But if you still want to make traditional pizza, I suggest this recipe for the dough!
The Ingredients for this Easy Pita Bread Pizza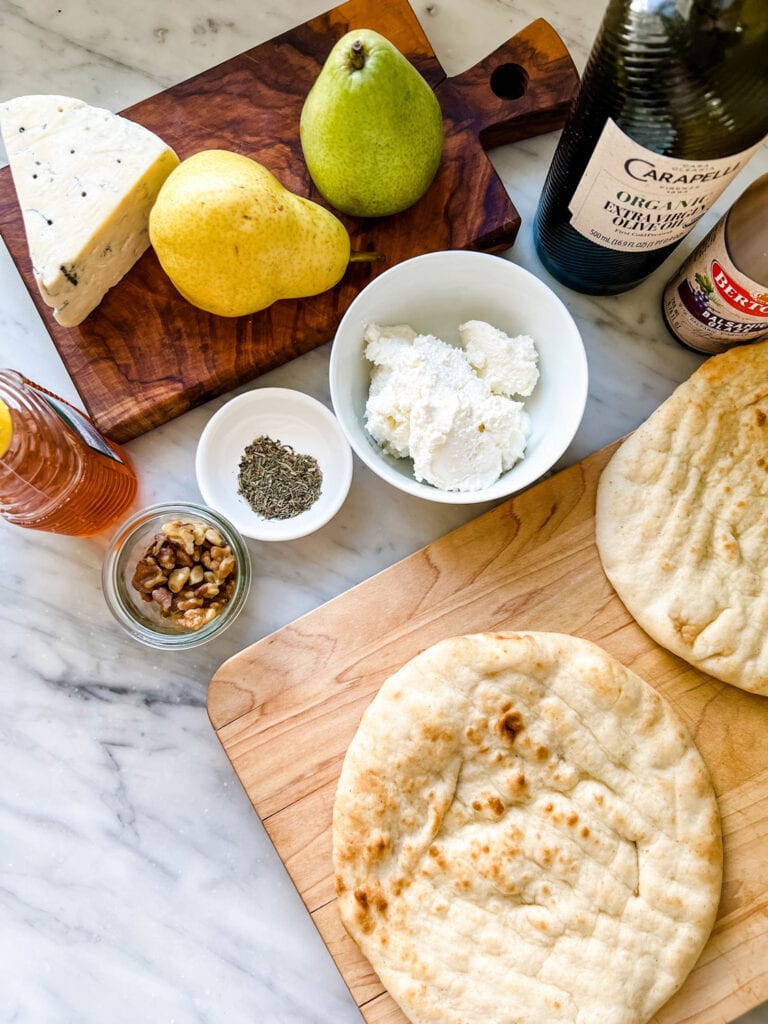 Pita bread
Ricotta cheese
Pear
Gorgonzola cheese
Herbs de Provence
Honey
Olive oil
Balsamic glaze
walnuts
Kitchen Tool You Might Need:
A Mandolin – I love using this simple Mandoline, but I never use it without a protective glove.
A No-Cry Protective Knife Glove might be the best $10 spent! They are great for teaching kids knife skills.
Print
Quick & Easy Pita Pizza with Pears & Gorgonzola Cheese
Pita bread makes a quick and easy crust that tastes like pizza!
Prep Time:

10 minutes

Cook Time:

15 minutes

Total Time:

25 minutes

Yield:

4

1

x
4

pita bread rounds left whole

1/2 cup

ricotta cheese

one

pear, sliced very thin

3 ounces

gorgonzola cheese, sliced

1/2 teaspoon

herbs de Provence
salt & pepper
drizzle of honey, olive oil & balsamic glaze

1/4 cup

walnuts, chopped
Instructions
Pre-heat oven to 425º
Lay out the pita bread rounds on 2 baking sheets
Spread a thin (but not too thin) layer of ricotta cheese on each piece of pita bread.
Arrange three thinly sliced pear pieces on each pizza
Sprinkle the Herbs de Provence, salt & pepper  over the top 
Arrange 3-4 slices of gorgonzola cheese on top of the pears
Drizzle each with a bit of honey, olive oil, and balsamic glaze
Sprinkle with a few of the chopped walnuts
Pop them into the oven for about 15 minutes.
Keywords: pizza, brunch, pita bread
9 More Brunch Ideas!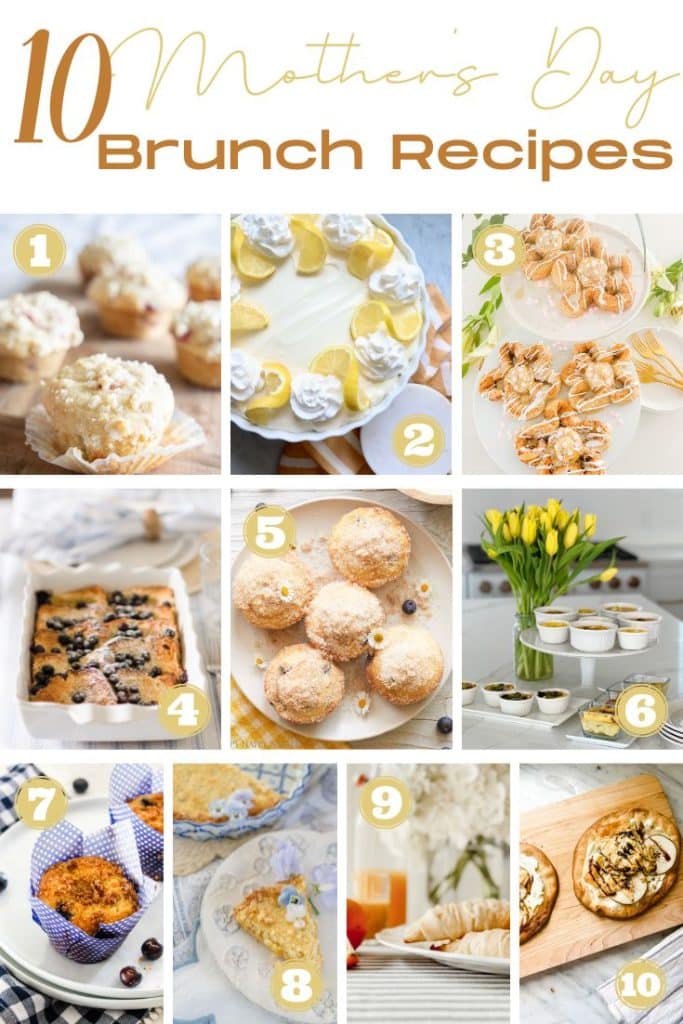 Blogger's Best Mother's Day Brunch Recipes