As many of you know, when we purchased our current home I thought for sure we would demo the fireplace before even moving in.  After much consideration (which actually means one 10 minute meeting with a contractor who was throwing out big numbers and realizing we would still have a raised hearth) I said to my husband, "What if we just painted it white?"
Well, of course that's exactly what we did and we turned a design challenge into something we like. Almost once a year I feel like it needs freshening up.  Since I've been using Chalk Paint decorative Paint by Annie Sloan I thought why not paint the fireplace with Chalk Paint decorative paint. I love using the paint.  It covers so well.  I reached out to the company and they supplied a bit of information that is useful especially if you are in the decision process of painting brick or stone.  Here's what they said:  Chalk Paint adheres very well to marble, stone, wood and brick fireplaces with no undercoat required. Make sure the fireplace is cold before you start painting in order to prevent the paint from cracking. You can leave the paint unsealed or finish with Clear Chalk Paint® Wax if you wish. Remember to leave the wax to cure for 48 hours before exposing it to heat.  You can water it down, if needed.  I did not use a sealer or wax and am very happy with the look.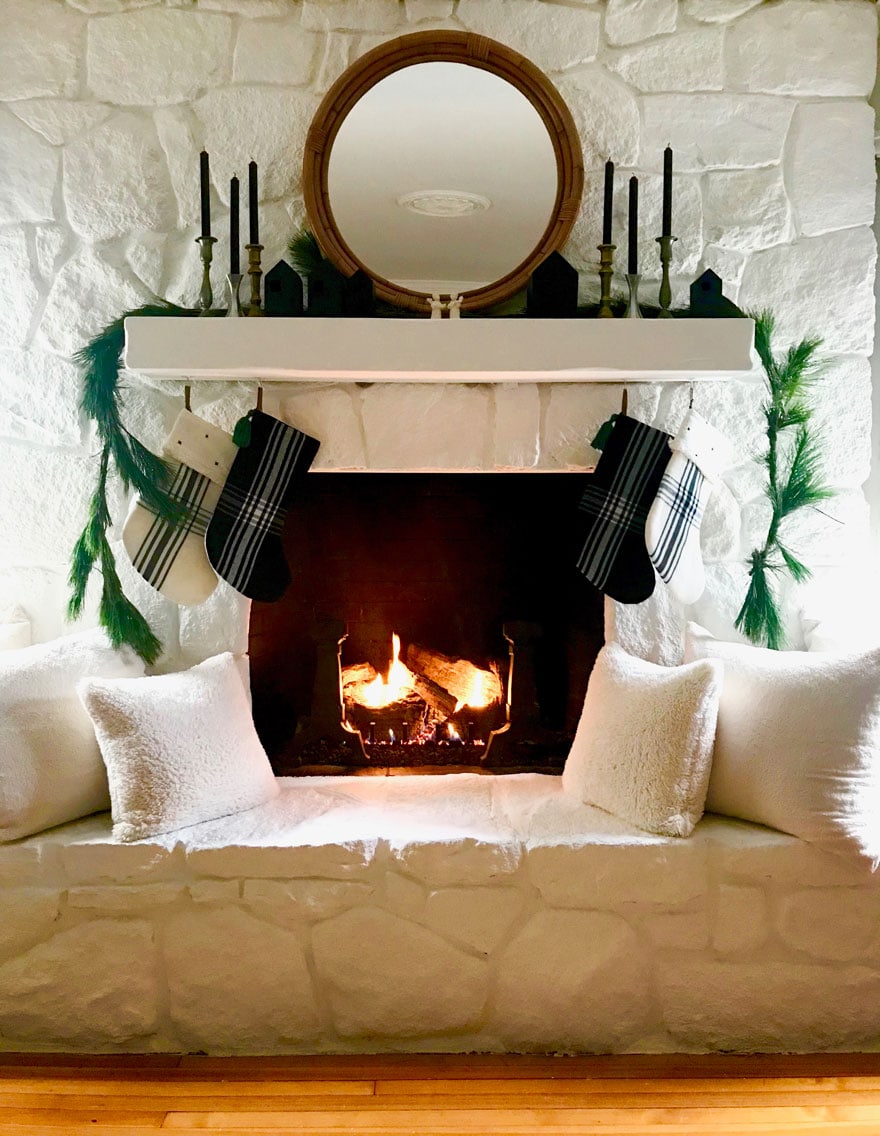 Since my fireplace was already painted, it was a breeze to paint.  (You can see a before in this post). They sent me a small sponge roller which I loved using.  Previously I had only used a brush when painting it and the roller really sped things up.  I only had to go back in a few areas with a brush.  Start to finish for a touch up that used about 1 1/3 quarts of Pure White Chalk Paint took about 1 hour, plus clean up time.  The Chalk Paint decorative paint covers better than any paint I've ever used.  When I have a can in my hands I'm practically looking for other things to paint before I clean up.  I did put a coat of paint on the window seat in our dining room.  It looks soooo good!
Painting brick or stone is a decision that you want to be sure of before painting, but once you decide to paint, the type of paint to use is definitely Chalk Paint decorative paint by Annie Sloan.  Our kitchen floors are the next big thing I would love to paint with Chalk paint.  If I had a dollar for every time I thought about re-painting those floors….sigh…

12 Days of Holiday Homes
I missed a few days, but wanted to be sure and give you the links to these gorgeous homes all decked for the holidays!
Evolution of Style, Summer Adams, This is Our Bliss, A Blissful Nest, Life at Home 2102 and Home by Heidi.
Thank you Lynch Creek Farm for sponsoring and giving us all beautiful wreaths!
Title:
An update on our painted stone fireplace
Mentions:
Chalk Paint, chalk paint by Annie Sloan, painted stone fireplace
Keywords:
An update on our painted stone fireplace
Last Updated:
February 4, 2018