Diane Karmen created a beautiful new kitchen for a young family that splits their time between New York City and their weekend home in Westport, Connecticut. Westport is only45 miles from Manhattan, but this home feels worlds away from the moment you walk through the door. The first thing you see is the kitchen. The space was actually pretty with tons of natural light and the U-shape worked, but the original bar/island was at the opening of the kitchen at sort of an awkward angle. The family explained that they love spending time all together in the kitchen so designer Diane Karmen reimagined the space with a beautiful custom built furniture like island in the center. To make this happen she relocated the refrigerator opposite the existing wall ovens. This created space for the island and space to be able to move freely when seated at the island which was very important to this young family. Stools can be placed under the island making it possible to stand and work at the island like a work table.
Open shelving, large scale subway tile and a custom furniture style island brought this Connecticut kitchen to life.
Large windows at the end of the kitchen allows for perfect symmetry, gorgeous light and views of the natural surroundings.
Spice jar storage in pantry door saves space and makes it easy to find what you are looking for!
Diane had all upper cabinets removed in one part of the kitchen and then focused on the pantry and refrigerator which were relocated for better work flow. She designed two dish and food pantry cabinets with deep drawers and pullouts. The doors have spice racks which help with storage and easy access. 
Open Shelving for practical & pretty things
The large kitchen windows overlook the pool and tennis court, but during the winter months the focus is the row of arborvitaes that makes for a perfect backdrop on a snowy day.
The homeowner originally wanted white cabinets to make the kitchen feel bright. Diane assured them that with all the natural light, they could go dark on the cabinets and it would still feel light and bright. They decided on Benjamin Moore Kendall Charcoal for cabinets and Silestone countertops.
It's all in the details: Shop the look

You may also like this post: Diane Karmen's Modern, Traditional and a Little bit Farmhouse Kitchen.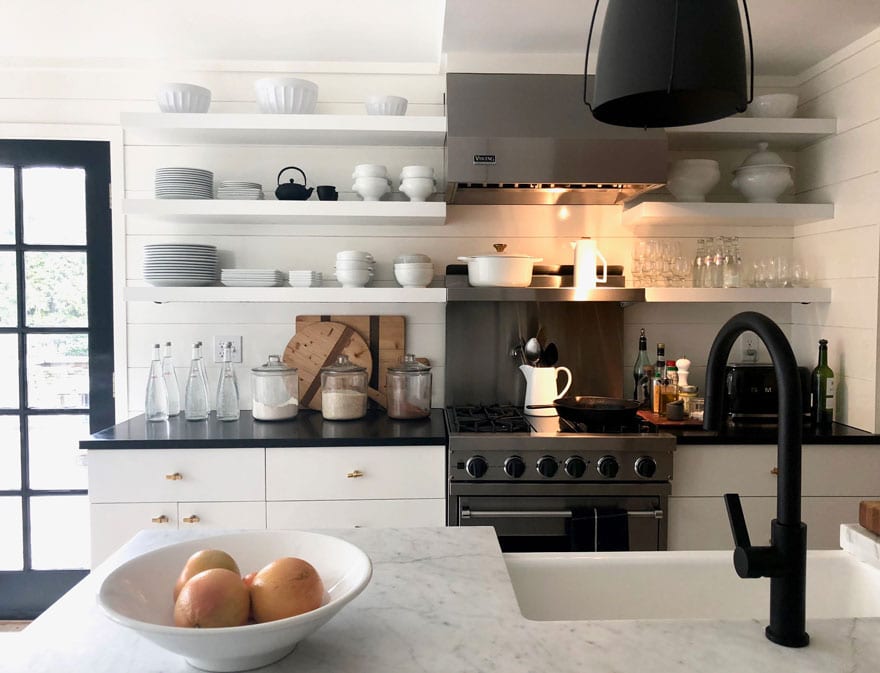 Title:
A beautiful new kitchen + Westport, Connecticut
Mentions:
kitchen, kitchen decor, kitchen Island, open shelving, subway tile
Last Updated:
January 17, 2019