Spring Cleaning with a plant-based all-purpose household cleaner: Thieves
A year ago I made the commitment to start the process of switching from using things that could be harmful to my family to cleaning naturally. We call it Ditch & Switch!
The Laundry Room
We started in the laundry room. I had been using Tide detergent for years along with Bounce dryer sheets not even realizing how harmful these products with all the fragrances can be to our skin. I switched to Thieves detergent and wool dryer balls. Once I watched the documentary "STINK" it opened my eyes to how many changes I needed to make. These were easy changes, instead of buying Tide at Target or the grocery store, I simply order it once a month on my monthly Essential Rewards order, and by doing so, I get points to use on other products like shampoo & conditioner and bar soap.
There was one area in the laundry room that I still had not addressed and that was cleaning the washing machine using natural products. My washing machine prompts me to clean it after a certain number of cycles. This takes 2 hot cycles, but your machine will be clean and smell fresh again!
Print
All-Natural Washing Machine Cleaner
Cleaning your machine on a regular basis can prolong the life of your washing machine and your clothes will be cleaner!
2 cups

baking soda
2 cups white vinegar
15 drops Tea Tree essential oil (lavender, citrus fresh, lemon)
Instructions
Put baking soda in the drum and and run a long hot cycle. (Use your "Clean Machine" cycle if your machine has one).
Add 1 1/2 -2 cups of white vinegar and the essential oils to the drum of your machine and run another long cycle with hot water. You can also add 1/2 cup of vinegar to your soap dispenser of your machine as well.

 

Finally wipe down the machine including the door inside and the rubber seal with Thieves Household Spray.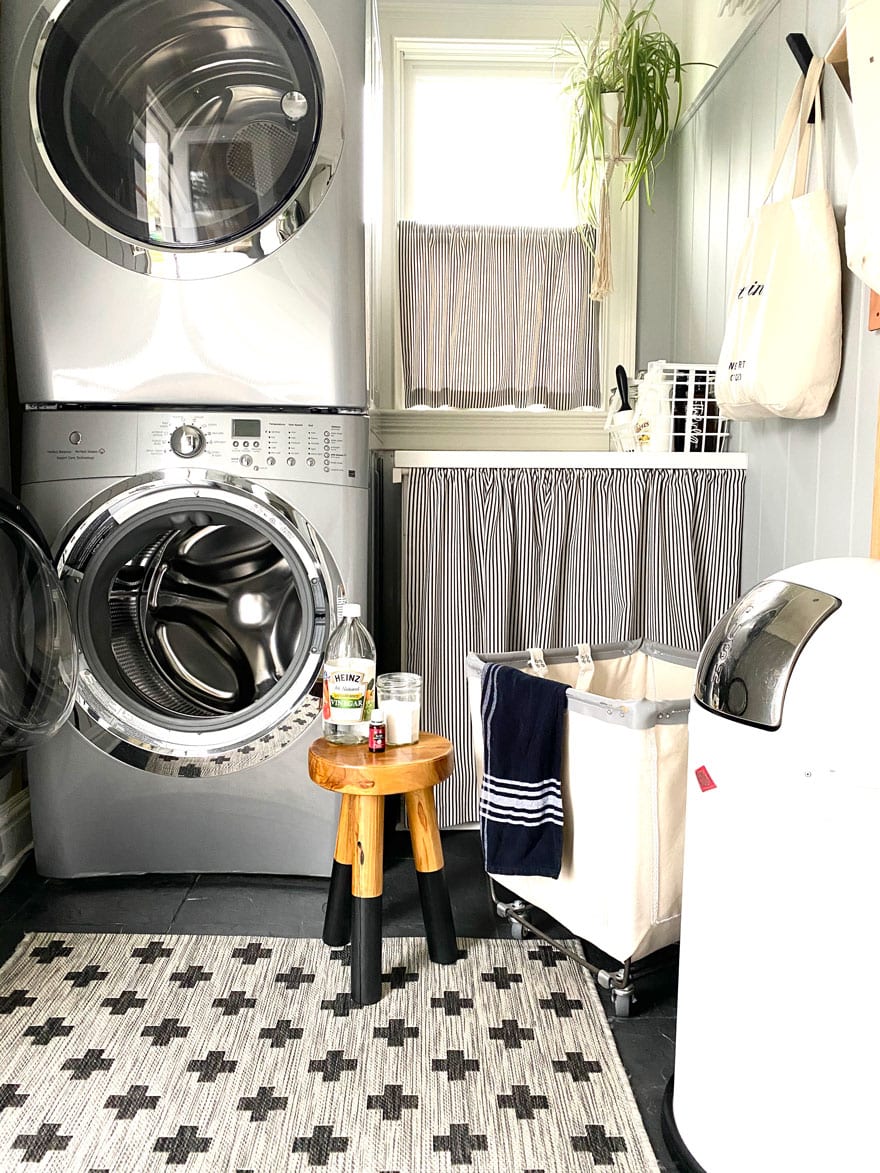 Laundry Stain Remover
Almost everyone has at least two stain remover products in their laundry room. I had a bottle of Shout spray, a stain stick, and then a container of Oxy Clean. The only thing I use now is this simple method and it has worked on every stain from grease stains on cotton to ground-in dirt from playing golf in the rain. You can mix a bottle to keep on hand or for really tough stains, I will mix up a little dish and apply it to the stain, launder it without adding anything else and it works every time. In a small bowl add a small amount of Thieves laundry soap, Thieves Household Cleaner, and a drop of lemon and eucalyptus essential oil. Just when I think something is ruined from a stain…I try this mixture and it saves it! My niece, Courtney used it on her daughter Zoë's white denim shorts thinking they were ruined and after two washings they came out looking like new! With two little ones, Courtney keeps a spray bottle in her laundry room at all times. For whites, I use Molly's Suds Oxygen Whitener.
Wrinkle Release Spray
Make your own wrinkle release spray as one more way to eliminate toxins in your home. All you need is a 16-ounce glass bottle, a tablespoon of Thieves dish soap and 10 drops Citrus Fresh Essential Oil. Shake to combine and then shake a little each time before using it. Spray liberally on damp clothing to release wrinkles and smooth or shake out clothing and hang to dry! That's all there is to making your own Wrinkle Release spray!
Window & Glass Cleaner
I used to use Spray-Way glass cleaner! The smell takes your breath away! That can't be good. I now use something that works far better and it's all-natural! A capful of Thieves, a tablespoon of white vinegar and a few drops of lemon or citrus fresh essential oil (optional) if the smell of vinegar bothers you!
Eyeglass Cleaner
When you wear glasses all the time you know how often you need to clean them. I used to buy the eyeglass cleaner at the shop where I purchased my glasses. Every time I would stop in for an adjustment I would pick up a small bottle. Well, my eyeglasses are in need of a small adjustment, but that will have to wait for a few more weeks. However, I have started to clean my glasses using Thieves Household Cleaner! Why did it take me so long to figure this out? It gets them cleaner with no smudges and I don't have to worry about running out. A capful of Thieves in a 16-ounce glass bottle to clean everything in my house. So easy, right?
All-purpose cleaner, window & glass cleaner and soft scrub is a good place to start!
I always suggest that you start in one area of your home. You'll see and feel the difference and want to move to the next room of your house! When I open my cabinet under the sink and see this set-up…it makes me so happy!
You might also like this post!