If there's one thing I love, it's a make-ahead dessert or breakfast! These apple pie poptarts that you can make for Thanksgiving morning or even dessert are so good and easy to make!
What makes apple pie poptarts so special?
Well, don't even get me started! I'm using my mom's apple pie recipe but tweaking it a little to make poptarts. The great thing about poptarts is that you can freeze them and then thaw them, add the glaze, or even just some powdered sugar when you are serving them. I suppose you could freeze a whole pie, but I never do!
What's the difference between just regular apple pie and poptarts?
I cook the apples in the butter and sugar, letting them get very soft before baking them. They bake for less time than an entire pie, so this step is essential if you want a filling where the apples are fully cooked.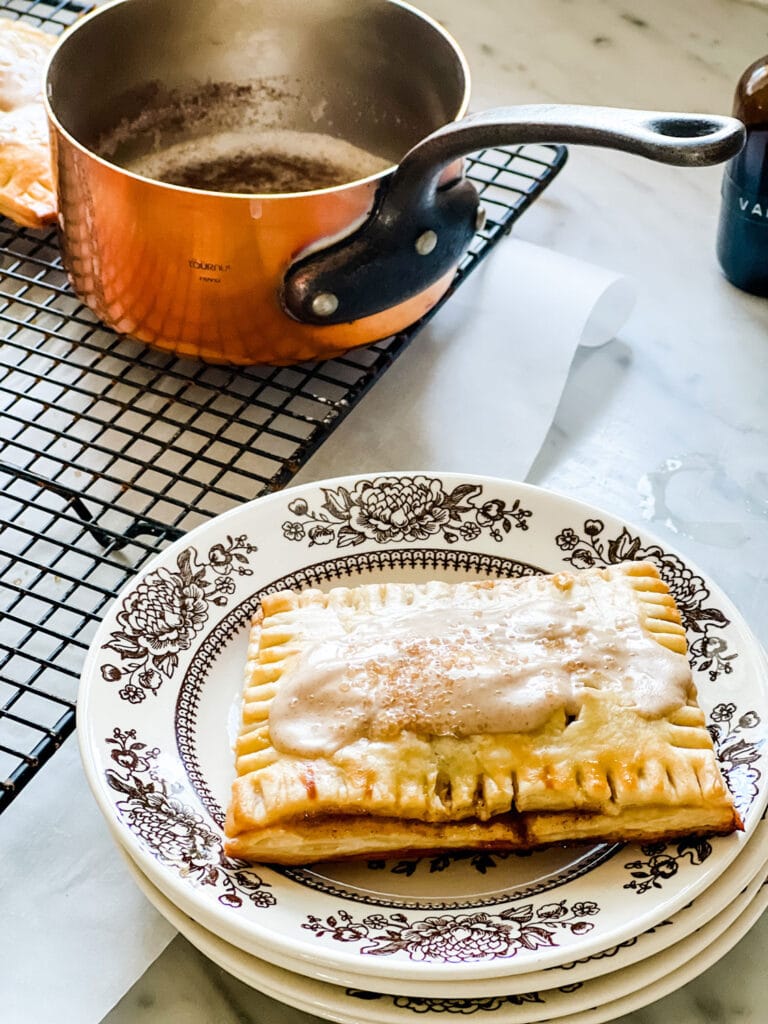 The Ingredients
homemade pie crust or store-bought is fine
apples (I always use whatever I have or a combination)
white and dark brown sugar (or light brown sugar is fine too)
salt
cinnamon
butter
a few cubes of bread
*Powdered sugar and more butter
*Turbinado sugar
*You'll need a little more butter, powdered sugar to make a brown butter glaze, and then a sprinkle of Turbinado sugar.
What's the difference between light and dark brown sugar?
The amount of molasses in light and brown sugar is the main difference, with dark having more. They are mostly interchangeable. This article from Bon Appetit explains it.
Print
Easy Apple Pie Poptarts that You Can Make Ahead!
Author:
Prep Time:

15 minutes

Cook Time:

40 minutes

Total Time:

55 minutes

Yield:

4

1

x
1

store-bought package of pie dough
Four apples, peeled and diced small

1 teaspoon

ground cinnamon

1/4 cup

white sugar

1/4 cup

brown sugar
Pinch of salt
Four small cubes of bread and butter
Egg for egg wash
Butter, powdered sugar, and Turbinado sugar for the glaze.
Instructions
Combine the apples, sugars, salt, and cinnamon and cook until soft over low heat, stirring often.
Roll out the prepared pie dough and cut it into equal rectangles. I measured them 4" x 5"
Make an egg wash, brush on each side at the edge, and fill the center of one side with 1/4 of the apple mixture. 
Before adding the top piece of dough, place a small piece of butter and a small cube of bread. Then add the top and, using a fork, crimp the edges. Brush with the egg wash.
Bake in a 400º oven for 15 minutes on a pan lined with parchment paper,
Remove and allow to cool. 
Make a simple brown butter glaze with butter and powdered sugar.
Glaze each pop tart and sprinkle a little Turbinado sugar. Enjoy
Keywords: apple pie, pop tarts, dessert, breakfast, Thanksgiving
Pin for later!
And there are more Sunday Favorites!
Outfit of the Week Featuring an Oversized Shirt Jacket and Messenger Bag
Oversized Wool Blend Shirt Jacket // Denim Shirt // Tissue Turtleneck // Shearling Birkenstocks // Messenger Bag
I've been wanting an oversized wool shirt jacket since last year. Since I'm sure it's a trend, I didn't want to spend too much. I saw this one at Gap, and it's on sale! It comes in regular, petite, and tall. I wear it with a tissue turtleneck that I buy at J.Crew every year. And shearing Birkenstocks! They feel sooooo good!
I've been carrying a messenger bag since Madeline, and I went to Copenhagen. It seemed everyone had one, and they are so practical. I often take my laptop with me, and it's easier to use a messenger bag than a tote. I bought a Coach bag that's actually a men's bag. It's no longer available, but this one from Cuyana is actually designed to fit a laptop.
A book I Read and Loved
When Madeline and her Read Receipts friends all said it was the best book they'd read, I immediately downloaded Tomorrow, and tomorrow, and Tomorrow and found myself looking for reasons to go places so I could listen to it while walking or driving. I even found myself happily folding laundry so that I could continue listening. It's about a subject I know nothing about, video games. The way the storyline weaves through the characters from when they were children through adulthood was just fascinating and brilliant. I highly recommend it if you haven't read it yet! Follow @readreceipts for more book reviews!
I've talked about Comrad Compression socks before. I wore the knee socks on the flight to and from Paris, and I felt it really helped! Now I wear them to work out and when I wear casual sneakers, which, if I'm being honest, are most days! They make your feet feel so good at the end of the day! Try a pair and see! Use this code and get 25% off your first order.
Something Small for your Kitchen – A Salt Cellar
When we were in Paris went to Merci, and it gave me so many ideas of small things I can bring into my home to give it that French kitchen feeling. Copper pots, of course, but I saw this glass salt cellar and thought, Anchor Hocking probably makes that! I didn't buy it at Merci, but I did as soon as I got home!
You can find it in my Amazon Shop, where I've curated all of my favorite things I use daily in the kitchen. This little salt cellar makes me so happy! It's the little things!
We add new items to the shop weekly. We just added gorgeous spoon rests from @pegpotterystudio. She is the same potter that made the berry bowls that we can't keep in stock. They would make great stocking stuffers and hostess gifts. Check out the shop right here!
Okay, Let's check and See What Cindy and Mary Ann Found this Week! Thank you for reading!