With all the handwashing and hand sanitizing, my hands need some deep relief in the way of some serious hand cream. I made this before (you can read that post here), but this time I used lavender and lemon essential oils. The result a wonderfully smelling, super soft hand cream that I might feel is a bit too greasy during normal times, but these days…it's perfect! 
Make your own hand cream
A few things you'll need to make DIY Hand Cream with Essential Oils

Shea Butter, beeswax & sweet almond oil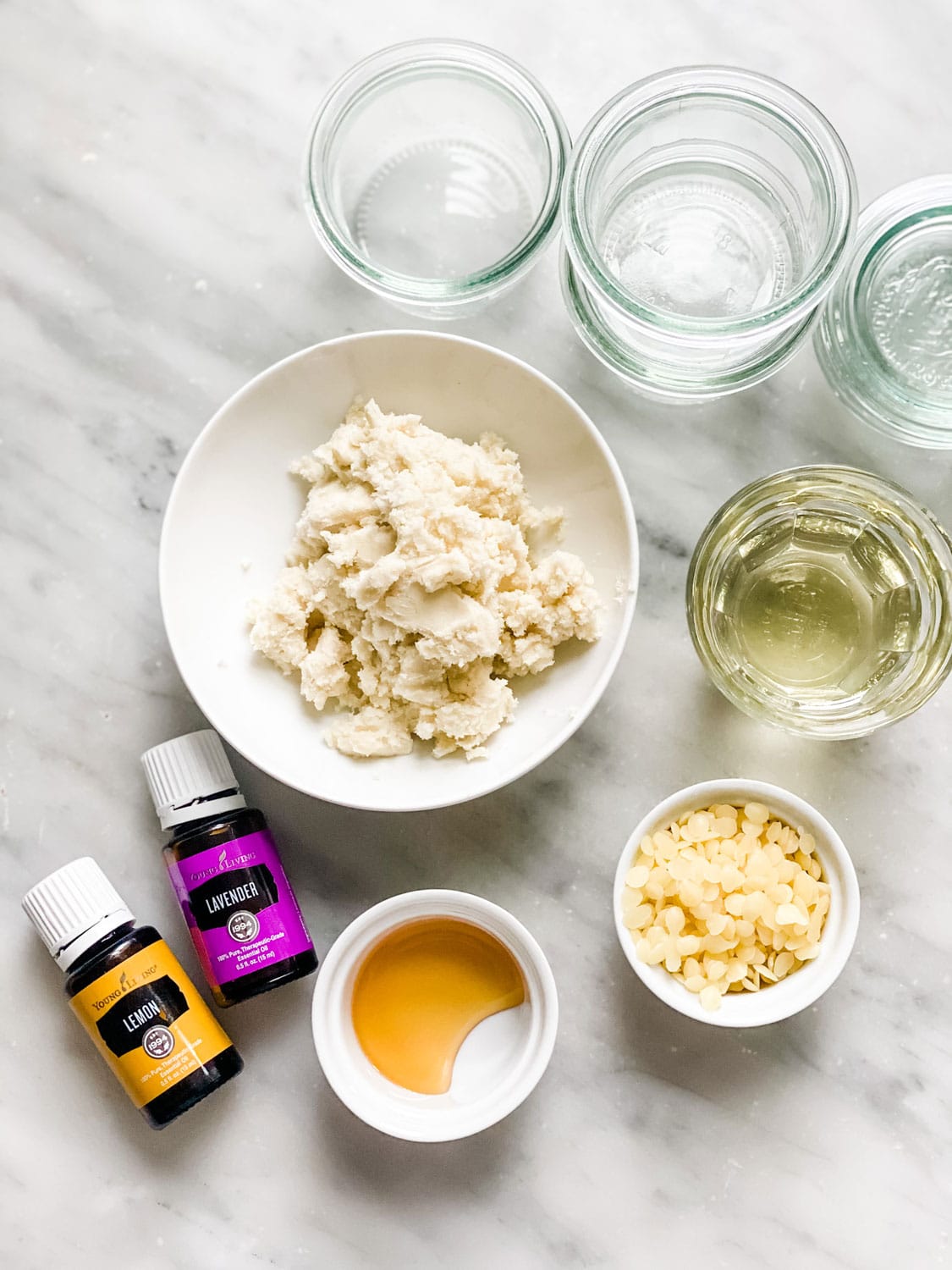 Print
DIY Hand Cream using Essential Oils
With all the hand washing and hand sanitizing, my hands needed deep relief and this is the hand cream that works!
1/2 cup

shea butter

2 tablespoons

yellow beeswax pellets

4 tablespoons

sweet almond oil

1 teaspoon

raw organic honey

20

drops each lavender and lemon essential oil

3

(2-ounce) glass jars (I used Weck jars)
Instructions
Using a double boiler or a heat-proof glass bowl over a pan filled with about an inch of boiling water, melt the shea butter, beeswax pellets, and almond oil.
Once all solids have become liquid, remove from heat and allow to cool for about 2 minutes.
Add the essential oils (and honey if using), and stir to combine
Pour into jars and allow to become solid. It takes only a few minutes or you can put it into the refrigerator.
Notes
Will keep for up to 2 weeks stored in the refrigerator.
A few things I'm doing while staying home:
My friend Suzanne makes a list of every space in her home that she needs to organizing and then tackles a drawer or a closet as she has the time. I made my list and we started at the top. The attic closet. While Madeline is home, we have gone through all the clothes that she keeps at our house and ordered thredup bags. It's a wonderful way to clean out and give back. You can choose to donate or get cashback. And they send the bags right to your house!
Writing letters, postcards and sending off magazines using my electronic scale from the kitchen, and adding the appropriate amount of postage. Rather than going into the post office, I'm just dropping at the box in my neighborhood. I'm looking forward to this afternoon when I walk to the post office box! It's the little things!
Making lots of pantry meals. When you have an organized pantry (this was something we did recently and since then I've kept it well stocked) it's easy to come up with fun and somewhat creative meals. Our pantry is not large, in fact, it's about 24 square feet, you can see it in this post.
Madeline has been baking and making all sorts of interesting things from resources like TikTok…which has been super fun to watch. 
Shop the Post

Title:
Make DIY Hand Cream that really works with essential oils
Mentions:
DIY, essential oils
Keywords:
Make DIY Hand Cream that really works with essential oils
Last Updated:
April 5, 2022