If you are looking for creative ways to hang flowers or votives for display, I have easy steps for making a simple DIY glass jar sling. The first time you make a glass jar sling, it might take a few extra minutes, but after a few attempts, you can make one in less than a minute!
It's a good idea to practice using a heavier cotton cord. Then once you get the hang of it, you can use different sizes of twine or cord. I loved using twine to coordinate with my linen napkins and colorful glassware. But I started using macrame cord, which made it much easier.
First, gather your materials for making a glass jar sling
For each sling, you'll need the following:
80″ of twine or cord (macrame cord or heavy twine works well. Look for something that's 4mm in thickness).
A small jar
Useful tools:

Where to Find Jars
Re-purpose Jars
I save Maille Mustard jars. I love the shape, and since Dijon is an essential ingredient in our homemade salad dressing, we go through a lot of mustard. The jars are the perfect size to hold a votive candle or a few garden flowers.
Thrift Store
Your local thrift store, Good Will or tag sales are great places to find jars. I often find vintage French canning jars at flea markets and thrift stores. Finding a beautiful French canning jar for 50 cents makes me so happy! It's the little things!
Buy New Jars
Look in the canning section of your local large grocery stores, Walmart, or Target for jars. They have an assortment of sizes, some have sides of the jar like these with a pattern, and others like these are clear.

How to Use Your Simple Glass Jar Slings
We are using them for home decor with our over-the-table rod from Terrain. I knew I would want to hang jars for a few flowers or a votive candle. They could hang slightly crooked if you using for flowers, but that would not work for using votive candles. They needed to have a flat bottom. Making these glass jar slings was the perfect solution. All I needed was an 80″ piece of cord!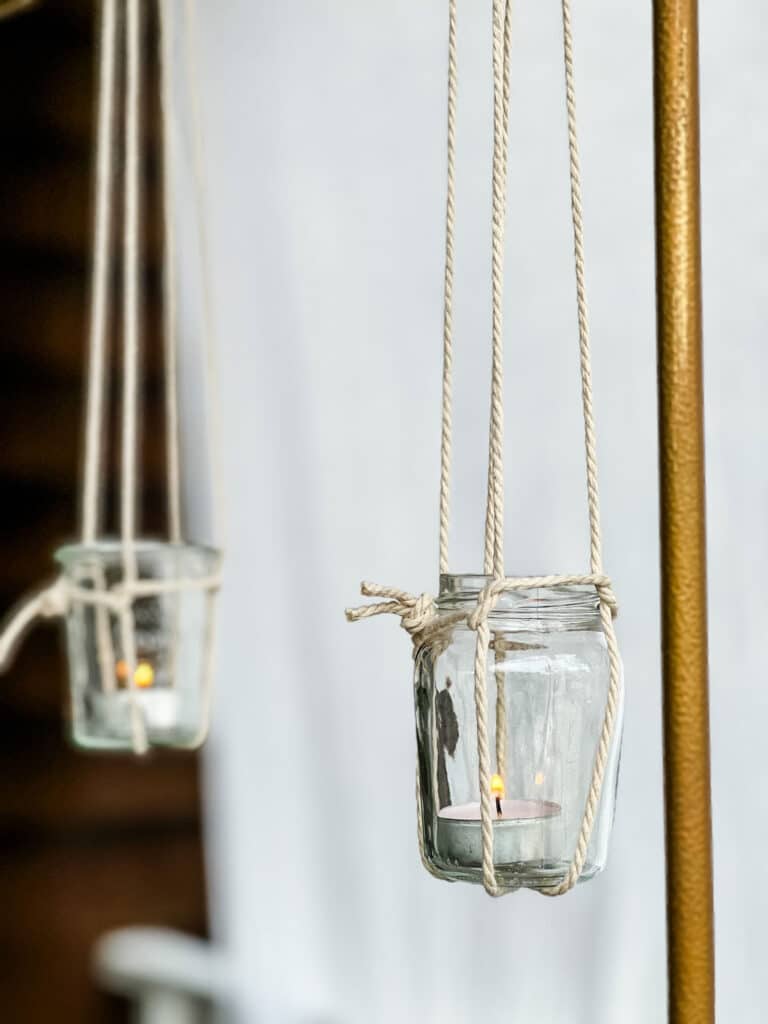 They would make a great holiday gift for a teacher with a votive or some flowers and a gift card! Or, just make several and use them with your over-the-table-rod! Your guests will love it!
Step-by-Step Directions on Making a Simple DIY Glass Jar Sling
How to make a glass jar sling