I am updating this post with new information on creating unique personalized gift wrap for father's day using blueprints ordered from Staples! A few things changed from when I first started making this unique and very personal gift wrap using photos!
Using Blueprints to make custom gift wrap
Staples used to call them engineer prints, so if you are trying to make these as you did a few years ago and you are stuck when you search engineer prints, keep reading. I have all the step-by-step instructions for you!
What is the cost, and how long does it take?
Depending on the size, blueprints start at around $2 a sheet for black and white. You can pay a little extra and get them the same day if you order by 2 pm. Typically you can pick it up the next day, or you can pay for shipping which starts at around $5.
I always need them fast, so I order online and pick them up the same day!
Can I use any photos?
Yes, you can use any photo. I just edited my photo in the app on my iPhone. I add a little light, straighten, crop the photo so I have just what I want for the wrapping paper, and then I airdrop it to my desktop. You could do this all from your phone, but I'm kind of old school and like to do stuff from my computer. So if you do it from your phone, you'll skip this step.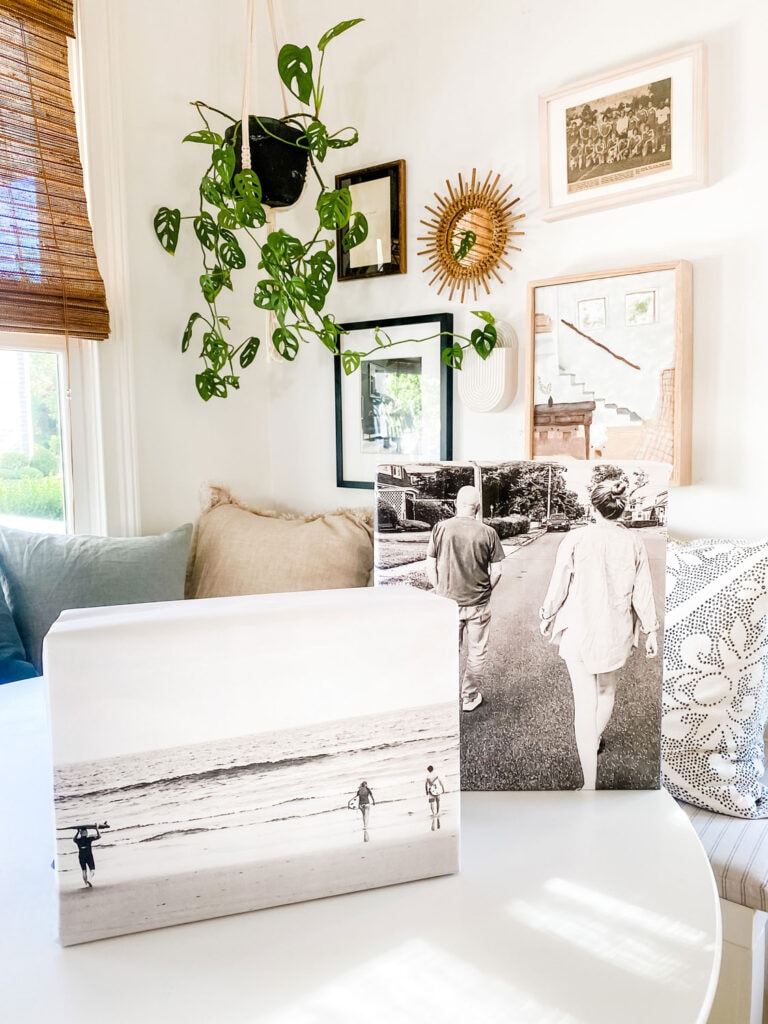 Tips on ordering blueprints and using them for wrapping paper
When ordering blueprints for wrapping paper, order two of the same photo. That way, when you position the photo on the front of the box, you can use the other sheet to finish wrapping the box.
Here's another idea for using blueprints for gift wrap
Everyone knows how much I love Staples Blueprints…especially for DIY gift wrap. And one of my favorite ways to use them is for Father's Day. Staples makes it easy to create one-of-a-kind gift wrap from a photo or even quotes or phrases like we did a few years ago. We made the one with quotes my kids used to say when they were little. We had the best time remembering that I almost felt bad that my husband wasn't in on the moment. Here's a look at what we've done in the past using Staples blueprints.
Use funny quotes for a very personal and sentimental gift wrap
My kids and I came up with phrases and funny things they used to say when they were little. We took notes while brainstorming and remembering phrases, and then they put them into a word document. We uploaded it like a photo to the Staples website and chose the largest size so that we could use it to wrap several gifts.
Travel Photos make great gift wrap
I am always taking photos of my family from the back. For some reason, photos in this way take me back to the moment in a flash. And I love that! These are from family vacations, and just seeing this reminds me of that day so clearly.
Vacation photos over the years (recreated)
This time I used the same photo on the right that I used a couple of years ago and a new photo where we recreated it in the exact location, which happens to be a favorite vacation spot.
Ste-by-Step instructions on ordering staples blueprints for gift wrap
Once you land on the Staples website, go to Services.
Then Printing Services.
Then on the right side look for Document Printing, then dropdown box, tap Blueprints
Tap the red bar to Start Project.
You'll get a popup that says Browse Your Files. Select where you are going to grab your photo from. I take photos right from my phone. I edit them in the iphone photos app. For this photo, I lightened it a little, straightended it and chose the black and white filter. Then I AirDropped it to my Macbook.
I'll choose the first option, My Computer.
I find the photo on my desktop and upload it. It takes a couple of seconds and then it will give you confirmation.
Add more files (photos) or if you are done, tap Continue.
You'll see your photo and now you will want to select the size. (18 x 24, 24 x 36, 30 x 42, 36 x 48)
I chose 18 x 24 and tap Next.
Select Color Ink or Black Ink, then Next.
Skip the Add on Screen, Next.
Choose Delivery or Store-Pickup.
Add to cart and proceed with Checkout!
Father's Day Gift Guide
These items are on Brent's list, but Patrick, at 23, would love each of these items too! It's a little old school, and definitely ageless and maybe timeless too!


Vintage Wash Polo from Alex Mill // Golf Ankle Socks by Bombas // Surfer's Salve // Rod Laver Leather Vintage Sneakers // Rhone Training Shorts // Leather Dop Kit from Steele Canvas // Marshall Speaker // AZIO Retro Classic Bluetooth Keyboard