Terrain Café Serves bread in terra cotta flower pots. They sell it in kits and they also have one for a cinnamon swirl flower pot bread. I made my own version and it's absolutely delicious! I bought small clay pots at a local nursery (see below how I prepared them to bake in) and used a simple recipe for cinnamon swirl bread that somehow tastes even better when it's served in a flower pot! Enjoy!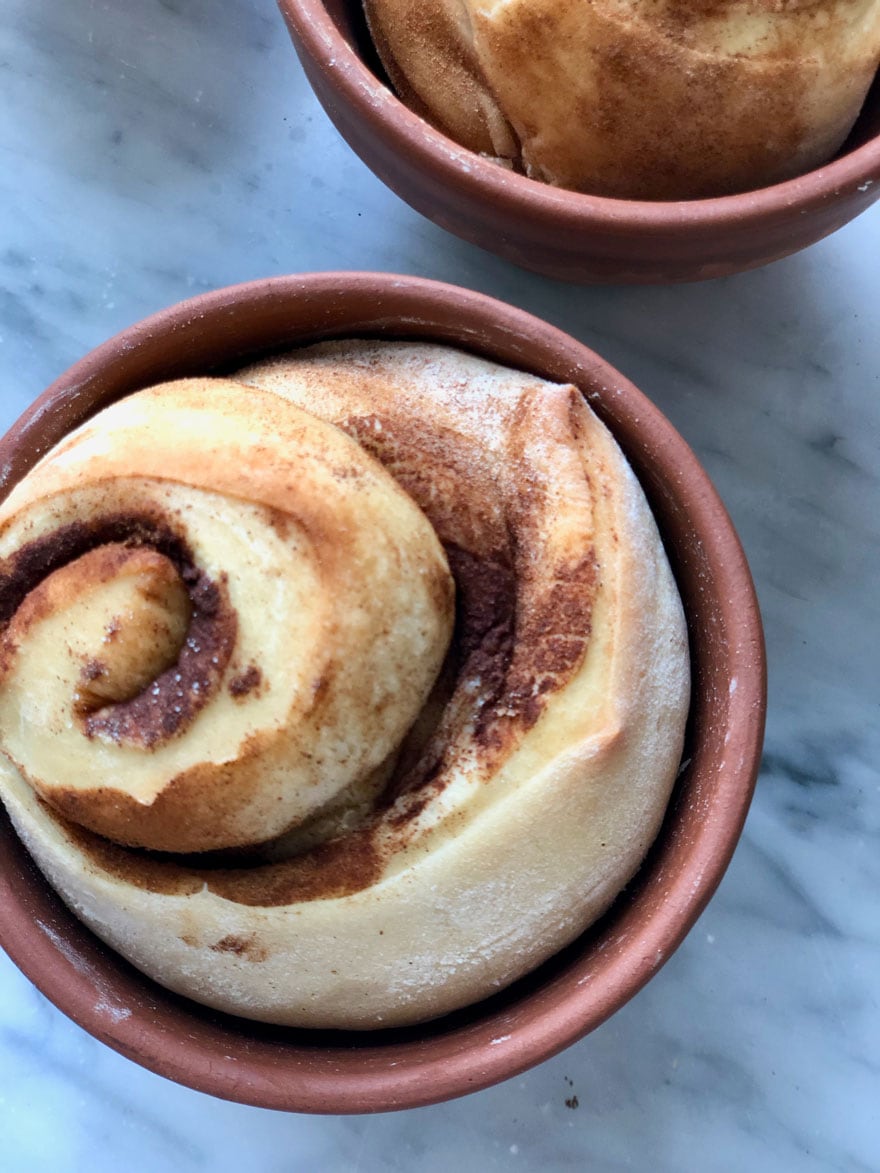 Print
Cinnamon Swirl Flower Pot Bread
Make cinnamon swirl flower pot bread for a rustic gathering. They are easy to make, but of course like all bread…it takes time.
Prep Time:

4 hours

Cook Time:

18 minutes

Total Time:

4 hours 18 minutes

Yield:

4

1

x
6 tablespoons

salted butter

1 cup

whole milk

2

–

1/2

teaspoons active dry yeast

2

eggs

1/3 cup

sugar

3

–

1/2

cups all-purpose flour

1 teaspoon

salt

2 tablespoons

cinnamon
A little extra butter to grease the flower pots
Instructions
Melt butter and add milk.  Allow the milk and butter to cool slightly.
Sprinkle yeast on top and gently stir it into the butter and milk and let sit for 10 minutes.
Combine the flour and salt
In the bowl of an electric mixer, mix sugar and eggs with the paddle attachment until combined. Pour in milk, butter and yeast mixture and stir to combine. Add half the flour and beat on medium speed until combined. Add the other half and beat until combined. I drape a clean damp kitchen towel over the mixer to avoid the flour dust escaping into the air.
Switch to the dough hook attachment and knead dough on medium speed for ten minutes. Coat a bowl with a little canola oil, add the dough and coat with the oil. Cover bowl in plastic wrap and set it in a warm place for at least 2 – 1/2 hours. Unless it's mid summer, I generally turn the oven on and place the bowl on top of the oven.
Roll dough into a rectangle. Spread softened butter on the rectangle and sprinkle with cinnamon (and sugar if you like) evenly over the buttered dough
Roll the dough length-wise and cut in half and then in half again so that you have four pieces.
Coat the inside of each flower pot with the softened butter. Place each piece with the cinnamon swirl side up into each flower pot. Cover with a clean kitchen towel and let rise for one hour (again in a warm area, like the top of the stove).
Once they are ready to be baked, the dough is just about to the top of the baking pot rim, but still inside the pot. Put flower pots on a baking sheet and bake for 18 minutes at 350º.
Remove from oven and allow to cool lightly. Then holding each pot with a kitchen towel, take a knife and run it along the inside to release the bread. You may have to push the dough through the drainage hole at the bottom if it appears stuck. Remove to a cooling rack for a few minutes. Then put each back into the flower pot and serve.
Notes
**Prepare your terra cotta pots by washing them and then coating the inside and outside with canola oil. Place them on a baking pan and bake in a 250º oven for 2 1/2 hours. Repeat this twice the first time you are using them to bake bread.
Keywords: flower pot bread, cinnamon swirl flower pot bread
Step-by-step instructions on making cinnamon swirl flower pot bread
Once you've made the dough, add it to a bowl with a little canola oil and coat the dough on both sides. Cover with plastic wrap and place in a warm spot in the house. Let rise for 2 – 1/2 hours.
Prepare your surface with flour and roll out the dough into a rectangle.
Spread room temperature butter on the rolled out dough and cover with cinnamon or a mixture of cinnamon and sugar. Then roll length wise.
Cut dough into 4 equal parts Note: next time I will trim the ends when I roll out the dough so that the pieces are the same size.
Butter the inside of each flower pot with soft butter and place each piece, cinnamon swirl side up. Cover with a towel and let rise for an hour to 1 – 1/2 hours. Then bake in a 350º oven for 18 minutes.
A visit to terrain in Westport, Connecticut
October Autumn Bounty Festival
There are many beautiful nurseries around the country and whenever I travel I make sure to seek them out. Even though I can't bring home plants when traveling, there's something about a visit to a nursery in any city that I love. Terrain is one of those places. It's way more than a nursery, although you could do one stop shopping at Terrain for all your planting needs…there's so much more than plants at Terrain, especially in the fall. 
Each year Terrain has a day full of activities to usher in the harvest season. This year in Westport, it's tomorrow, October 5th. But don't worry if you can't make it, there will be plenty to see and experience all throughout the season. Since it's only a few minutes from my house, I stop in frequently for a plant, a little gift or to meet a friend for a cortado in the café.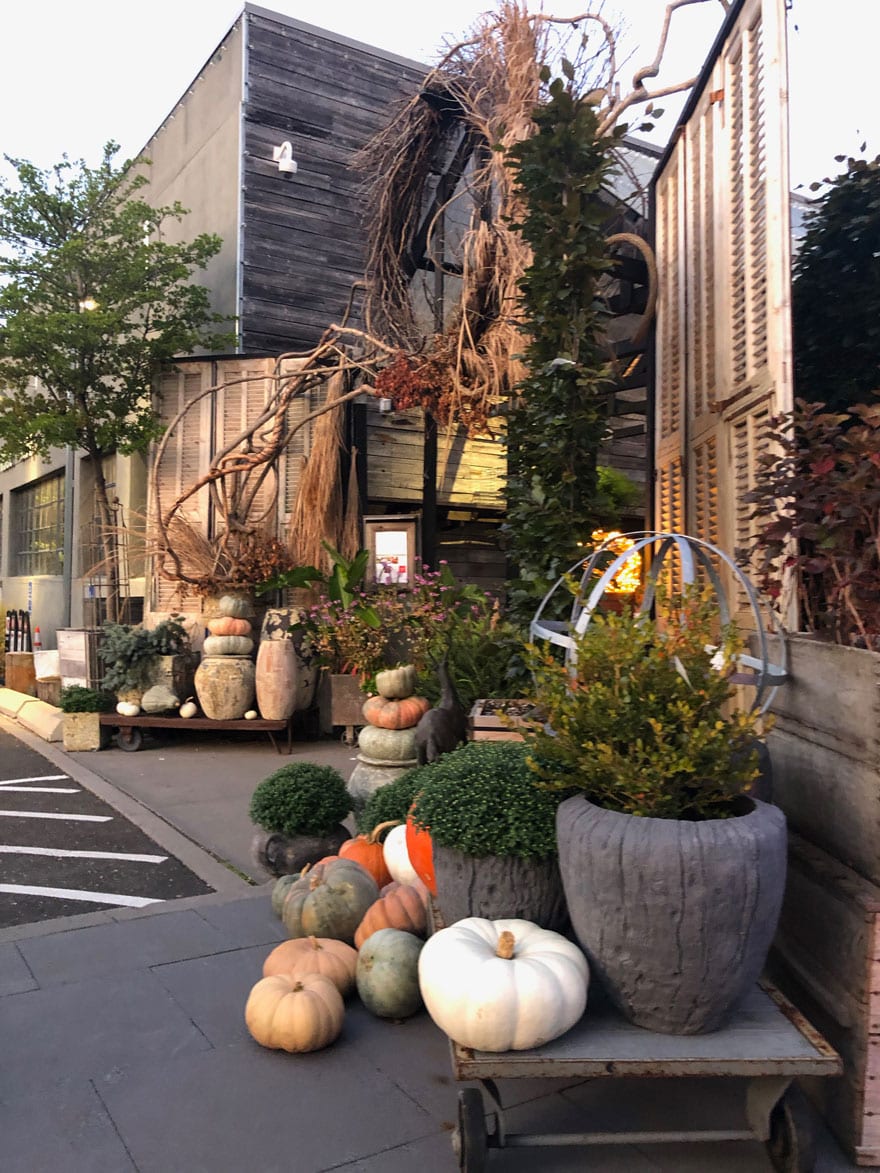 You may also like this post about Terrain.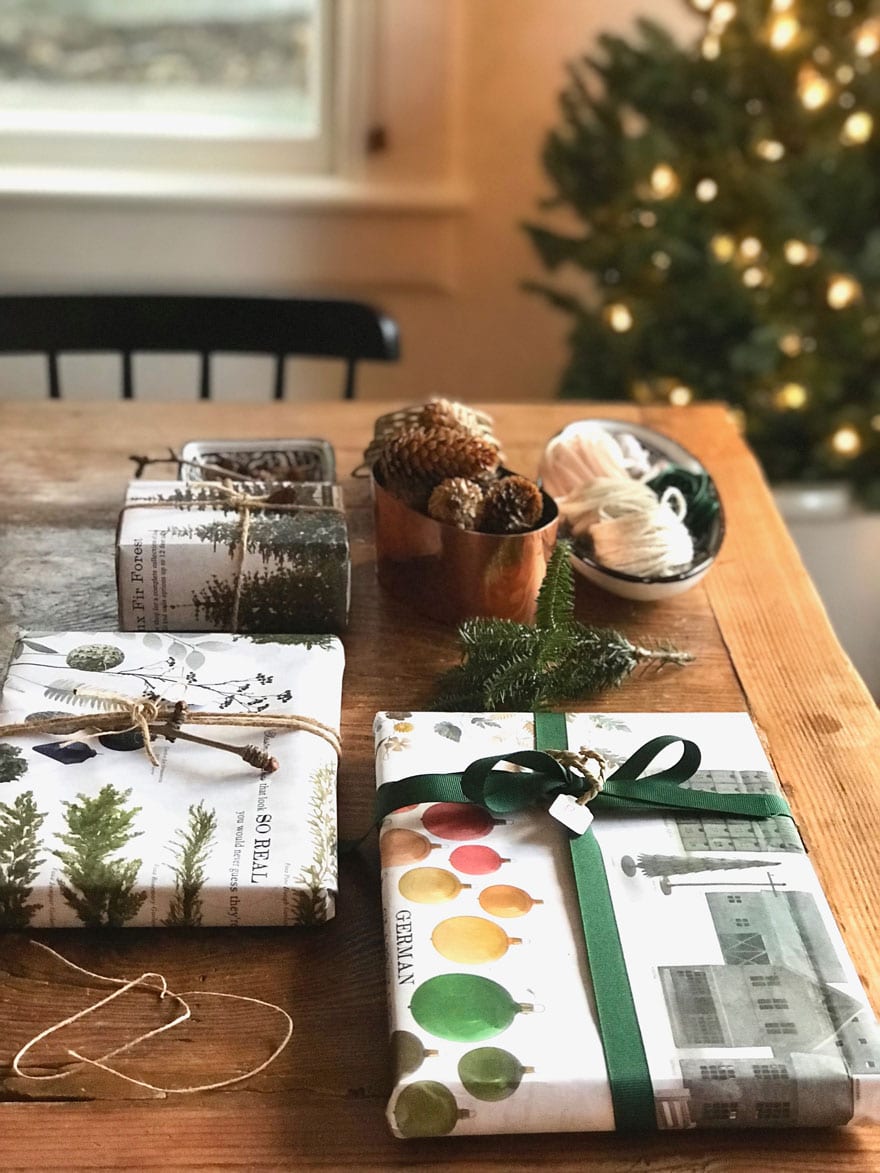 Shop the post