We have been using essential oils for just about a year and what a life changing thing it has been. I never imagined that buying a Young Living starter kit would open my eyes to so much wellness. I have talked a lot about ditch & switch. What does that mean? It means I have switched out products that I thought were safe to use in my home and on my face and body that are toxic and have switched for products that are safe and effective. I started this post with 10, but there's so many ways we use them every day that I had to make it 12 reasons why we love essential oils.
DITCH & SWITCH
1. Diffuse over burning candles
The Aria Diffuser
I used to burn candles all over my house. During the day I would have a scented candle burning while I worked or maybe a citrus candle burning on the kitchen counter. In the evening I would light at least five or six candles to make my house cozy. During the winter months that started around 4pm! I shudder to think of the toxins I willingly allowed in our home.
I now diffuse over using candles. I have a diffuser in our kitchen, living room, office, bathrooms, bedrooms and the attic. That's pretty much every room in the house. We use them for sleep, clarity & focus, relaxation, mood lifting and I'll diffuse Thieves and Citrus Fresh or Lemon to clear the air and keep us well.
The Desert Mist Diffuser
Some of our favorite oils for diffusing
Clarity & Focus
Peppermint
Cypress
Ylang-Ylang
Frankincense
Sandalwood
Sleep
Lavender
Cedarwood
Vetiver
Eucalyptus
Roman Chamomile
Relaxation
Bergamot
orange
Chamomile
Clary sage
Lavender
Lemon
Ylang-ylang
Mood Lifting & Creativity
Lavender
Frankincense
Orange
Peppermint
Ylang Ylang
Vetiver
Sandalwood
Rosemary
To clear the air when someone is under the weather or when you've had a house full of people
Bergamot
Eucalyptus
Cinnamon Bark
RC
Lemon or Citrus Fresh
2. Ditch the dryer sheets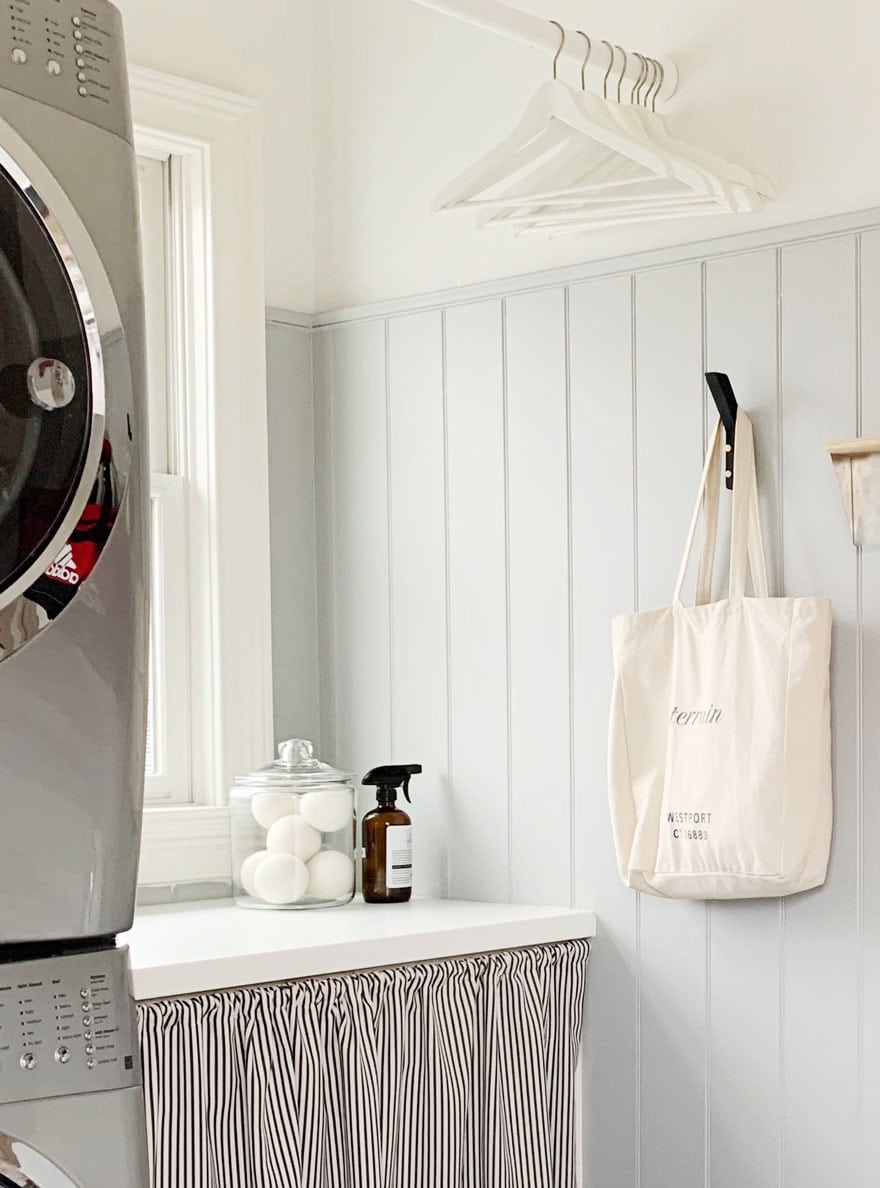 Dryer sheets can leave a residue on your clothes. Some people love the scent, but unfortunately, dryer sheets can contain harmful chemicals that adhere to clothes that are in contact with your skin. I used to love the smell when I walked past the dryer vent outside, but once I knew those were toxins, I couldn't get over how much scent they actually contained. The good news is you can avoid unhealthy dryer sheets by switching to using wool dryer balls.
Making the switch to using dryer balls was one of the first things we did and it took a little patience to get used to them. For example, if your clothes still have static, you may be drying too long. Dryer balls lift and separate the clothing, sheets and towels in your dryer and make the drying time considerably less. I use 5 to 6 balls for medium to large loads and maybe 3 for a small load. For sheets and towels, I add a few drops of lavender to one or two dryer balls.
4. Sleep
We diffuse lavender every night. We each have a small diffuser on our bedside table and I turn it on about an hour before going to bed and then it turns off sometime during the night. I sometimes add Clary Sage, Bergamot or Roman Chamomile. Setting up the diffusers each night has been part of the ritual of slowing down, being intentional about getting a good night sleep and it has been working for almost a year! We use a sleep roller like the Calm CBD roller or the Tranquil roller.
5. NingXia Red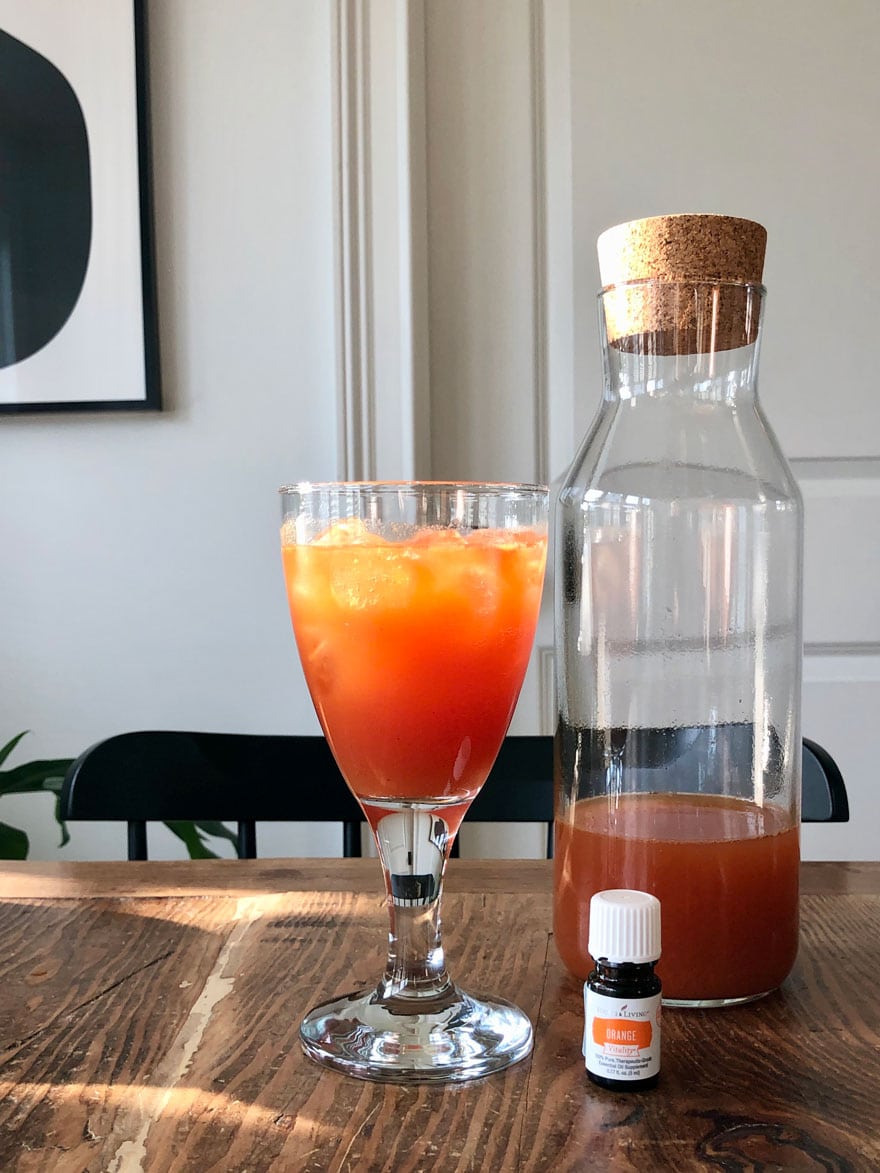 NingXia Red is Young Living's super fruit supplement. It's made from aronia, plum, blueberry, and pomegranate, plus a whole-fruit puree of exotic wolfberries. We buy it in the 2 ounce packets and mix it with cold sparkling water and a drop of lemon, tangerine or grapefruit. It's delicious! We drink it everyday and cannot imagine a day without it. It's one of the things that I feel has contributed to our staying healthy this past year. Even when I did come down with a cold, it lasted only about 36 hours!
6. Hair Care
Everyone has different hair care needs and they change with the weather and as we age. I started using the Mermaid Spray right away. Now I have an 8 ounce bottle in my bathroom and a 4 ounce bottle for my purse at all times. I use it at night before I go to bed and then in then morning as I dry my hair after washing. I use it throughout the day to tame flyaways and and to keep my hair healthy.
For the last several months I finally made the switch to using the Young Living Copaiba Vanilla Shampoo & Conditioner. I wanted to use up everything I had on hand (and of course I was buying those big bottles which only makes me use more than necessary), so it took a while. I now use the "correct" amount of shampoo and conditioner and add a drop of Clary Sage in the palm of my hand with the conditioner. My hair has never been healthier! People are always asking me what I use…so of course I bring them a bottle of Mermaid Hair the next time I see them!
Print
Mermaid Hair
Mermaid Hair is perfect fort any kind of hair and makes it stronger and helps with flyways.
2
oz
spray bottle
10

drops lavender essential oil

10

drops rosemary essential oil

10

drops cedarwood essentail oil
Instructions
Add all your essential oils to the bottle first
Fill your bottle half way with witch hazel, then top off with distilled water
Spray directly on roots and or the ends and brush though your hair
Notes
Dandruff is a fungus- lavender helps with that and adds shine.
Rosemaryn- unclogs scalp pores and balances hair oils.
Cedarwood – supports hair strength.
Witch hazel – tames frizzy hair!
7. Perfume
I used to wear perfume everyday not thinking twice about what I was actually putting on my body. Once I watched the documentary, "Stink" I could not bring myself to apply something to my skin without knowing what's in the product. The documentary explores why there are toxins and carcinogens legally hidden in American consumer products.
I now simply roll on my Stress Away Roller or make my own blend using oils. I may choose my blend by looking at the ingredients of a perfume that I used to wear and love.
Homemade perfumes are easy to make: You'll need a base note, middle note, top note and an alcohol base. When you smell a perfume, top notes are typically the first to reach your senses, followed by the middle notes, followed by the base.
Base notes: Cedarwood, Sacred Sandalwood, Patchouli
Middle notes: Geranium, Lavender
Top notes: Orange, lime, Bergamot
Adjust the oils to your bottle size. After you add the alcohol, it is best to give your perfume a month to really set and infuse. The oils will mix with the alcohol, and the alcohol will lose whatever scent it may have had on its own.
8. Vitality Essential Oils
Make a simple citrus vinaigrette
We use vitality essential oils everyday. We start our day with a drop of lemon vitality essential oil in hot or cold water every morning. I also add it to our simple salad vinaigrette when we don't have fresh citrus on hand.
9. Nail Care
I've been using a blend of carrot seed, eucalyptus, lavender and tea tree mixed with a carrier oil like fractionated coconut oil for my diy cuticle oil. It took away the discoloration after wearing dark polish on my toe nails all summer in a matter of a few weeks! Of course by applying it to my toes nails, it also works on my finger nails!
10. Skin Care and Makeup
One of the last things I switched over completely was makeup. I started using the Glow moisturizer right away and then the wolfberry eye cream, but it took me a while to make the switch to makeup. I had been using Chanel for years, but once I was out of everything, it just made sense to try the Savvy Minerals from Young Living. In early December I had the opportunity to travel to Utah to attend a Young Living conference on makeup. We learned about the make-up and skin care and had the chance to try it. I was hooked. I came home went through all my existing products and cleaned out everything which made me realize I was out of almost everything! Yay!
11. Thieves
Thieves is one of my favorite Young Living products. It still amazes me how one capful in a 16 ounce bottle diluted with water can clean everything in your house. It's safe and effective. I wanted to be sure it was safe to use for things like cutting meat and chicken on a cutting board, so I ordered a few 3M Clean-Trace Test Swabs just to be sure! I wanted to say with confidence that it cleans everything, safely and effectively. Even raw chicken!
Some of the other ways I use Thieves is for window cleaner, bathroom cleaner, floor cleaner and the list goes on. It's my absolute favorite cleaner and I love knowing that it's safe to use.
Windows – Capful of Thieves in a 16 ounce glass bottle, one tablespoon white vinegar, top off with water.
Heavy Duty – 3-4 capfuls in 8 ounce glass bottle, top off with water. Use for heavy duty cleaning jobs like cleaning your oven!
Kitchen – Capful of Thieves in 16 ounce bottle, top off with water. Use for everything from countertops, tabletops, cutting boards, stove top…
Bathroom – Same as kitchen, but add in an extra capful of Thieves to make it a little stronger.
On February 11th, I'm teaming up with Sheri Silver to do a fun little giveaway that involves Thieves and another household cleaning product that we both love! Make sure to check back to enter. We will both be sharing on instgram too! Make sure you are following us:
If you want to buy a starter kit like I did, you can go here. I'll send you a packet of things to get you started and make sure you have access to the Nesting Well Facebook Community. If you have questions about oils, enrolling, please don't hesitate to reach out. annie@mostlovelythings.com or anniediamondlivingwell@gmail.com
SHOP

Title:
12 reasons why we love essential oils
Mentions:
cleaning tips, essential oils, healthy living, spring cleaning, Thieves
Last Updated:
February 3, 2020