I went to school in central Pennsylvania, in the heart of Amish country. I've enjoyed my fair share of apple cider, fresh produce from local farms, and, of course, whoopie pies. Whoopie pies, which have roots tracing back to both New England and Pennsylvania Amish communities are a delicious dessert consisting of a sandwich of two chocolate cakes and buttercream frosting in the middle. They're like a homemade version of oreos—but better.
This spring, at the farmers' market near my university, I picked up three whoopie pies for two dollars. My roommates and I managed to devour them immediately. They were amazing. I searched around the internet for recipes, and decided that surely Martha Stewart wouldn't steer me wrong with her recipe.
Both the cakes and the frosting are easy to make and they look great on a platter. We decided to add little American flags to the pies—these would be perfect for a Fourth of July barbecue.
To pipe the frosting, we used a Ziplock freezer bag and snipped the corner to create a pastry bag.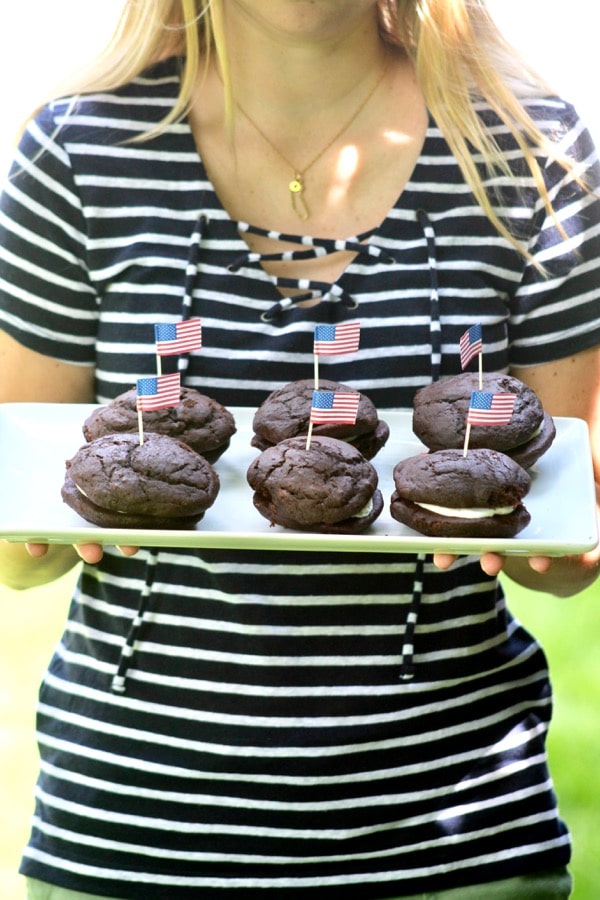 Happy 4th of July!

SaveSave
SaveSave
SaveSave
SaveSave
SaveSave
SaveSave
SaveSave
SaveSave