You can still wear all black even in the spring. Here's how to transform mostly black outfits for spring and summer.
Why do we want to transform our black outfits for spring?
Well, if you're like me, you like to wear black all the time. Leanne Ford has a great quote and once even made a t-shirt with the saying. "Paint White, Wear Black" – Love that! Black is a great silhouette. It's flattering on everyone and it's easy to mix and match!
Black is easy to mix with other shades of black or neutrals
I never mind if my black jacket is not the same as my black pants. But I do love a suit and the one shown here is at least 15 years old. I do not know how this managed to avoid the donation bin with so many moves and purges. But it did and I am happy about it. Wide-leg pants are back.
I can wear this suit with a graphic tee, a shirt, a sweater, or with nothing but a camisole underneath. The jacket and pants can be split up to mix with other basics or worn as a suit making it a great outfit for travel.
Another great thing about wearing all black is that it mixes with anything!
You never have to worry about bumping into something, sitting on something on a subway or a park bench. You never have to worry about spilling food or drink, black hardly shows anything. At least not enough to ruin your day! It's easy to mix black with a jacket from Sezane, an eyelet shirt, Vejas sneakers, and a Letra bag. (Use code ANNIE20 for 20% off all Letra Bags).
How to remove a small stain or a smudge on a garment
A co-worker at Serena & Lily taught me about getting small smudges or stains out of clothes, even black without making them worse. We often look for a towel and a bit of water. But she says don't do that. Instead, take the underside of the garment and gently rub the stain in one direction. You are basically transferring the smudge to the inside of the garment where no one can see it. It works every time! Try it if you don't already know about this trick!
Stripes and all black
Nothing says spring like a striped shirt. This one is the boyfriend-cut striped shirt from Kule. It's a little oversize since it's a boyfriend cut, and that makes it easy to wear. I love wearing it with a black blazer and rolling up the sleeves to show the stripes.
Washed black/gray jeans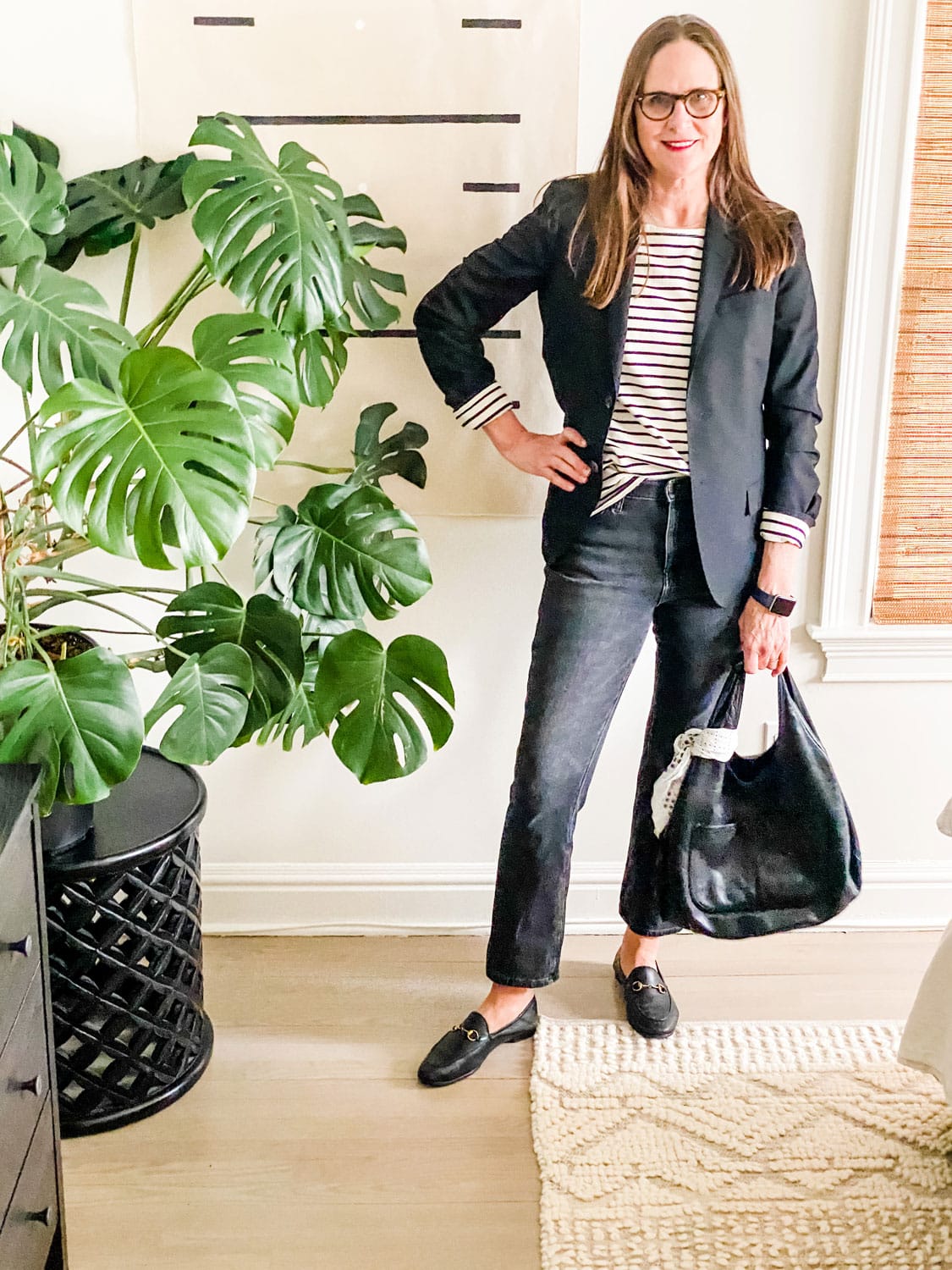 Everyone seems to be making washed black/gray jeans. They are perfect for spring because they are a little lighter than wearing dark black denim. And you might even have a pair in your closet. I had a pair of black denim that had faded over the years. To update them, I cut the hem and frayed them a little. Now I have two pairs of washed black jeans.
My favorite pair of jeans
Aside from my vintage pair of jeans, I love this pair from the Banana Republic. They are so comfortable and the great thing about jeans from the Banana Republic is that you can order the length you need. I'm wearing a tall and you can see that they are still cropped which is why the style is called – the cropped boot cut jeans.
A linen Vest
I found out about this vest from Mary Ann. It's from the Banana Republic and it comes in a few options. I love the stripes. It's made of linen so it gives you a fun layer over a t-shirt that you can wear under a jacket in the spring and then on its own in the warmer summer months. It's great to wear with dresses, skirts, jeans, and shorts.
Let's go see what everyone else has for spring fashion
CLASSIC CASUAL HOME
CINDY HATTERSLEY DESIGN 
MOST LOVELY THINGS
NORTHERN CALIFORNIA STYLE
AGE OF GRACE
SARAH LONDON STYLE
SOUTHERN HOSPITALITY 
Shop the post