Why do they call it leaf-peeping in Vermont? I read that recently on Travel & Leisure and immediately cleared my calendar when I heard that the colors were already peaking in early October. So many people come from far away places to visit Vermont in the fall just to see the changing colors, covered bridges, and to pick up a few souvenirs like maybe some maple syrup and well, since we are only about 3 1/2 hours away, we spent yesterday doing just that!
Updated information from a reader: Please click here for information on travel to Vermont from other states.
1. Day trip to Vermont in the fall
Sometimes there are those days when you are traveling or just out exploring and it reminds you so much of a movie. Yesterday made it impossible for me to not think about Baby Boom with Diane Keaton. Can't you just see the scene in the movie in the country store? It makes us want to buy apple sauce and plaid shirts.
Covered Bridges in Vermont
Autumn in Vermont
Pumpkins on Steps in Woodstock
A Beautiful Fall Display on a doorstep
Apple Orchard in Vermont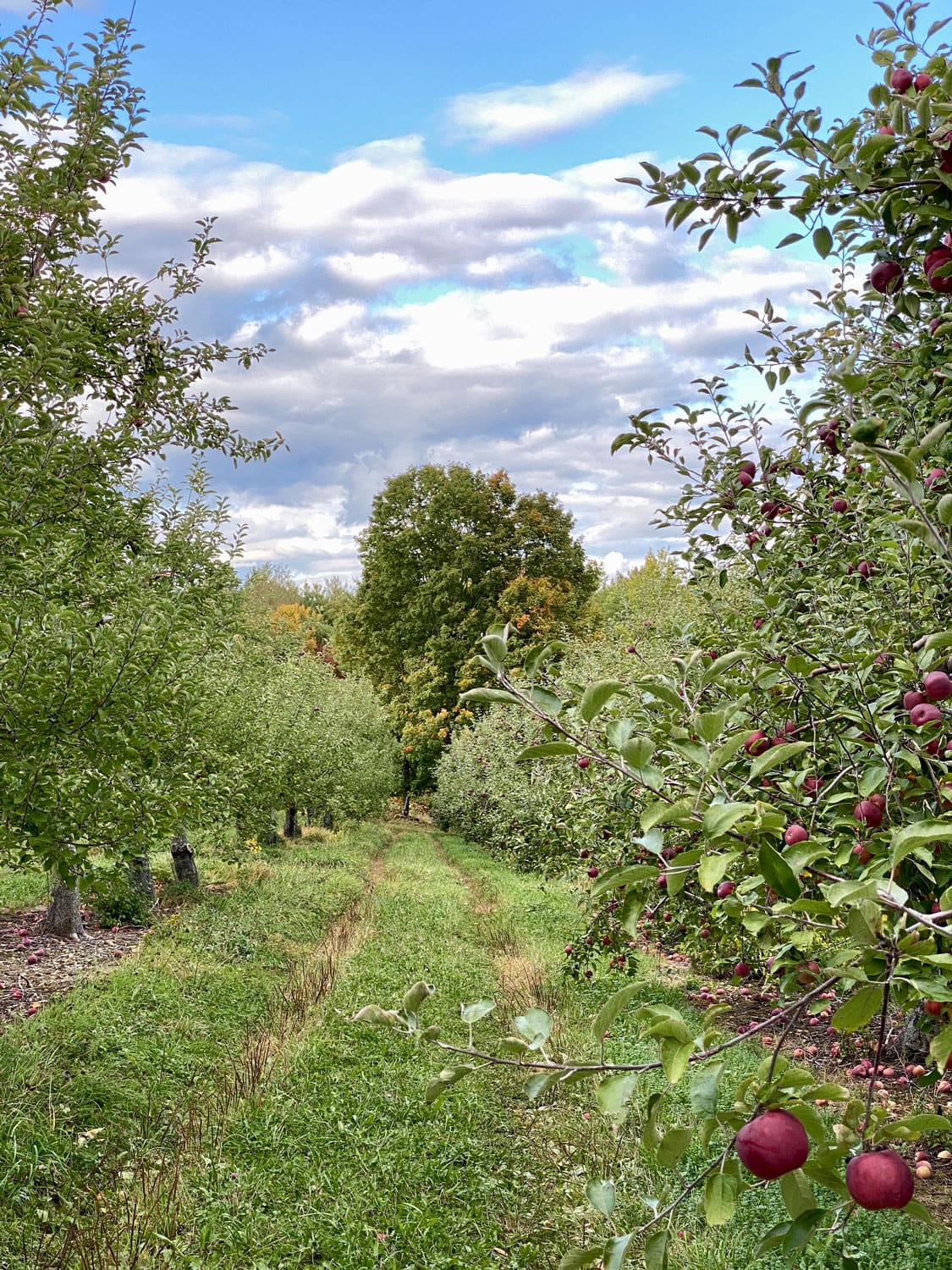 Apple picking in Vermont seemed like a must in October. We were ready for a good walk after a lot of driving. The first few tiers were filled with busy families. As we continued walking up hoping for picturesque views, we started hearing music. We listened further and it was a radio station playing music from the 1930s, 40s, and '50s while the workers picked apples on ladders. We grabbed two apple cider donuts on lour way out and apparently we've never had a "real" apple cider donut because they were soooooo good! Best $2 we ever spent!
Thinking of moving to Paris? Working from home can be anywhere these days, so why not Paris for a month or a year? Obviously not just yet, but maybe someday. Yanique of My Parisian Life offers one on one chat sessions to help people do just that. Or maybe you just want a guided foodie tour, find the best flea markets in Paris, or just want some exclusive insider Paris tips, My Parisian Life is the place!
3. Cheap jars make the best vases
My favorite vessels for flowers are the simplest ones like Anchor Hocking glass jars. Right now our hydrangeas are turning to soft pinks and greens from bright white and I've even had to borrow a few jars from my pantry for the armfuls I keep clipping for the house. The season will end all too soon with the first frost, so I'll enjoy them while I can. The jars in the 64-ounce and the one-gallon are perfect for all kinds of flowers and take very little arranging!
Re-purposed Sake Jars as small vases
Little re-purposed Sake jars are a new favorite for small arrangements like a few herbs from the kitchen garden.
*****GIVEAWAY CLOSED. WINNER HAS BEEN NOTIFIED******
A casserole carrier is a perfect thing to deliver a meal to a friend or for your next potluck. This pasta is one of my favorites for both! In the past, I would line a flat box with clean dish towels and then place the casserole dish inside the box. Of course, it was never the right size, so I would have to put rolled-up towels on two sides to keep it from moving in the box. The Luncia Casserole Carrier solves that problem beautifully and it's insulated keeping the dish cold or warm for hours.
I have two extra to giveaway! One for you and one for a friend! Leave a comment with the name of your favorite casserole and you'll be entered to win to receive both!
5. Garnet Hill Masks
Who would have predicted that masks would become the latest fashion accessory? I love these from Garnet Hill for my fall wardrobe. They are adjustable and made from organic cotton.
Let me know in the comments some of your favorite finds and I'll feature them in an upcoming post. It can be anything, a book, a show, a recipe, a gadget…I want to know so I can share it!