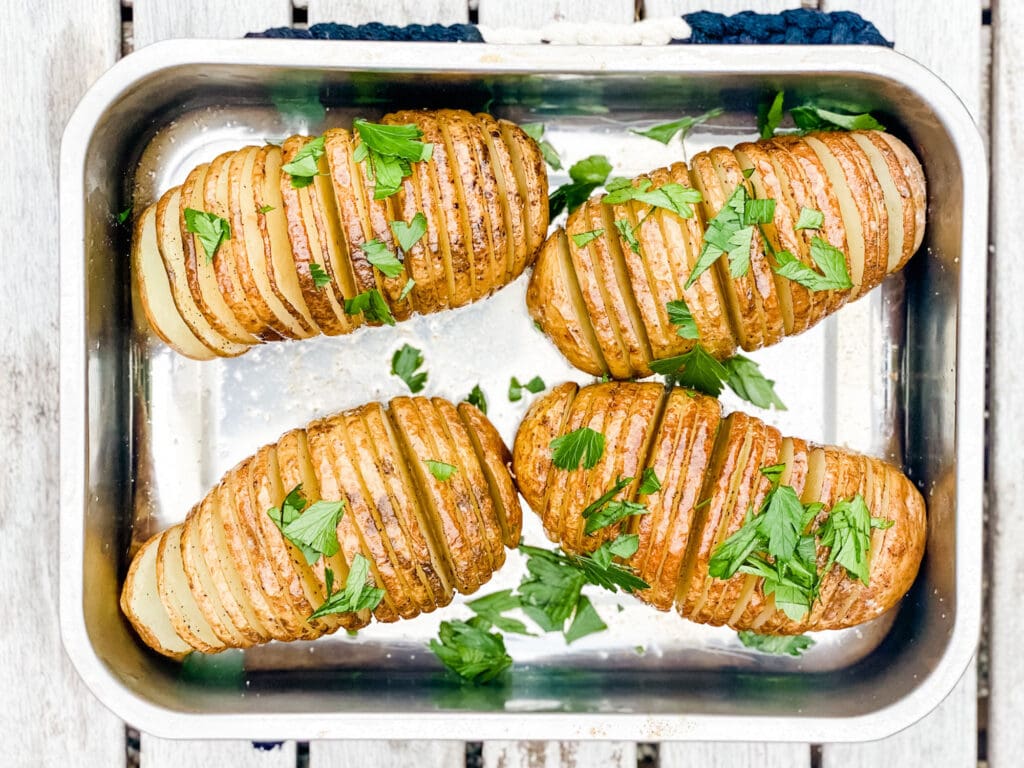 Have you seen this amazing tool for Hasselback potatoes? I've tried making them in the past without much success, but then I discovered the Hasselback Potato Prep Set that makes it so easy and each one turns out perfect! You put the potato in a wood cradle (I don't know how else to describe it), and it is secured with two spikes to hold it in place. Then you simply cut between each metal brace.
The origin of Hasselback Potatoes goes back to 1954.
Curious about the origin of Hasselback potatoes? I had no idea they started in Sweden when a trainee chef, Lief Ellison made them at Hasselbacken Restaurant in 1954.
So easy to make with this one tool!
Hasselback potatoes that look beautiful and cook evenly every time!
It's one tool that's worth buying and storing, I promise!
I'm typically reluctant to getting a kitchen tool when it only has only one purpose, but this is one tool that I would say is worth it! And it's only around $12. I can't wait to use it for sweet potatoes at Thanksgiving!
I love these bins for my office storage. I first used them in bookshelves in my living room and then in my office. I just ordered another set because I love that they are large enough to store quite a bit and keep it concealed. My office shelves have a lot on them and the crates I chose first were overflowing and messy looking. The Rivera bins are square and keep the shelves looking much more structured and organized. They fit perfectly on these shelves.
The Cariuma Sneaker that is showing up everywhere
Have you heard of these? They are super comfortable, come in a bunch of colors, and are made sustainably. And they are only $79. I have the rose pair and ordered extra insoles for $12, but now I'm wishing I had added an extra pair of laces which is an option at checkout for an extra $5! I kind of love the red with rose!
Like I said last Sunday, I no longer buy a lot, but there are a few things that I had my eye on once I took a look at my closet to see where I needed to fill in some gaps. Pretty much every top I have from Vince has been purchased at Nordstrom Anniversary and they quickly become my favorite pieces all year long. I love layering under a cardigan or jacket in cooler weather. This Pencil Stripe Crewneck from Vince will be one of those pieces. I also love this short sleeve wool-blend sweater from Vince. It's timeless, which I love. It reminds me of a sweater Kathleen Kelly wore in You've Got Mail. (In 1998)! I ordered this polo for my husband.
I think I saw this cotton smock on Instagram and had to take a second look for the price! They come in several colors and would be great in the kitchen, the art studio…wherever! They have kids sizes too! How cute would this look draped over an easel in the playroom!?
Make sure to see what Mary Ann and Cindy share this week. Mary Ann's daughter Alexandra was married in the most beautiful church in Spain. And Cindy shared a few photos of her new kitchen where she "honors the character of the original house rather than turn it into something it isn't…"