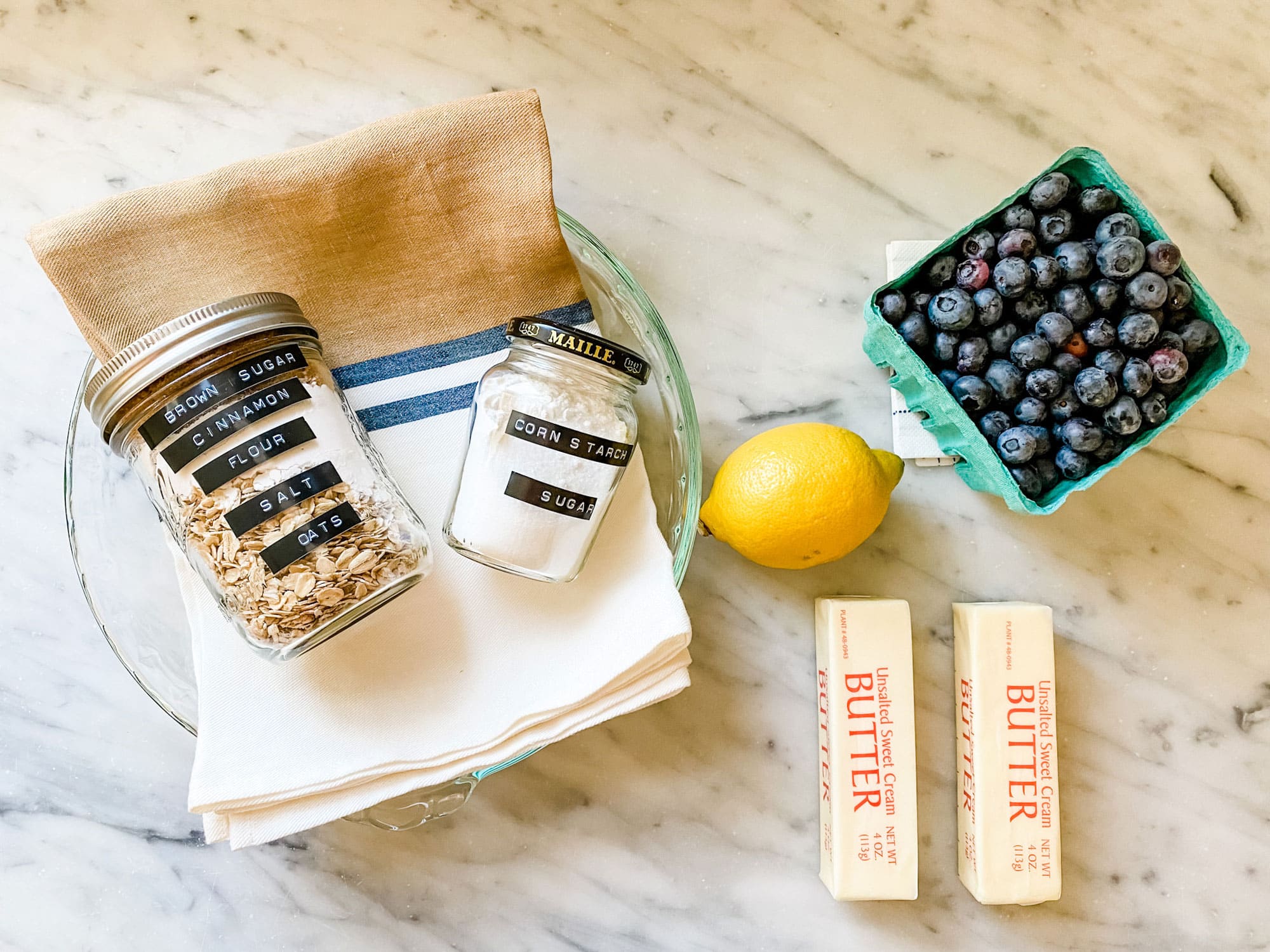 What to bring your host or hostess for an overnight or weekend stay doesn't have to be extravagant. It just needs to be thoughtful. A bouquet of flowers, a bottle of wine, or a pound of coffee… all good ideas. But this one is better.
Bring dessert that can easily be prepared without messing up the kitchen. You can assist your host or stay out of their way. Or perhaps they already have dessert planned. No problem, this is something that can be enjoyed later, even after you are long gone!
Assemble a hostess gift featuring a dessert – A Blueberry Crumble
The star of this dessert is blueberries because they are in season. We just picked them while visiting Maine.
What's in the hostess gift?
seasonal fruit like blueberries
a jar of oats, flour, brown sugar, cinnamon, and salt
a small jar with sugar and corn starch
butter
lemon
a simple recipe card
I used my old school DYMO label maker to label the contents of each jar, but paper washi tape would work too!
Include a recipe card or a note with the directions
Your host will probably know how to put together a blueberry crumble, but why leave it to chance? You're trying to be a helpful guest, so include a recipe card or a note with instructions in case they make it after your departure.
How can this be adapted for fall or winter?
This gift is easily adaptable by season and holiday if it's in the summer, plum, peach, rhubarb, or blueberry. Fall and winter, apples.
Add these items to make it even more of a gift
The ingredients are, of course, part of the gift, but depending on how generous you want to be, there are so many fun things that can really level up this fruit crisp hostess gift idea!
beautiful linen tea towel
This one is from Libeco and will soon be offered in my shop! Libeco linen is the best linen from Belgium and I'm excited to be adding it to Shop Most Lovely Things.

Other ideas for longer stays:
If you're staying more than a night, I like to send a follow-up thank you gift. Now that you've been a guest in their home, you'll know their style. It's still probably best to stay neutral.
Set of beach towels
Nice beach towels are lovely if someone has a pool or spa or lives by a lake or the beach. My favorites are from Serena & Lily.
Tablecloth and napkins
Beautiful table linens are always nice to have extra, especially if you visit someone at their vacation house or cottage. No one wants to worry about washing the linens when they are in vacation mode!

More summer fruit ideas from these talented bloggers!

Easy and Tasty Summer Peach Tart // Robyn's French Nest
Wild Maine Blueberry Pie // Finding Lovely
Bluberry Crumble Kit for Overnight/Weekend Stays // Most Lovely Things
Simple Summer Fruit Crostata With Lemon Cream Cheese Filling // Twelve On Main

Summer Peach Salad // Paint Me Pink
Peach Crisp with Fresh Peaches // Happy Happy Nester
Raspberry Strawberry Shortbread Cookies // My 100 Year Old Home
Fresh Strawberrry Cream Cheese Cake // Tatertots & Jello

Mini Tri Berry Trifle // Thistlewood Farms
Easy & Delicious Red Wine Sangria // Maison de Cinq
grilled stone fruit and cheese pairings // My Sweet Savannah
Easy Skillet Peach Crumble // Inspiration For Moms