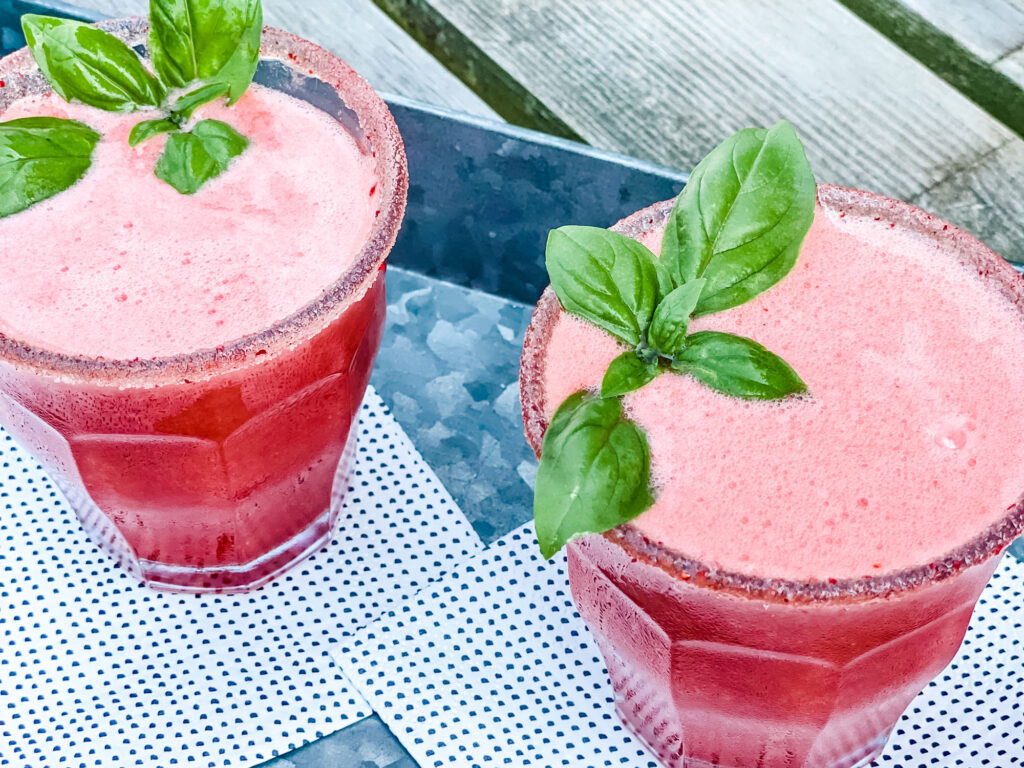 There are two ways to make a strawberry lemonade with basil. Of course, you can use fresh basil, or you can use a drop or two of Basil Vitality Essential Oil. Both will give you that summery fresh basil taste, but one will be much brighter in color!
Both will be pretty, but the one using fresh basil will be slightly more peach in color. Even straining out the green bits, there's still green from the basil mixed with the lemon juice. If using Basil essential oil, the color will be a brighter pink. (As shown above).
The ingredients for strawberry basil lemonade
Freeze-dried strawberries
Lemons
Fresh basil or basil essential oil
Agave syrup
Ice-cold water
sugar (for the rims of the glasses, optional)
Fresh Basil or Basil Essential oil
Both will have the taste of basil, but making it with basil essential oil will result in a much brighter pink color. Both are quite beautiful, but using fresh basil does give it a hint of green, even if you strain out the bits.
Substitutions for Sweetener
I used agave syrup to sweeten the lemonade and to dip the glasses into for the sugar rim, but there are many options. You could make a simple syrup, or your favorite sugar or sugar substitute. Just something to sweeten it a bit.
Why freeze-dried strawberries over fresh?
I was skeptical at first, but after reading this article on The Spruce Eats, it made more sense. Freeze-dried does have more sugar, but that means you need less sweetener. I used very little Agave thinking I would add more if needed. Using freeze-dried strawberries added some of the sweetness.
Print
strawberry lemonade with fresh basil
This lemonade is extra summery with basil.
Author:
Prep Time:

15 minutes

Total Time:

15 minutes

Yield:

4

1

x
1 cup

fresh squeezed lemon juice

3 cups

ice-cold water

1/2

package of freeze-dried strawberries (1.2-ounce bag from Whole Foods)

1 cup

of fresh basil leaves (or a drop or maybe

two

of Basil Vitality Essential Oil)
Agave Sweetener (to taste)
Sugar for glass rims, plus a little of the reserved dried strawberry powder.
Instructions
Prepare the glasses by dipping the rim in a little of the agave in a small flat-bottomed bowl. Then dip into another bowl with sugar and a little of the dried strawberries to give it a hint of pink.
In a food processor with the blade attachment, blend the freeze-dried strawberries until almost powdery. Put a slightly damp kitchen towel or a damp paper towel over the processor as you are pulsing the food processor. (A fine pink powdery substance will be released into the air if you don't, and we don't want that)!
If using fresh basil, add it to a blender with the lemon juice and blend again. Then Strain out the green bits using a fine-mesh sieve. Or if you are using Basil essential oil, you can skip this step! Yay!
Combine the basil/lemon juice with the crushed dried strawberries and blend well. Add the ice-cold water, and the agave sweetener and blend again. Pour into glasses and garnish with fresh basil. Enjoy!
Keywords: lemonade, strawberry lemonade, strawberry basil lemonade
2. Would you do a house swap?
We love exploring Europe and part of the romance has always been the boutique hotels we have found through all of our internet searches, not to mention a little help from a few of our favorite movies.
We're heading off to Europe again for a three-week trip this fall. We've booked airfare and have decided to branch out from our usual hotel approach and look into the Airbnb option. Given that we love traveling so much and have flexible schedules (we can work from almost anywhere) we've also looked at listing our house on Airbnb. But we've just never gotten comfortable with the idea that someone (a.k.a, complete strangers) could be treating our home like a hotel – which is kind of how we have viewed Airbnb. We're respectful, of course, of someone else's home, but it really does just feel like a hotel alternative.
So this line of reasoning recently led us to look into home swapping. After a few hours of searching the internet and running down fruitless paths, we landed on Homeexchange.com as a reasonable and viable opportunity that seemed to eliminate some of the initial trepidation of some strangers occupying our home.
The process seems pretty easy although it will take some time and effort. But that effort could get us comfortable with the idea that vetted people would stay in our home and we, being vetted as well, would stay in their home – and we'd both treat each other's homes as if they were our own. After all, that is the motto of the homeexchange.com community.
So here's the cliff notes version of the way it works (in this case, we're talking about just the straight-forward home exchange but the company does offer other options):
Step 1: Sign up for free and join the community
Step 2: Create your home's descriptions
Step 3: Upload your home photos
Step 4: Update the calendar of when your home is available
Step 5: Create your personal profile
Step 6: Select your preferred destinations
After completing these steps (100% as their site says) our home will be listed and we'll see what happens. Hopefully, our dates line up with someone else's travel plans.
We are going through the process now and will keep you posted on our progress. Let us know in the comments if you have done this or thought about doing a home exchange.
My friend Sheri Silver has a popsicle for everything! Yep, even Wimbledon. So if you're watching tennis at home and wishing you were in England having strawberries and cream, maybe these popsicles will be just the thing! Sign up for her newsletter and you'll have access to her e-book on popsicles!
4. Nancy Sharpe is releasing a new series called: Fun + Florals
Nancy describes her new series of paintings as whimsical, colorful happy bouquets. She recommends simple frames that can be found at an art supply store, or you could make a frame. Soon I'll be sharing how Brent makes very simple (and a little bit rustic) frame that compliments Nancy's art beautifully.
Left: Fun + Floral on paper Right: A commissioned painting Nancy did for my sister's 60th birthday. Look at the pitcher closely. Do you see the 60? That was a fun surprise! Visit Nancy's website here!
5. Nancy Meyer's house in AD
I think I am the last person to learn of this! I saw it first on Kim's blog, then Juliet's then Elizabeth's! I'm still waiting for my July issue to arrive! I cannot wait!
That's it for this week! Let's head over to Cindy and Mary Ann's to see what they found this week! Have a beautiful Sunday!