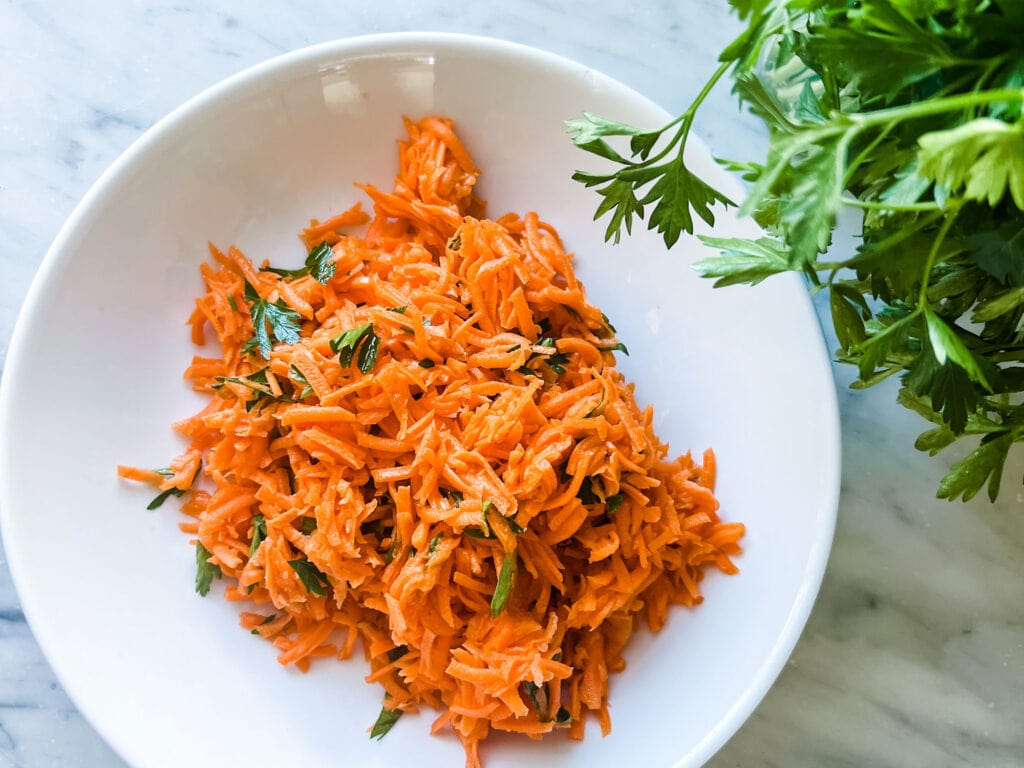 Make this simple French carrot salad for your next brunch or lunch. It goes beautifully with Gruyère Quiche or Quiche Lorraine, or add it to a sandwich or a burger. It's so delicious and easy to make that you'll want to make it all the time if you aren't already.
I'm joining a few friends today to share spring salads, so if carrots are not your thing…keep reading!
Ingredients to make a French Carrot Salad
Two Ingredients!
The Salad Dressing
As simple as the ingredients, the best part is that they are all pantry items, so if you have carrots and fresh parsley, this salad can be on the table as long as it takes to grate the carrots!
Print
Simple French Carrot Salad
This salad comes together very quickly. Unfortunately, it cannot be made ahead, but it's so simple that it's still a winner. And, what salad can be made ahead?
One pound of carrots, peeled and grated

1/4

to

1/2

cup loosely packed fresh parsley, chopped
For the dressing:
One tablespoon

of Dijon mustard

1/4 teaspoon

ground cumin

3 tablespoons

olive oil
salt
Instructions
Peel and grate the carrots using a box grater or a food processor with a shred attachment. 
Chop the parsley removing the thicker stems and discarding them.
For the Dressing:
In the bottom of the bowl, you will use to mix the carrot salad, add the mustard, honey, cumin, and salt and whisk together. Add the olive oil and whisk until you have the desired consistency. 
Add the grated carrots and toss gently.
Add in the fresh parsley and toss again.
Serve immediately!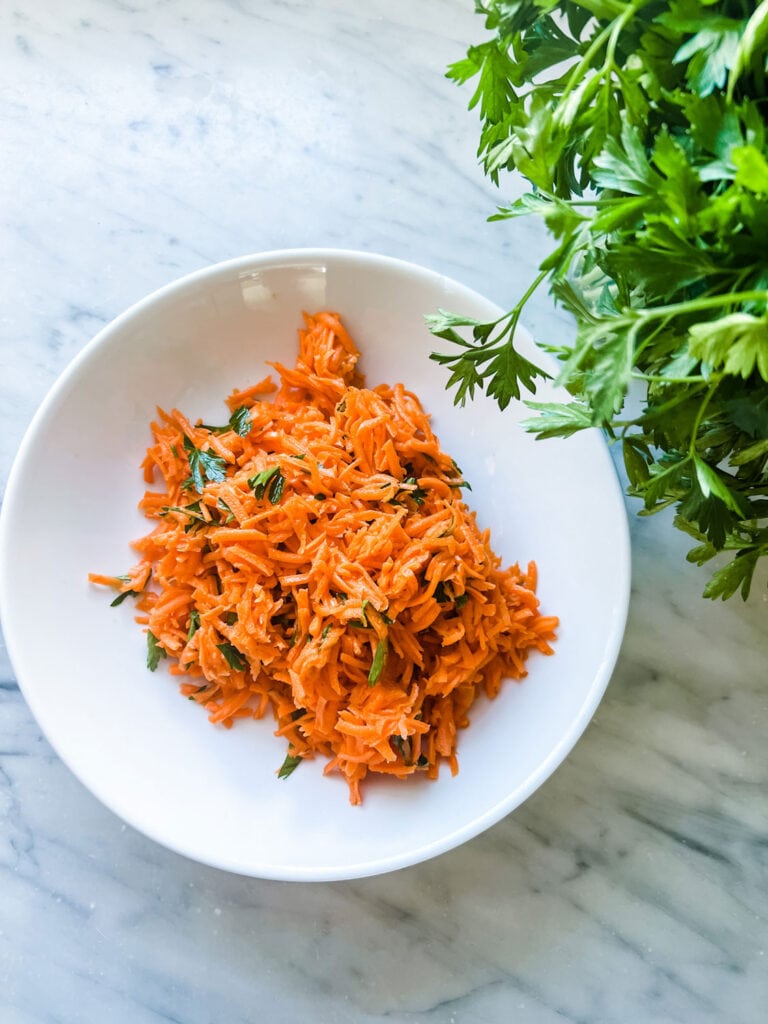 Special Equipment Needed to Make this Recipe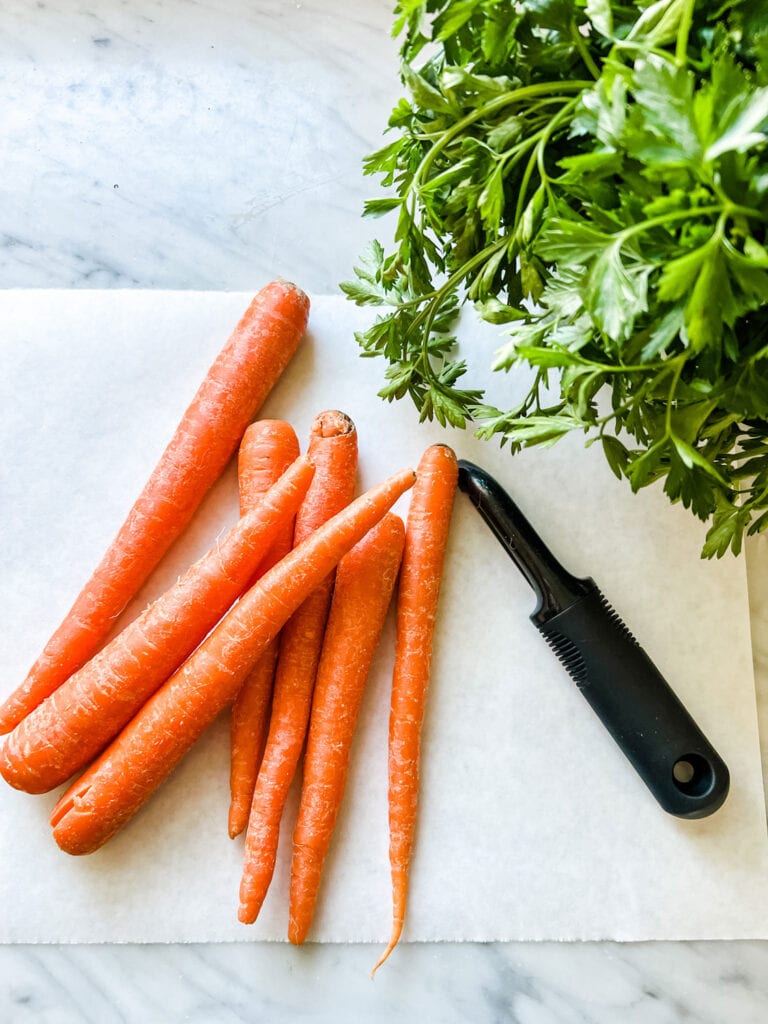 A box grater or a food processor with a grater attachment
A whisk
A vegetable peeler – I have this one from OXO, and it is by far the best one I've ever used. I bought an expensive one at Williams Sonoma years ago, but this one is easier to use and always the first one I reach for when peeling carrots, potatoes, or even parmesan cheese on a salad.
Substitutions and/or additions
Use Lemon in the Dressing
Add lemon to the salad dressing for a fresh lemony flavor.
Swap out the Fresh Herbs
If you don't like parsley or just want to use whatever fresh herb you have on hand, try cilantro, dill, or even basil.
Try These Add-ins
Some like to add raisins, nuts, apples, or pineapple. I prefer to keep this French carrot salad simple with limited ingredients, but that's just me. Either way, if you love carrots, this salad will be delicious!
Can this be made ahead of time?
Unfortunately, this simple salad cannot be made far ahead. It will get soggy and will not be the same delicious salad as when served fresh. But it's so simple to make that it's not really necessary to make ahead. And you know I love a make-ahead dish, but this comes together in just a few minutes and tastes so much better fresh!
To save time, you could peel and crate the carrots earlier in the day and cover them with plastic wrap in the refrigerator. The dressing is just a few ingredients whisked in the same bowl, so it's not really necessary to make it ahead of time.
Pin for Later
Blogger's Best Spring Salad Recipes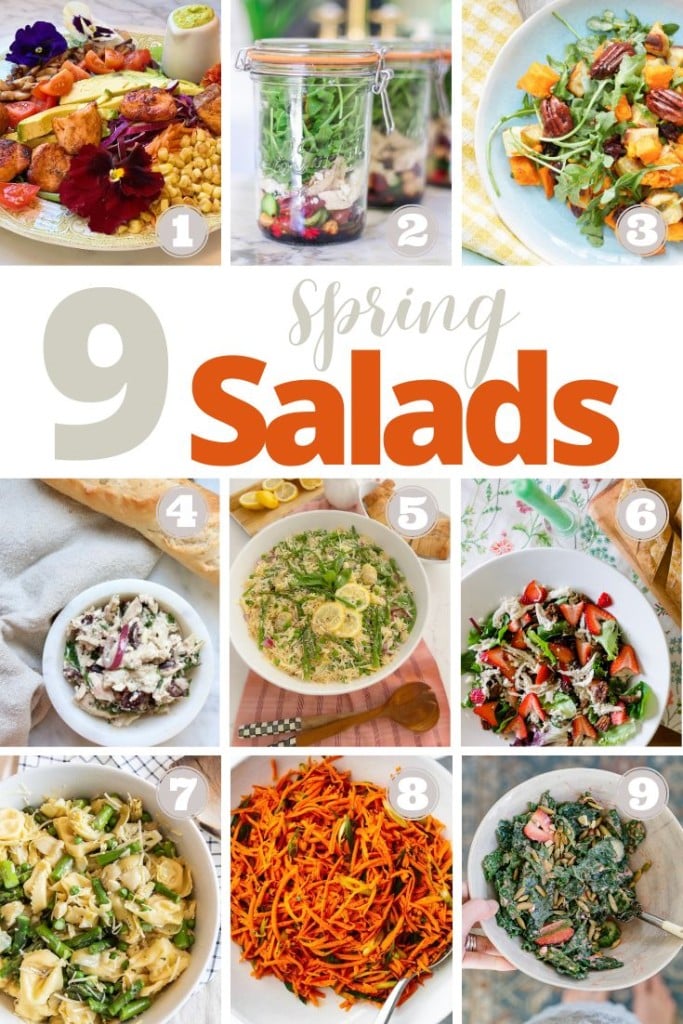 Spring Salad Recipe with Spice-Rubbed Salmon | My 100 Year Old Home
Mason Jar Greek Salad | Modern Glam
Cold Sweet Potato Salad Recipe | Happy Happy Nester
Easy Chicken Salad Recipe | My Sweet Savannah
Lemon Orzo Pasta Salad | Tatertots and Jello
Fresh Spring Luncheon Salad | Make Mine a Spritzer
Spring Tortellini Salad | Twelve on Main
Simple French Carrot Salad | Most Lovely Things
Spring Strawberry Salad | Finding Lovely