How to create a beautiful organic fall tablescape using what you have, and a few grocery store items.
My inspiration was from a post I saw on Instagram from Terrain. I immediately thought– I could do that or something similar. Terrain used pumpkins, artichokes, squash, some leaves, and Queen Ann's Lace. It's a little early for pumpkins, but the rest, I could do!
I'm joining a few friends today for fall tables, and there are some really beautiful ideas; links at the bottom of this post!
Let's get started creating a Pinterest-worthy fall tablescape
First, choose the color scheme.
I wanted to use natural elements with texture, all in shades of green and burgundy. The cabbage was where I started in creating my simple fall centerpiece. I chose all one kind, and they are both green and burgundy. The artichokes also fit into that color scheme. I also added red grapes and plums.
What I used for an early fall organic table
A few other items I could have used for fall table decor
Squash (dark green like acorn)
Apples and pears choosing shades of green to stay consistent with my color scheme.
Hydrangeas (limelight hydrangeas would be perfect for color and texture)
Acorns and Pine cones
Fall foliage or stems of vines
White pumpkins or green pumpkins (Perfect for a Thanksgiving tablescape)
A dough bowl or similar item with a bit of depth to hold everything
Candle holders (I use a combination for simple votive holders)
How do you make a fall tablescape?
Here are the basics for creating beautiful table settings
Creating beautiful fall tablescapes for autumn dinner parties or for your Thanksgiving table starts with a few basic layers. Not all items will be used, but they certainly could be used for one beautiful tablescape. I keep things pretty simple, but I love the layered and collected look; your guests will too!
Candles of all kinds- Votives, candlesticks with tapers and lanterns
Lighting in addition to candles – Keep the lights low, and add twinkle lights for a little extra magic.
Tablecloths, table runner, placemats, and napkins can be added in similar or contrasting shades for fall table decor ideas.
Dining table – My husband made our rustic dining room table over 30 years ago, so I often leave it bare or use a runner. For this post, we used our new Terrace Teak Table from Terrain and left it bare for a more casual look.
Dishes – I love to use several kinds of dishes and layer them. I may start with a charger, dinner plate, salad plate, and a small vintage bread plate to create a beautiful fall table setting. Here I kept it very simple with one dinner plate.
What makes a great tablescape?
It's not always buying new; improvise and use what you have to make a fall centerpiece.
I had two of these rustic clay pots to use for my cabbage. For the other three, I used the pot from the nursery. There was an annoying price sticker that was not going to be easily removed. I wrapped the pot, covering the bright sticker with florist tape. It is inexpensive and gives the pot a little texture. The dark green color works with my overall color scheme.
I used a long metal tray that I've had for several years, but use something you already own to avoid extra cost. Or use nothing at all like Terrain did for their organic fall table.
I used napkins that we recently dyed black. They are really more of a very dark burgundy, which worked beautifully. To keep it organic, I used a bit of twine in a similar color to use a napkin ring. I added a stem of Queen Ann's Lace to each napkin. You can read the post on How to Dye Fabric with Rit Dye here
I used these simple plant stands or trivets and upside-down clay saucers to give things varying heights on the tray, creating depth and texture.
Shop this Post

Watch a video to see how quickly I put this together
Blogger's Best Fall Tables!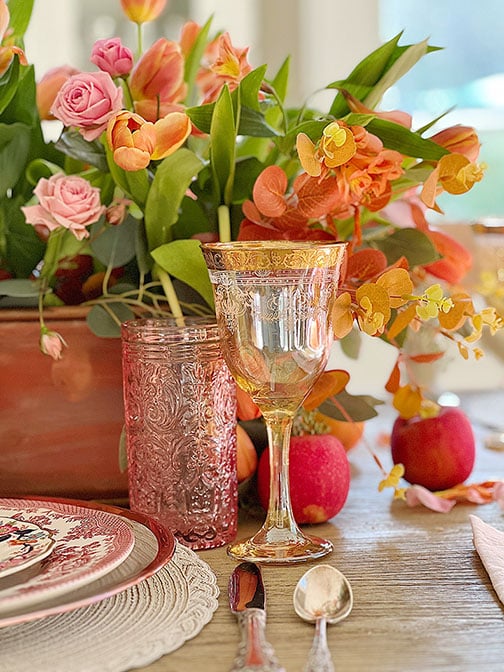 Dining Room Fall Table Decor Ideas | My 100 Year Old Home
I love fresh flowers and today I am sharing lots of dining room fall table decor ideas. This fall table is highlighted with fresh flowers in my fall palette colors. But there is a little twist! I added faux greenery to my fresh floral centerpiece. Can you tell which flowers are faux?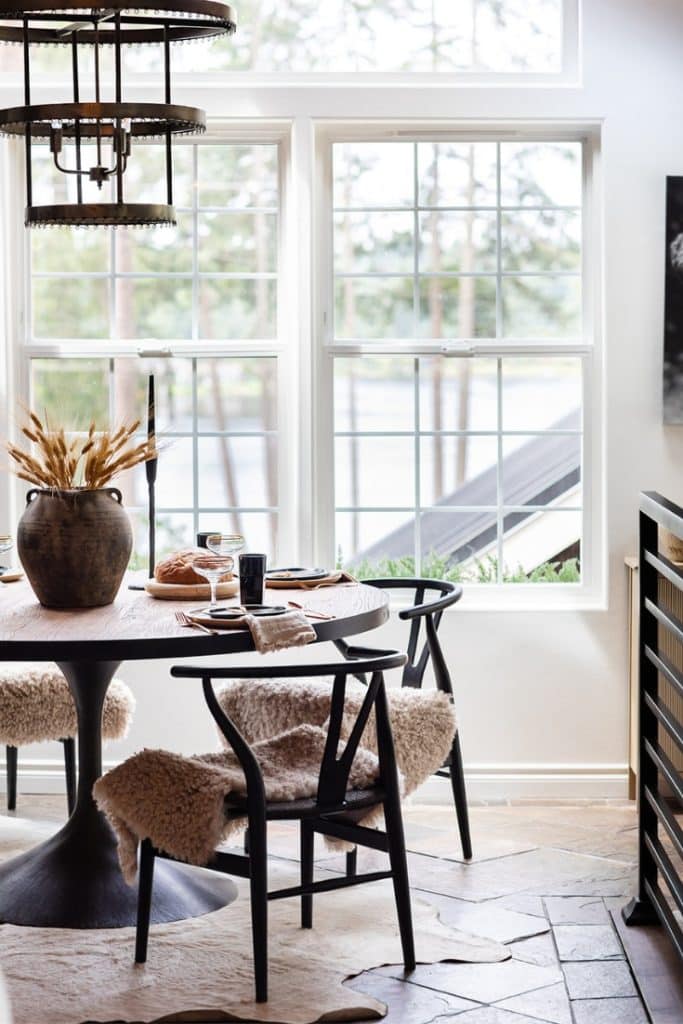 Organic Modern Fall Table Setting | My Sweet Savannah
Create an organic modern table setting for fall. Whether you are hosting a dinner party, or simply having a family meal together, my tips will help you create a cozy vibe that everyone will love.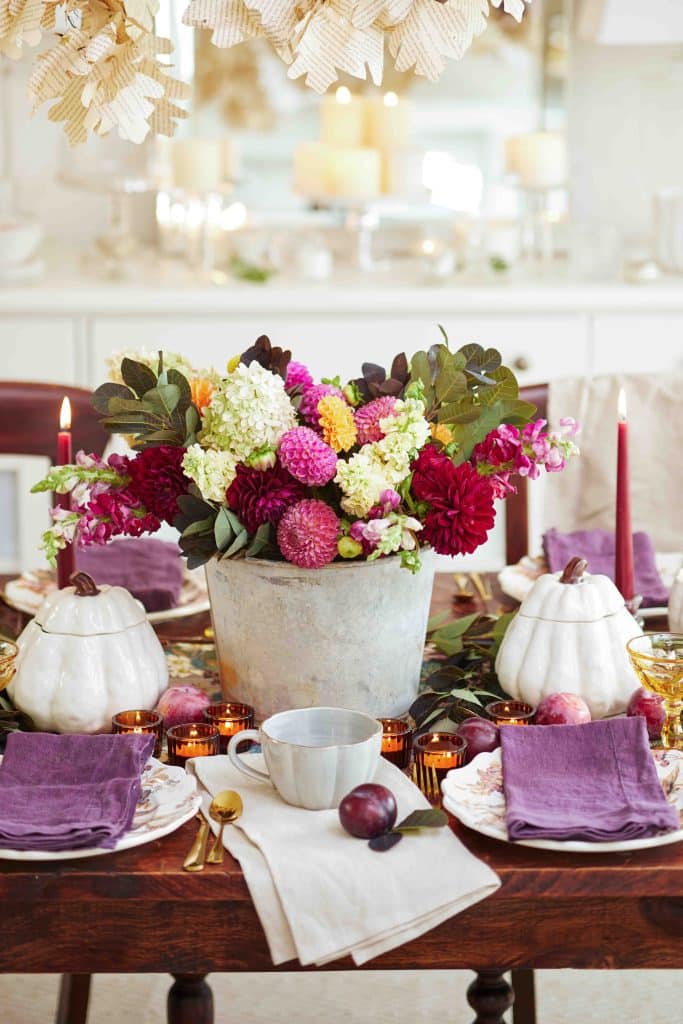 Fall Dining Room Table Decor | Happy Happy Nester
You can feel that autumn is on its way, and I've already started adding charming fall vibes to our home with the perfect Fall Dining Room Table Decor!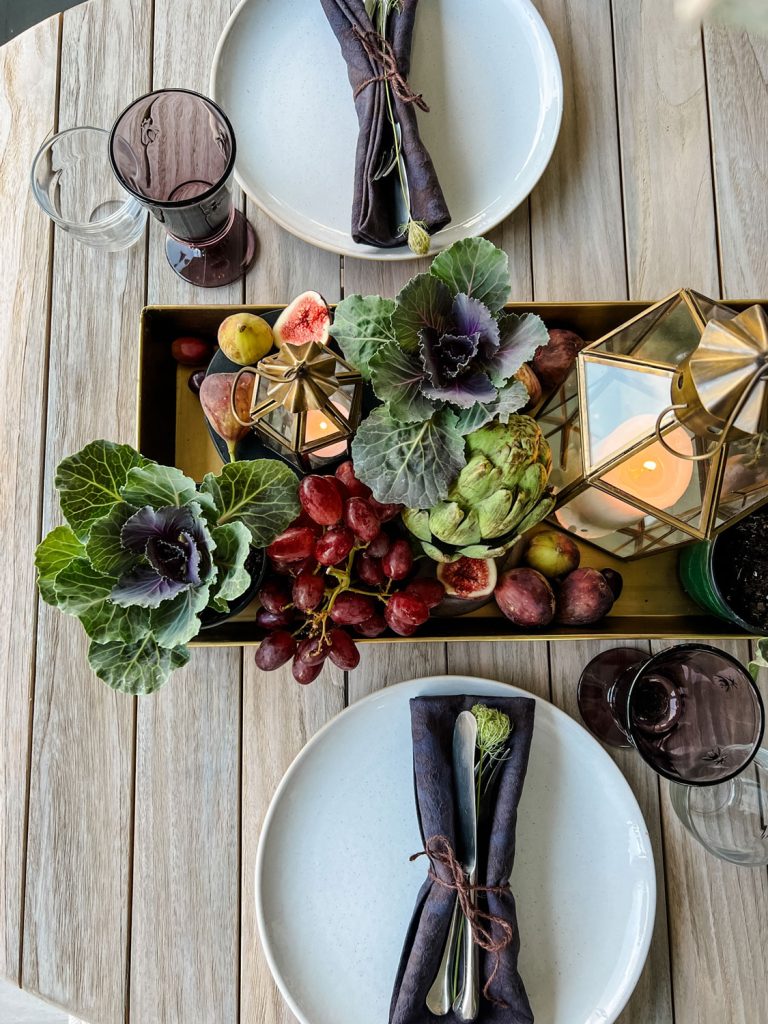 How to Create a Beautiful Organic Fall Tablescape | Most Lovely Things
Inspired by Terrain: create an earthy, organic fall tablescape for dinner on the porch.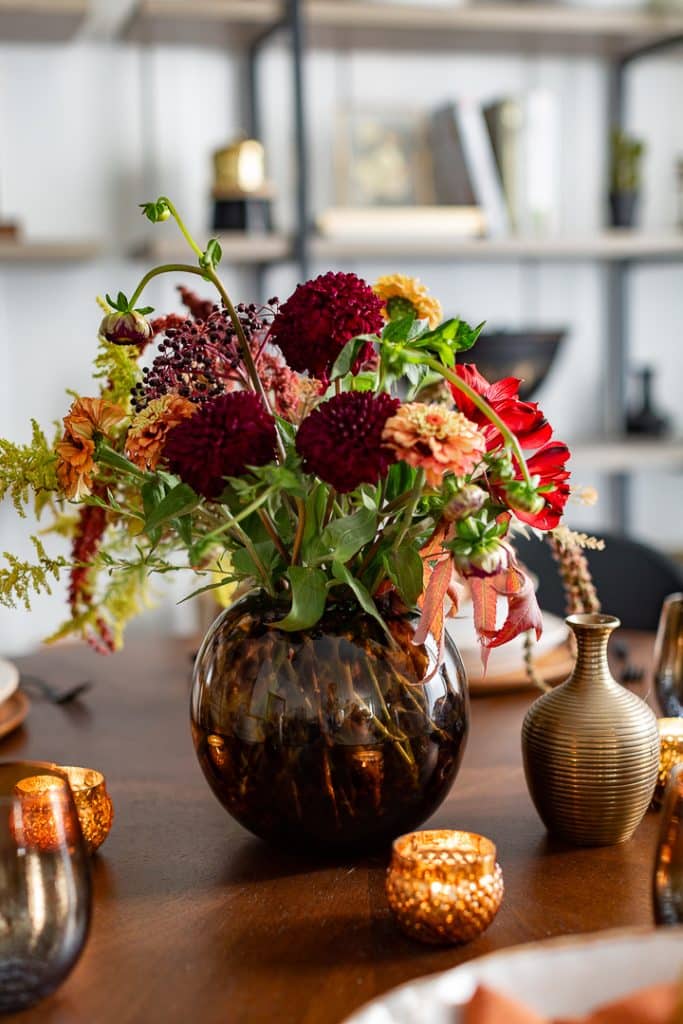 Fall Tablescape Ideas | Craftberry Bush
Elevate your dining experience with Fall Tablescape Ideas, where warm hues, rustic elements, and seasonal decor come together to create a cozy and inviting atmosphere.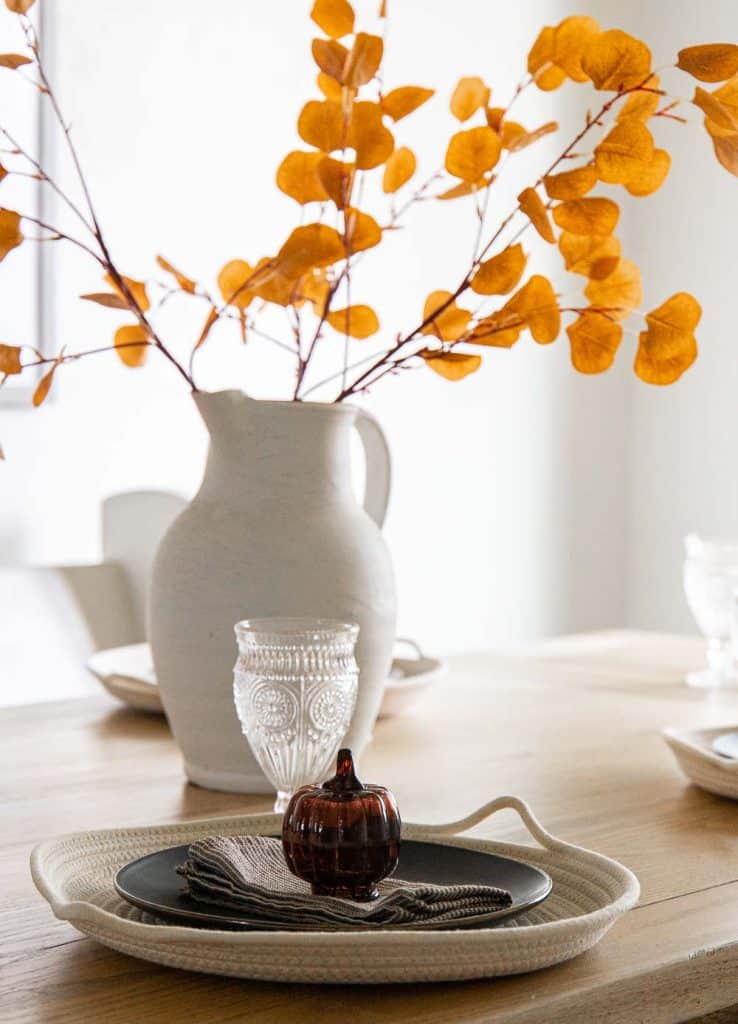 Fall Table Decor Ideas Using Target Dollar Spot Decor | Twelve on Main
I created a fall tablescape using items I found at the Target Dollar Spot! They had some amazing items that I was able to add to my aesthetic and it turned out amazing!