Make a Muffaletta Sandwich for your next picnic. Or if that's not your thing, I'm joining seven other bloggers with our best picnic ideas today! Links at bottom of the post!
We love to pack up a lunch and head to the beach, a park, the bench overlooking the Long Island Sound at the end of our street…we will do just about anything to eat outdoors when the weather is nice. There are some types of sandwiches that just do better than others when it comes to being portable…and we have found that for a picnic with a plan (this sandwich needs to be made the day before), that a muffuletta is that sandwich. It's definitely a sandwich for meat lovers, but it has so many layers that visually it's as pretty as it is delicious. 
An easy, but pretty make-ahead sandwich for your next picnic at the beach or in your backyard
Print
A Muffaletta Sandwich
This sandwich is made from items you can pick up at any deli-counter, nothing fancy here, but when it's all assembled…it's quite pretty!
Prep Time:

20 minutes

Total Time:

20 minutes

Yield:

6

1

x
1

large round bread, halved 
Olive Salad (3/4 cup green olives, finely chopped, 1/4 cup oil-cured black olives, finely chopped, 1 anchovy filet, chopped, 1/4 cup chopped fresh herbs like thyme, oregano, and parsley. Mix with 1/4 cup olive oil and 2 tablespoons red wine vinegar)

4 ounces

sliced mortadella 

2 1/2 ounces

sliced hot soppressata 

2 ounces

sliced salami 

2 ounces

sliced coppa 

2 ounces

sliced provolone

2 ounces

fontina cheese 

1/2 cup

halved Peppadew peppers 

2 cups

arugala
Instructions
Remove the insides of the bread, both sides.
Spread olive salad over the cut side of the bottom half of the bread.
On the bottom half of the bread, layer mortadella, soppressata, salami, coppa, provolone and fontina cheeses, Peppadews, and arugula. Then place the top of the bread back onto the filled bottom bread.
Wrap the sandwich in plastic wrap and weigh it down with a cast-iron skillet with large cans of tomatoes and place it in the refrigerator overnight. It will get much thinner from the weight.
Remove sandwich from the refrigerator, cut in half, and then each half into thirds.
Keywords: sandwich, picnic, Italian sandwich, deli sandwich
You can buy everything you need at your local deli counter. Nothing fancy here! I would advise, however, to be extra choosey about the bread. You'll need a round loaf if you want it to look like a traditional muffuletta sandwich, but it would be equally as pretty with a ciabatta. The important thing to remember is that the bread should be a little soft on the outside. 
A Muffaletta is basically a pretty layered sandwich that you can make ahead!
So what is a Muffaletta? Is it bread or is it a sandwich?
According to Wikipedia, it's both! A Muffaletta is a type of Sicilian round sesame bread and the sandwich that's made from it. It dates back to 1906 when Italian immigrant Salvatore Lupo created the sandwich at his sandwich counter inside his Italian-American Grocery store in the French Quarter of New Orleans. Central Grocery is still run by members of the family. 
We clipped some wild roses at the beach (when we thought we would have the picnic at the beach, but the strong winds had other ideas) and used our new table linens from Garnet Hill. There's just something special about using 100% linen tablecloths and napkins that makes any occasion feel a little more elevated. Even a sandwich, some chips, and grapes feel like a party when you are using real table linens. What I love about these is that they wash and dry beautifully! No ironing necessary, unless that's your thing! You can see more Garnet Hill table linens in this post and in this post!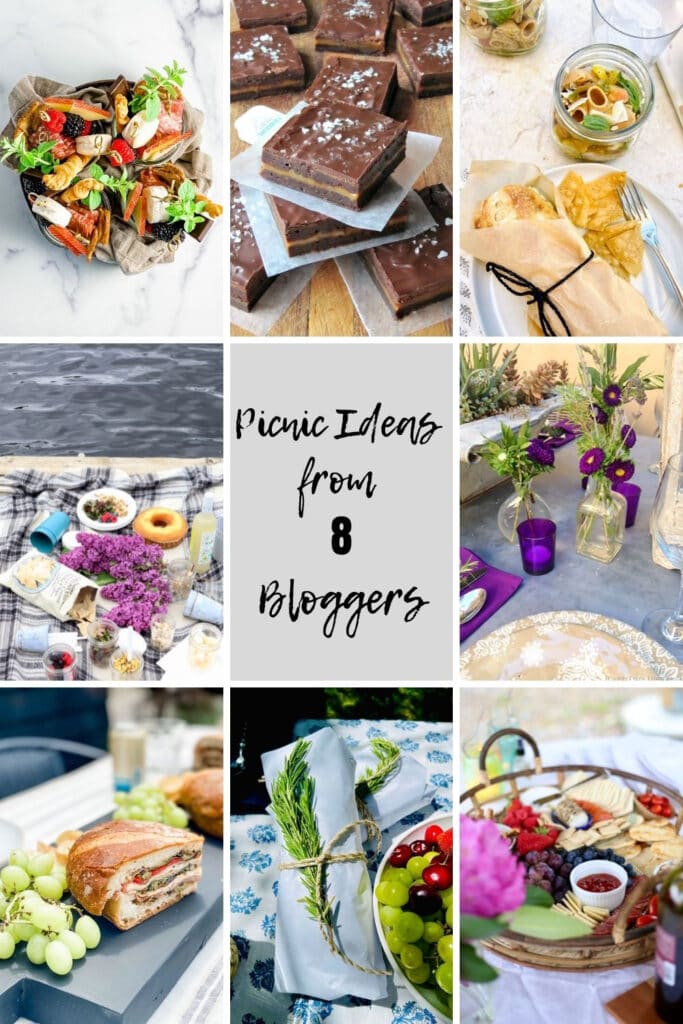 Make sure to stop by to see what these bloggers are packing in their picnic baskets!