Leanne Ford Collection for Crate & Barrel

Crate & Barrel – Westport, CT
Mary Ann checking out the Chloe candle at the Union Square Crate & Barrel
Over the last few weeks, I had the opportunity to see the Leanne Ford Collection for Crate & Barrel at both the Union Square store in San Francisco and the store closet to me, Westport, Connecticut. With most stores closing for several weeks, we will have to resort to on-line inspiration. I have loved everything Leanne Ford has put out from her book to her own 1930s cottage with 1970s vibes described in her Instagram post. I mean, how perfect is that? She uses wicker, earth tones, leather, and layered rugs with seriously, the comfiest sofa and chairs you could imagine. It's a place that says…let's hang out.
I found out later that the candles are named after Leann's nieces, Ella & Chloe.
Leanne Ford's Home
Our Dining Room with the Leanne Ford Footed Bowls
Before store closings…I purchased three-footed bowls and brought them home to see which one I should keep. I'm kind of loving all three. Even empty on my dining room table, they add shape and color. I think the one most practical is the clay footed bowl. I could use it on my coffee table with cocktail napkins I received from Cindy from a favorite store in Carmel, Tancredi & Morgen. Or I could use it on my kitchen island as a fruit bowl. Even on the bathroom counter with hand towels.
Cocktail napkins from Tancredi & Morgen
With the extra time on my hands, the collection inspired me to create watercolor postcards. Ever since Mary Ann talked about sending postcards as a simple happiness gesture, it got me thinking…This is something we can do now, from home with very few supplies. I always have an inexpensive watercolor set, brushes, paper, and stamps. But even just sending a note or a letter in the mail to a relative or friend is something small we can do, right now!
Gathered art supplies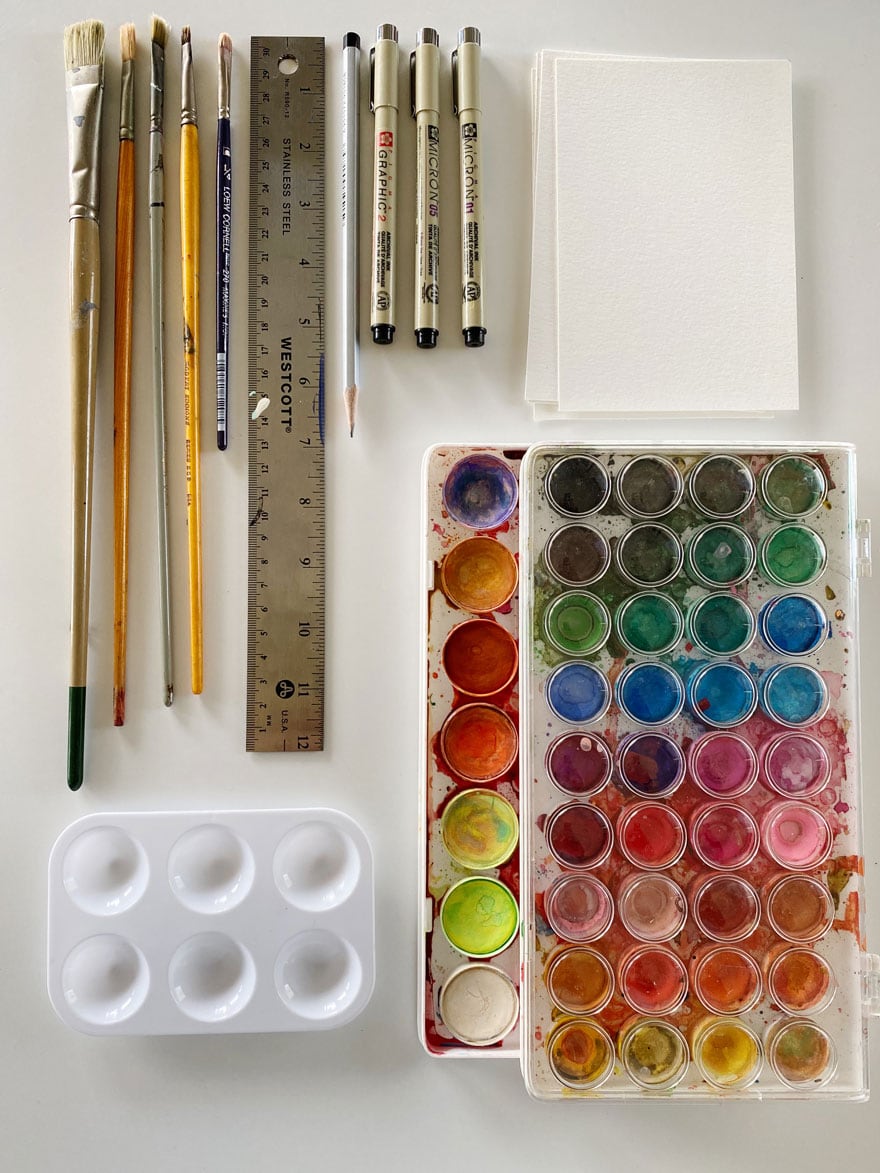 Shop the Post