I'm so excited about this makeover on an old Ikea armoire with glass doors that I updated with Chalk Paint® decorative paint by Annie Sloan. I'm working on a few updates to Madeline's room.  You may remember this post when we did a very mini makeover while she was studying abroad.  Now she has graduated from college and has a place of her own  She's living in a tiny New York City apartment.  So small that it does not even have a closet.  Madeline is quite intentional about everything including her style.  So that makes it easier to live in a small space without storage.  However, it does help that she can store out of season and even rotate in-season clothing since we live only 40 miles apart.
Part of updating Madeline's room included keeping her Ikea armoire.  Her room here at home has some storage, but is also small.  Sometimes the best thing for a small room is one big piece of furniture.  Filling a small room with small pieces of furniture solves nothing and only makes it appear smaller.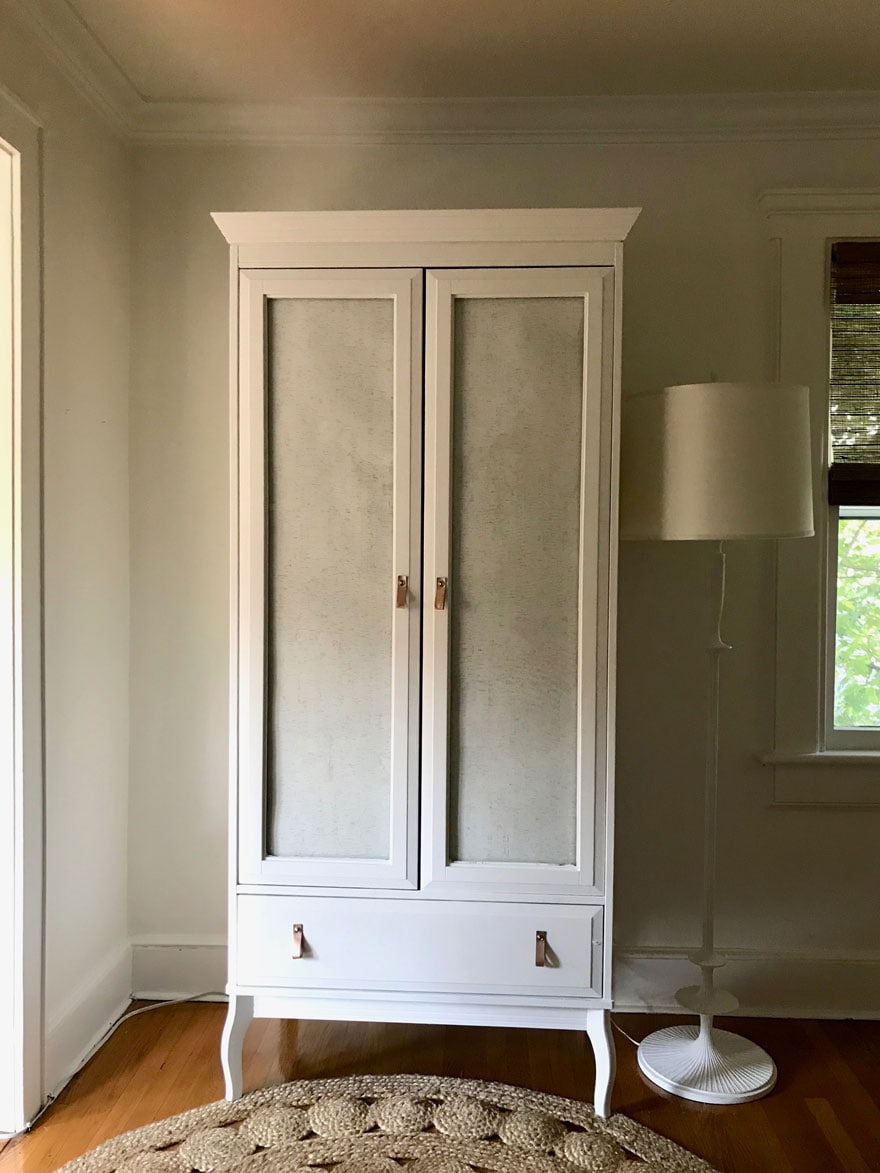 The Ikea armoire was looking dated and we never really liked the color.  Since working with Chalk Paint®  I have started to look at every piece of furniture in a whole new way.  We painted it white using Chalk Paint® in Pure White.  The paint is so easy to work with and goes on easily with no stripping or sanding required.  The consistency of the paint is much thicker and goes a lot farther than regular paint.  It covers beautifully using less paint.
A few things I did before starting to paint: The day before I painted I washed the piece with soap and water, rinsed with clean water and dried it with a soft cloth.  I removed the hardware and taped the glass in the armoire doors.  I put a small tarp under the piece of furniture since I was painting it in the room. I opened the window, although Annie Sloan paint does not have a strong odor so I would not be concerned about it.  When working with Chalk Paint®  there is minimal prep work!
I used an Annie Sloan brush which I think is important.  It does not need to be an Annie Sloan paint brush, but a high quality brush is recommended.  If you've ever worked with a cheap brush you know, it's just not worth it.  It leaves bristles behind and simply does not work well.  When you are painting furniture, an expensive brush is worth the investment.  Chalk Paint® is easily cleaned up with hot soapy water, so your brush will last for years.
I applied two coats of paint.  The first coat leaves strong brush strokes. Do not worry!  Remember the paint is designed to cover without ever sanding the piece of furniture. The second coat goes on like magic almost erasing those brush strokes.  I waited a day between coats of paint, but the paint does dry quickly, so waiting several hours if you are in a well ventilated space may work fine without waiting overnight.
The next step often includes distressing the piece of furniture.  I chose not to do this.  I think my decision comes from having done so much of this in the beginning days of shabby chic.  We built furniture painting it red only to then cover it in white so we could "distress" it and have the red showing through on the edges.  We live in a house built in 1900 so there's plenty of chippy paint around here without adding that to my newly painted piece of furniture!  If you want that distressed look I would watch this video.
The next step is to apply the wax.  I used the clear wax.  The reason for this is that I wanted to seal the piece, but not alter the color.  I applied a small amount of the clear wax with the Annie Sloan Wax Brush.  I wiped any excess off with a soft cloth.
At this point the piece is basically done.  All it needed was the hardware and something for the glass doors.  I decided to update the hardware to these leather pulls that come in rose gold.  I changed out the fabric covering the glass to wallpaper we had used at Serena & Lily.  There was a piece leftover from a project.  Had I not had wallpaper, I would use something like this from Cane & Basket.
We are updating the bedding to this from Serena & Lily and we are using these sheets that are currently on sale. The room is so tiny that a dip-dyed stool takes the place of a night table. One more piece for this tiny room is a big piece of Minted art Called Pacific Coast Highway.  It's perfect for Madeline who may be a New Yorker now, but was born in Southern California and will always have a room at our home, wherever that may be.
SaveSave
SaveSave
SaveSave
SaveSaveSaveSave
SaveSave
SaveSave
SaveSave
SaveSave
SaveSave
SaveSave
SaveSave
SaveSave
SaveSave
SaveSave
SaveSave
SaveSave
SaveSave
SaveSaveSaveSave