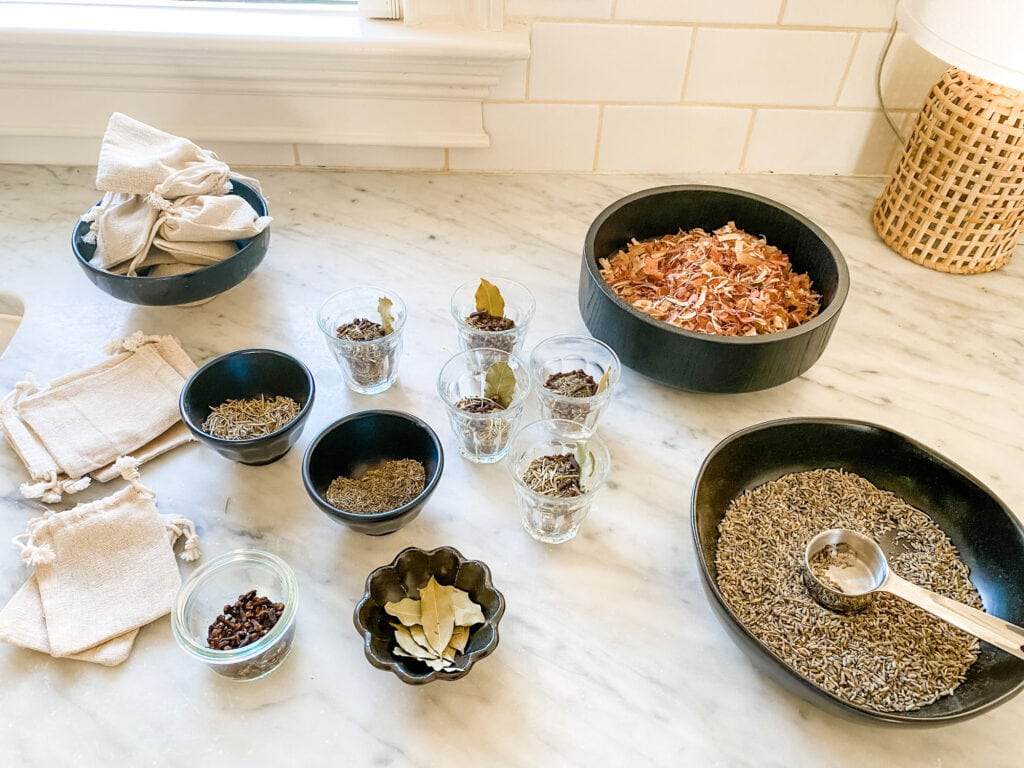 How to make all-natural moth repellent sachets that will save your favorite sweaters! This post was inspired by my friend Cindy Hattersley who asked me if I knew what to use to keep moths away that was all-natural. Cindy and her husband recently moved and as she was transitioning her closets to fall, she discovered that many of her sweaters and scarves have been eaten by moths. So upsetting, but she came to the right place!
It's easy to make your own DIY Sachets to tuck into drawers
I have been making my own sachets with cedarwood, lavender, and mixed dried herbs and essential oils for a few years. I love the all-natural scent and they work! Cindy's husband has an allergy to cedarwood, so I simply omitted the cedarwood shavings and essential oil. There are plenty of other herbs that keep moths away and they all smell amazing! I make several and tuck them into my sweater drawers, my sock drawer, and scarves. I freshen them up about once a year.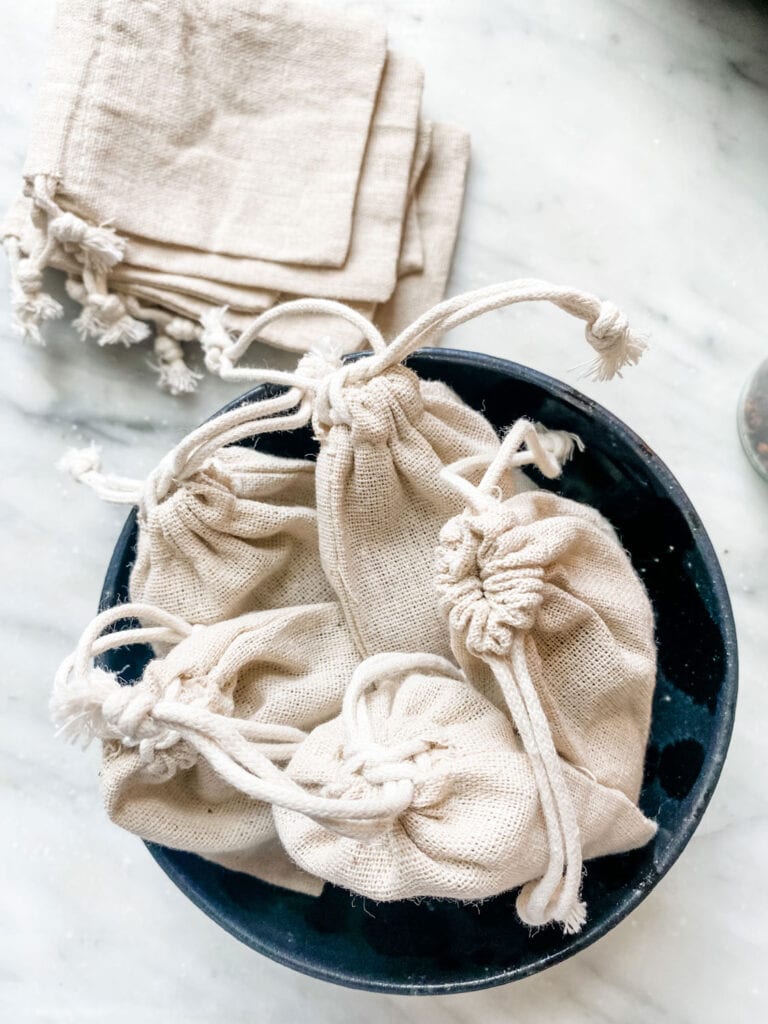 The first thing I do when making a batch of sachets is gather all my materials:
Dried Rosemary, Thyme and Mint
You'll need a few small bowls for each of the items listed above and I like to use small 3 ounce cups that measure the perfect size for each bag. Then I divide the ingredients among the small cups. Once I have my dried herbs, cloves. bay leaf and cedarwood if using, then I will go back and add essential oils to enhance the dried herbs. I like to add about 5-7 of each of the herbs and the same for cedarwood (if using).
Print
moth repellent sachets
Make a batch of lavender cedarwood sachets. The recipe below is the measurements I use to make one small sachet.
2 tabelsoons dried lavender
2 tablespoons cedarwood shavings
1 teaspoon each of dried thyme, mint, and rosemary
1/2 teaspoon whole cloves
5–7 drops of rosemary, spearmint or peppermint, thyme, lavender, and cedarwood essential oil.
1 bay leaf
Instructions
To make several at a time, make them in small cups (3 ounces) and then divide the ingredients between each cup. Add the essential oils, stir to combine, and pour into small drawstring bags.
Tuck into drawers with sweaters, scarves, and socks to protect from moths and silverfish.
Notes
You can omit the cedarwood shavings and cedarwood essential oil and just use the dried herbs and herb oils you prefer.
Cedarwood Sachets
For the cedarwood sachets, I used the same dried herbs and essential oils, plus added cedarwood shavings and cedarwood essential oil. It made the bags a little fuller. I used equal parts lavender, cedarwood and then added the extra dried herbs and cloves.