how to make a pandoro Christmas tree cake! Every year I see the big boxes of Panettone and Pandoro cakes in their pretty boxes stacked up high at all the grocery stores at Christmastime. For years, I was vaguely curious because I confused all of the cakes in boxes with Panettone which has nuts and fruit. That's not my thing unless maybe it's a traditional fruit cake.

Pandoro vs. Panettone
A traditional Italian dessert at Christmas is to serve either Pandoro or Panettone. But which one?
Pandoro
Pandoro cake means "golden bread." This Italian cake originated in Verona. It is a golden color and traditionally it's a star shape. They come in a box and typically you even get a packet of sugar to dust on top. It can be served this simply or stacked up like a Christmas tree. (Which is exactly what we did)!
Panettone
Panettone is from Milan and has a signature dome shape. This sweet yeasty bread is loaded with raisins and candied fruit.
Most people have a preference for one or the other. The only thing to do is to buy one of each! That way everyone is happy!
[mv_video doNotAutoplayNorOptimizePlacement="false" doNotOptimizePlacement="false" jsonLd="true" key="mitxnl28rp2zqlaymxdc" ratio="16:9″ thumbnail="https://mediavine-res.cloudinary.com/video/upload/mitxnl28rp2zqlaymxdc.jpg" title="How to Make a Pandoro Christmas Cake" volume="70″]
Print
Pandoro Christmas tree cake
How to make a pandoro Christmas tree cake for a family tradition!
Prep Time:

15 minutes

Total Time:

15 minutes

Yield:

6

-8

1

x
Category:

dessert

Cuisine:

Italian
one

Pandoro cake

2 cups

ricotta cheese

1/4

confectioners' sugar, plus extra for dusting

1/2 teaspoon

ground cinnamon

1/4 teaspoon

allspice

1/4 cup

heavy cream, whipped
Instructions
Drain the ricotta in a mesh strainer
Whisk the ricotta
Add to a bowl and sift in the confectioners' sugar and spices
Whisk together to combine
Fold in the whipped heavy cream
Slice the cake (4 thick pieces)
Place the largest star on the bottom, cake side up, and add a layer of the ricotta cheese mixture, and spread evenly making sure to cover the tips of the stars.
Repeat with the next two stars, placing each layer on top leaving the tip exposed.
The final star is placed cake side down and then top the center with more of the cream mixture.
Decorate with chocolate chips and chocolate kisses on top.
Keywords: dessert, Christmas desserts, holiday, cake, panndoro, panettone
Holiday Traditions
There are so many holiday traditions and some new ones that we can start this year. My sister mentioned this idea of starting new traditions after she heard wise words of wisdom from Brunch with Babs. "It only takes two years to start a holiday tradition. So why not start now?"
I love this idea! It's not too late, even if your kids are older. No one says they had to have started when they were little, right? What are some of your traditions and what are some that you'll start this year?
2. Kim's Savory Cheddar Muffins
I think Kim and her family have a new tradition of spending a few days at their cabin in Lake Tahoe. She posted these cheddar muffins that she made from this cookbook. Makes me want a cabin in the mountains. Look at all the snow!
3. Sheri's Paperwhites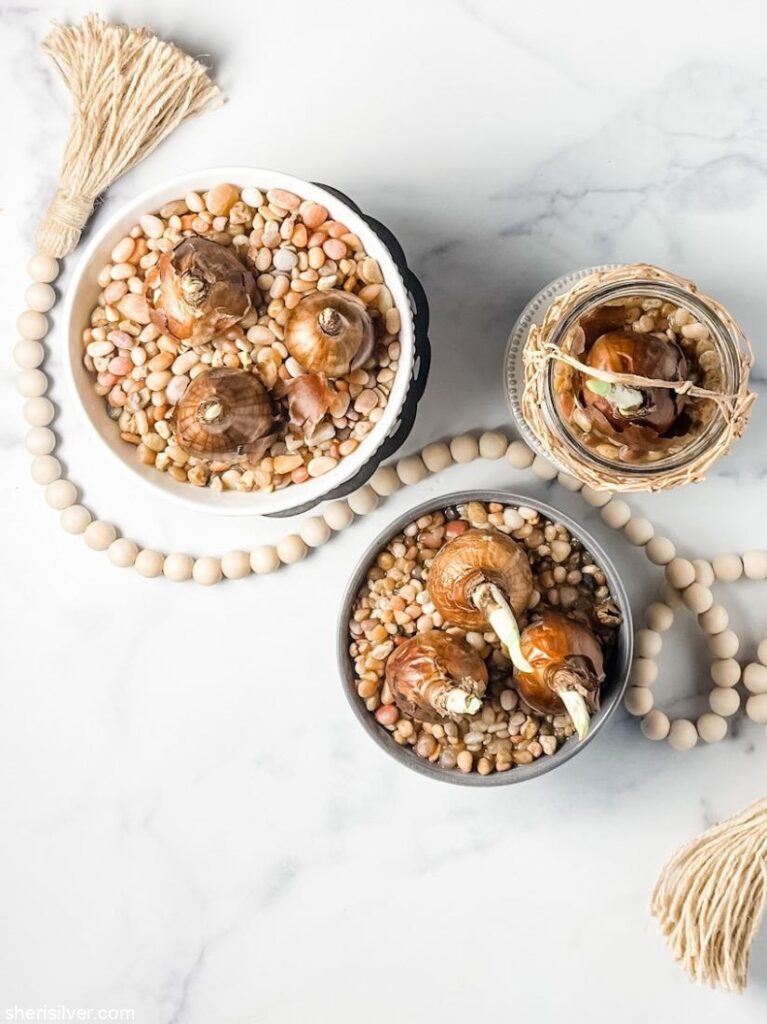 I've been collecting bowls from thrift stores for the last couple of months to put together paperwhites for a few gifts. I love thrifting when I have something in mind. Sheri's recent post on gifting paperwhites had an excellent tip for getting paperwhite to fully bloom, but not get so lanky. You can read Sheri's beautiful post right here.
4. Tahini Hot Chocolate
I love a good hot chocolate in the winter. Homemade or the mix you buy at Williams Sonoma. But lately I've been seeing hot chocolate recipes with tahini and they look so good. This one by Broma Bakery is pretty too!
5. The most precious thing I've seen all week on Instagram
What are your holiday traditions!? And will you start any new ones this year? Let's go see what Mary Ann and Cindy found this week for five favorites!