I'm joining a few friends who love to wear jeans as much as I do! I don't know what I would do if it were not acceptable to wear denim almost everywhere with just a few exceptions. I happen to love the new high-rise jeans! A pair of medium-priced jeans from Madewell, a linen shirt from Garnet Hill, and a great pair of shoes and I feel like I could go almost anywhere and feel great!
How do you wear your denim to feel good?
I have only three, maybe four pairs of jeans I consider to be of the current style. One pair that I love feels like a pair I would have had years ago, but they are a new vintage wash pair from Madewell. I asked my friend Meredith Siegel of Mermade Brooklyn if she would embroider them. My only request is that she use all-white threads. Meredith is known for her more colorful creations and so I can tell you…a pair in full-color embroidery is in my future!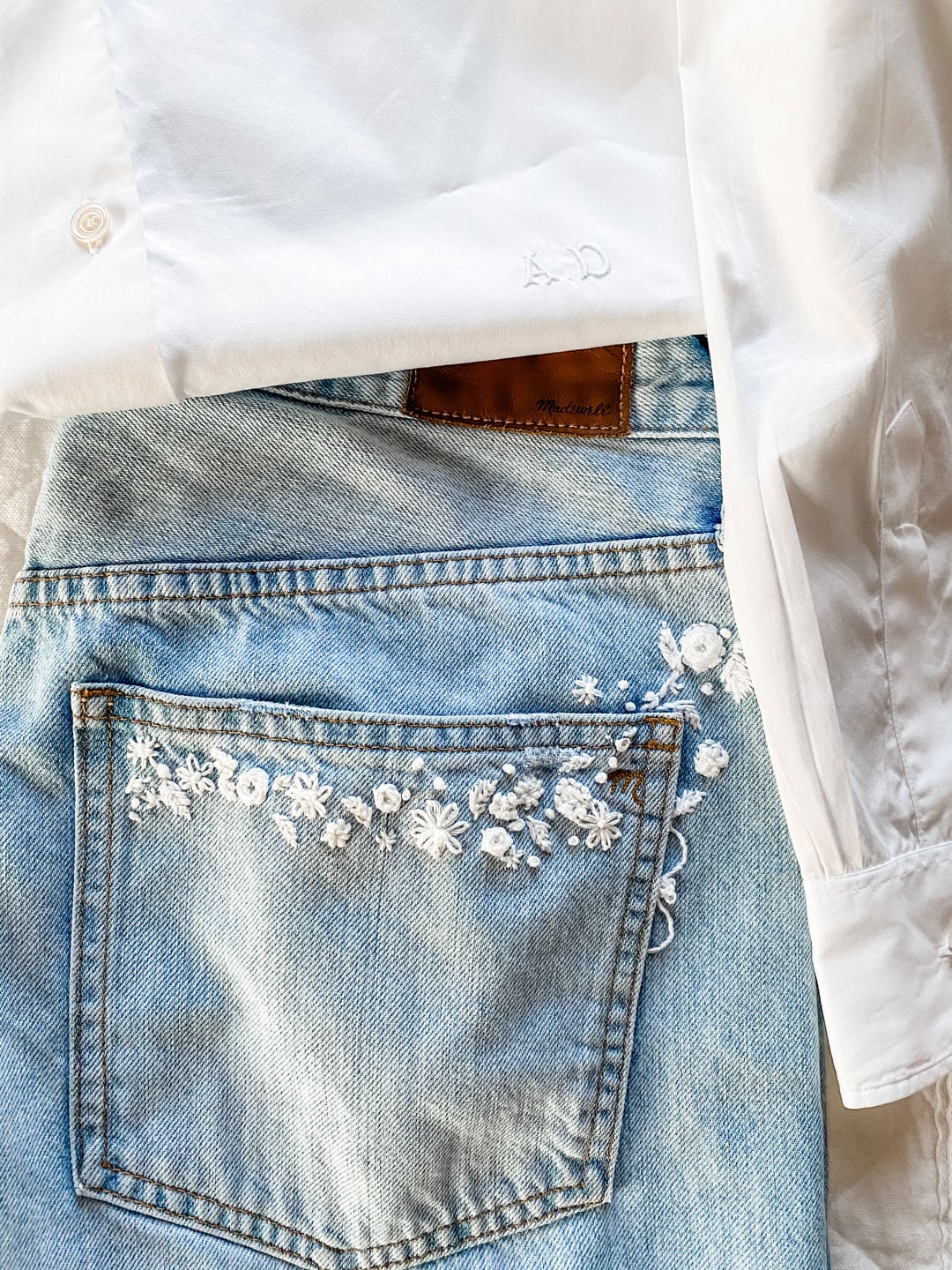 As soon as Mary Ann, Cindy, and I started talking about doing a post on how we are all wearing jeans all the time…I knew I wanted to get my friend Meredith Siegel involved. I only recently met Meredith through my super talented and creative friend Sheri Silver. I discovered Meredith's beautiful hand embroidery work in this post of Sheri's. I asked Meredith if she could embroider a pair of jeans. I showed her a few ideas from Pinterest and said I think I want all white embroidery. And then I stopped…because her work is so beautiful and I didn't want to take away from her creative process. So I sent her my jeans and she got to work. I received them on Saturday and I could not be more thrilled!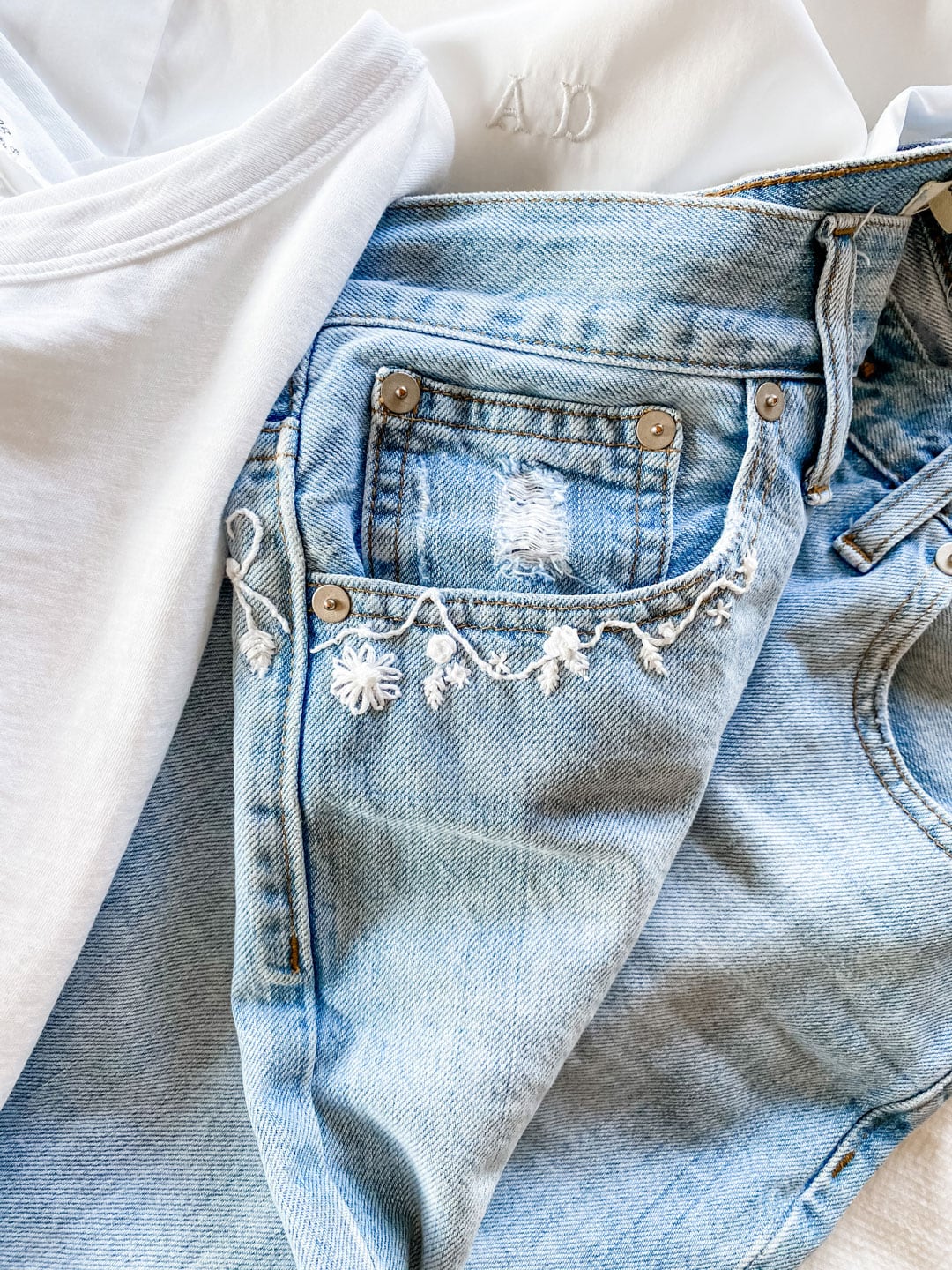 Yesterday I had the chance to talk with Meredith to learn more about her creative process, how she started her business Mermade Brooklyn, and the inspiration for her craft.
Meredith told me she was always super creative growing up. She started her career in acting and then later taught art and drama. She said her mom was in the cottage industry before anyone even called it that and knitted these gorgeous sweaters. It was her aunt who worked in fashion that got her mom an appointment with the buyer at Bendel's. She said she went to the meeting and the buyer ordered 20 sweaters on the spot. Of course, she said, it was just her mom knitting, so she posted ads in the Irish Echo and Jewish Press for craftspeople. Meredith said ladies would come to the house and knit. She said her mom did all the finishing work," she was very meticulous about her finishings."
Clearly seeing her mom using her creativity and turning it into a career gave Meredith the idea that she too could do that with her embroidery. She said her mom passed away just before her daughter Ruby was born (Ruby is now 24) but she clearly had an influence on her and how she lives. Meredith said something like when you are creative, how you live is so important and shows in small ways like, how you set a table and wrap a gift. "I always had the most beautiful present at the party."
Meredith said she initially started out making and designing simple tote bags and zip pouches but had to pay someone to do the sewing. When Ruby was born she embroidered a tiny denim jacket for her and she's still making those today.
She said she finds it meditative working on a piece. I asked her if it bothered her that I asked for specifics on my jeans. She said, no, that it's part of the challenge of creating a piece. "You listen and you hope you get it right."
On being creative…"It deepens the way you feel about the world" – Meredith Siegel
Meredith said she is self-taught and does not use an embroidery ring. She only embroiders on cotton, linen, and denim and uses thick threads that create a lasting piece of clothing as art.
Hand-embroidered name on a denim jacket
I also sent a denim jacket and asked Meredith to embroider my last name on it, somewhere. I love the way it turned out! When you have a last name like Diamond, you kind of have to use it whenever you can!
If you are looking to create a special pair of jeans, jacket, or anything with embroidery, please reach out to Meredith and let her create it for you! It will be a work of art that will make you so happy every time you see it! Because it really is the little things…like how you set a table.
For more creative ways to wear denim, check out these posts!
shop the post