Today I'm sharing the home of Mary Ann Pickett of Classic Casual Home. I have known Mary Ann from our beginning days of blogging when she lived full time at her home on Lido Ise in Newport Beach, California. Mary Ann and her husband currently live in a beautiful 1920 apartment in San Francisco. I had the opportunity to visit Mary Ann recently and in addition to an insider's tour of SF, I loved seeing her current home. She has the most amazing views from every window in her home. I love seeing how she updated some of her furniture from her Lido home which included antiques from when she and her family lived in Paris. Her home is layered with the collected feel that honors her family with memories of travels and the places they've lived. We will start the tour in the foyer where her darling dog, Chief, greets everyone as they enter the light filled apartment.
The Foyer

Mary Ann's apartment is perched on top of Russian Hill in an elegant 1920's apartment building. There are only two apartments on each floor and as you step off the elevator, you are in an indoor courtyard that leads to each apartment. Once you enter you instantly realize you are in a special home. The foyer is in the center of the apartment and the only room that does not have a view, but just wait….
The original Mantel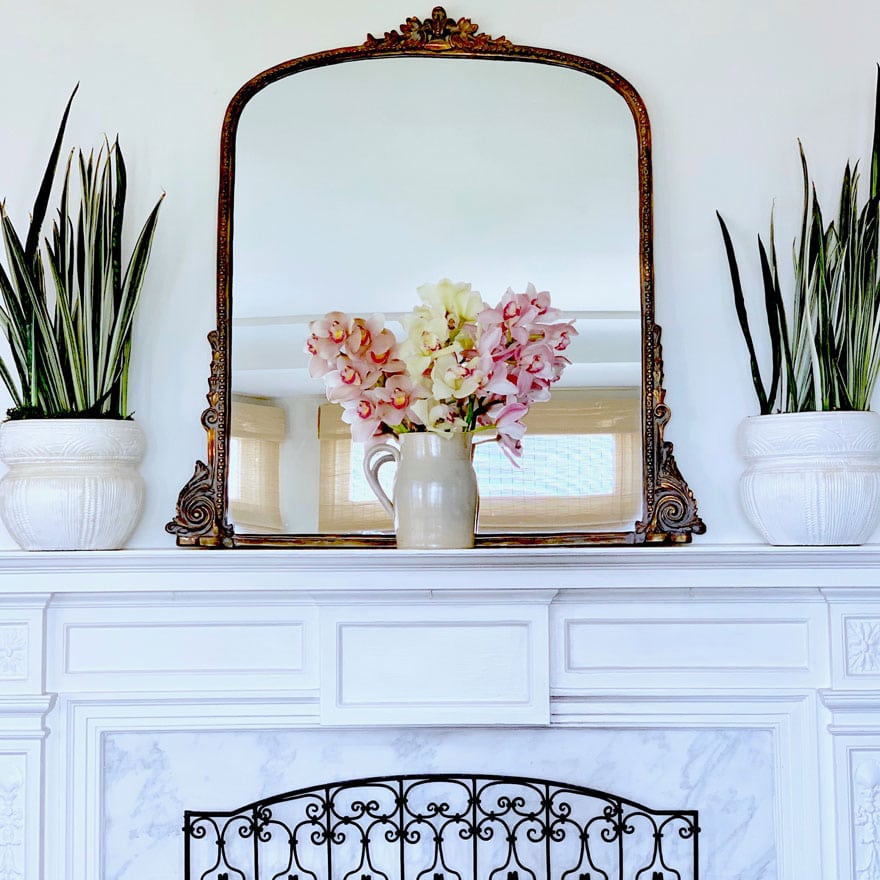 The original marble fireplace with a mirror that suits it perfectly from Anthropologie. The Snake plants add a bit of modern whimsy in the planters from the Opalhouse Collection at Target. The lily stems are from Trader Joe's and to keep them facing the right way in the stoneware jar from Elsie Green, Mary Ann used a piece of floral foam. We even had a fire two nights while I was visiting.
Views of the Bay Bridge & Alcatraz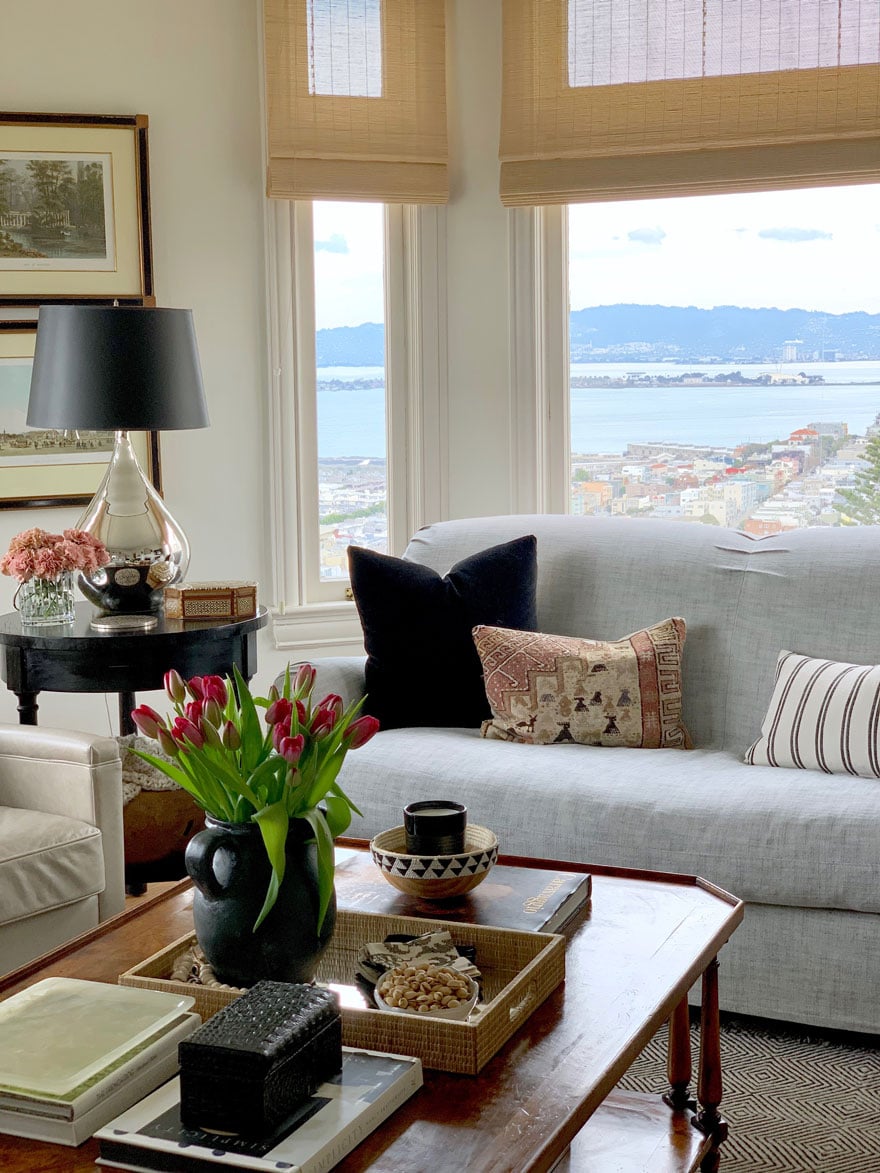 Mary Ann updates her coffee table often using collected pieces, candles, fresh flowers, fruit and favorite books. She uses things she's had for years, but isn't afraid of adding in new items she finds. Each piece has a story, a lovely one that includes family, friends and travel. Did you see her post on how to travel (beautifully) with a large group? It's a must read if you are considering planning a trip for a large group of family or friends.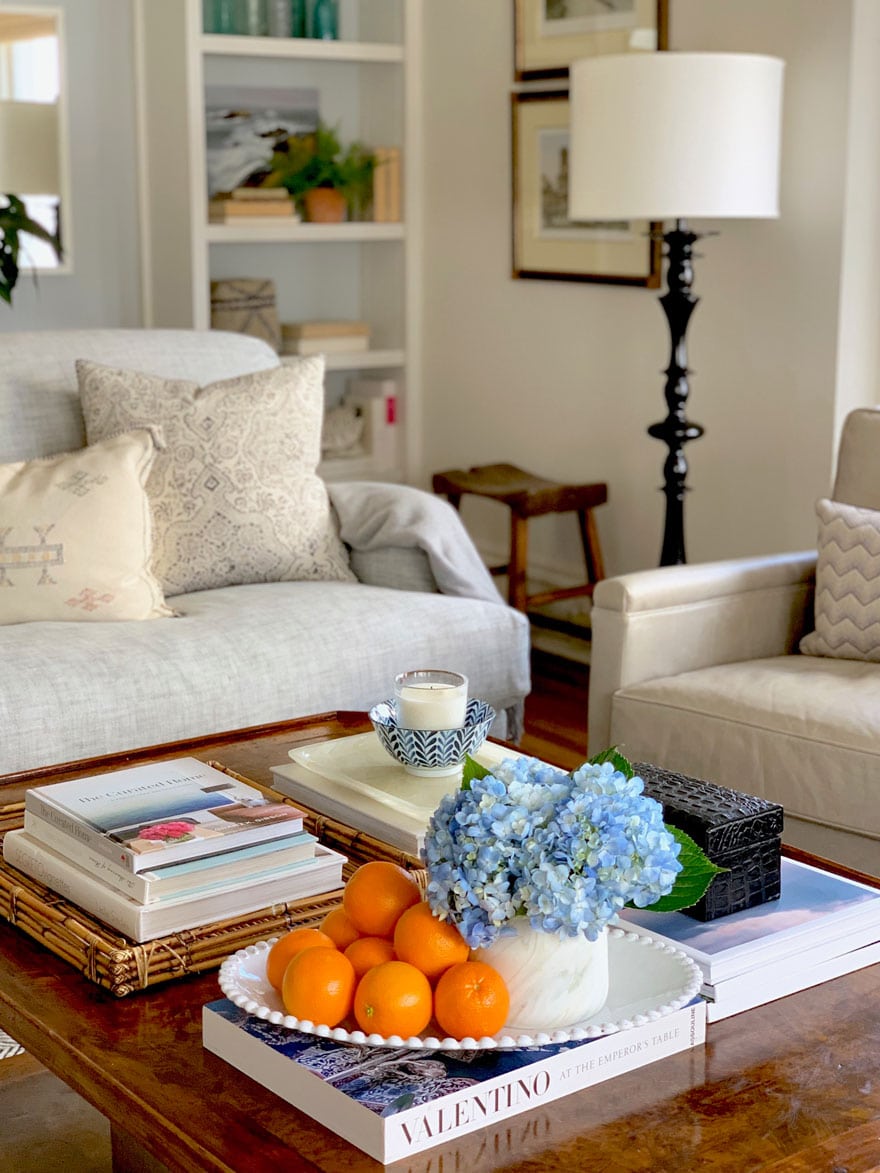 Coffee table styling for the collected look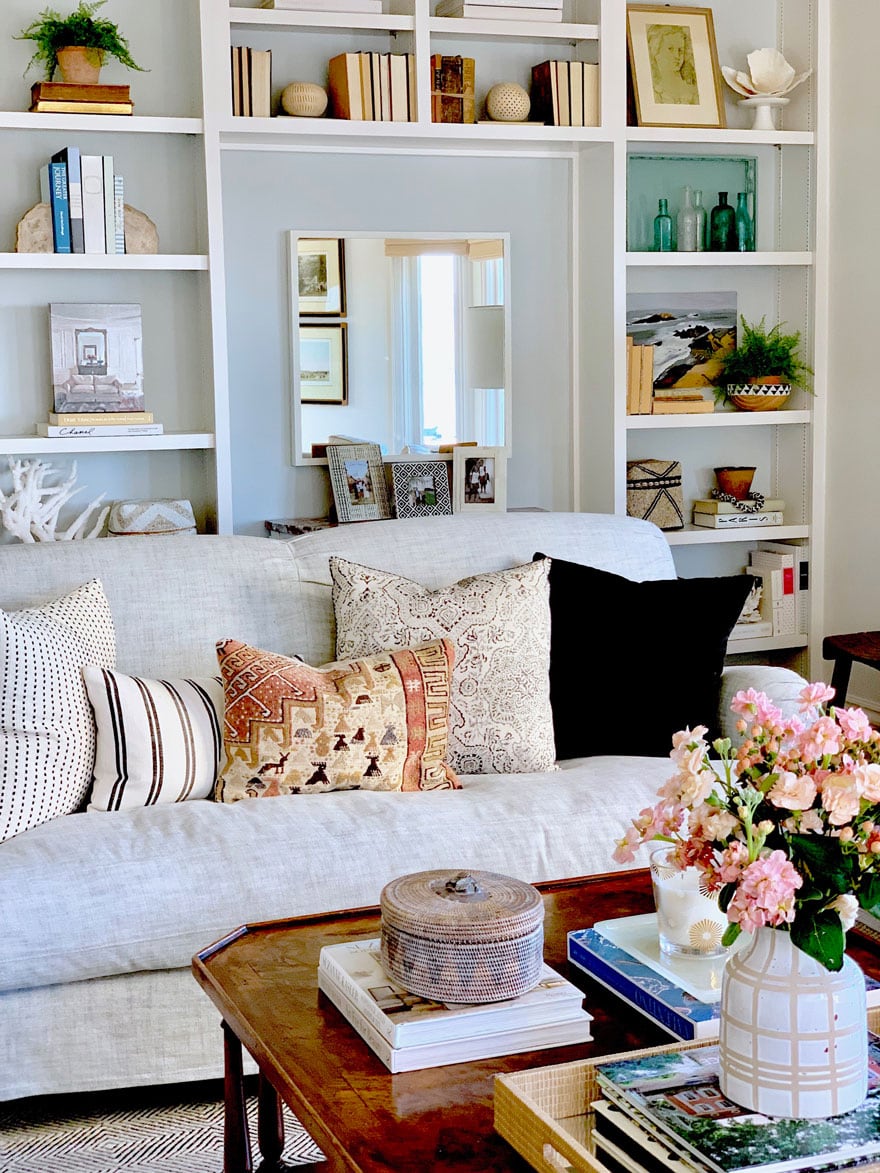 Her book shelves are filled with more treasures from her travels. Recently she and her husband Howard went to New Zealand and Australia and she found carved coconut shells (top shelf, center). She uses battery operated flicker flameless votive candles that illuminate beautifully through the simple carvings in the coconut shell. Mary Ann has an eye for beauty and instantly knows how she'll use something when she decides to make a purchase.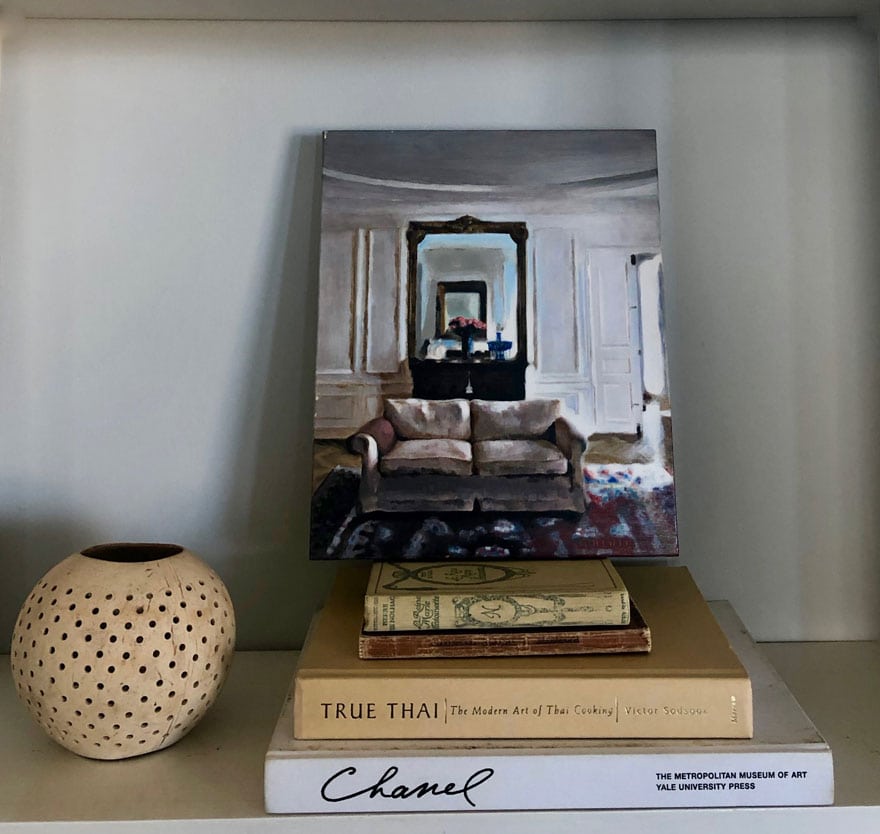 The Dining Room with views of the Golden Gate Bridge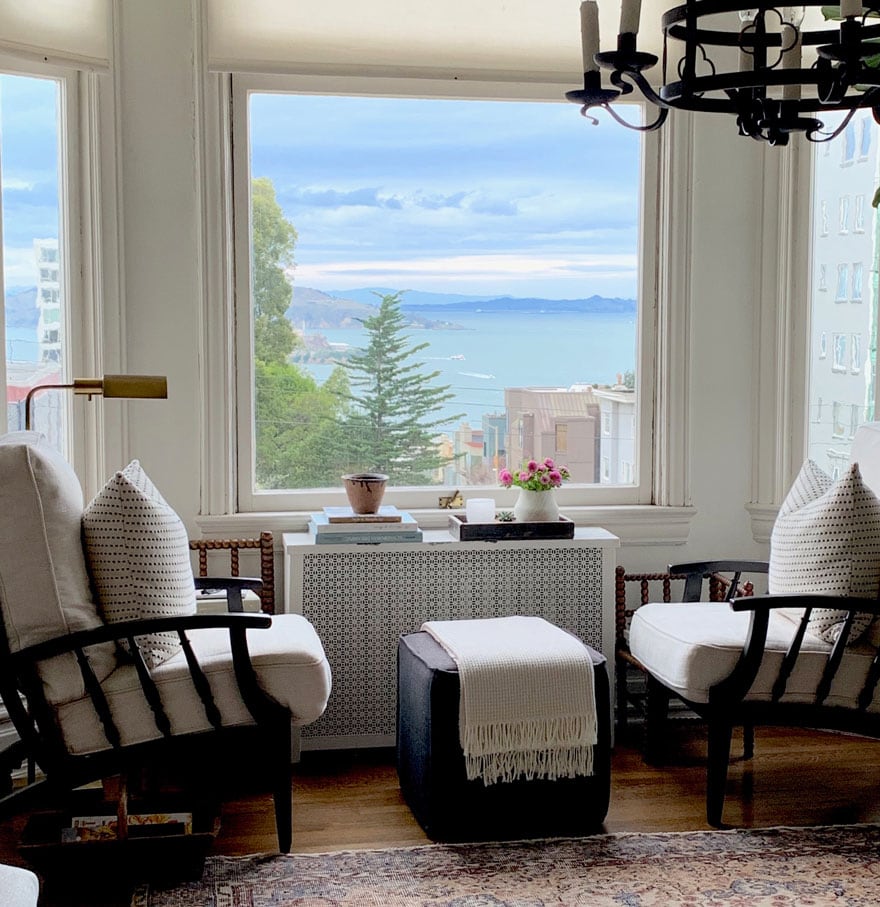 This is the end of the dining room where she has a pair of chairs and an ottoman perfect for having a casual meal or a snack so you can also enjoy views of the Golden Gate Bridge.
Mary Ann greeted me with a fruit & cheese board upon arriving at her beautiful home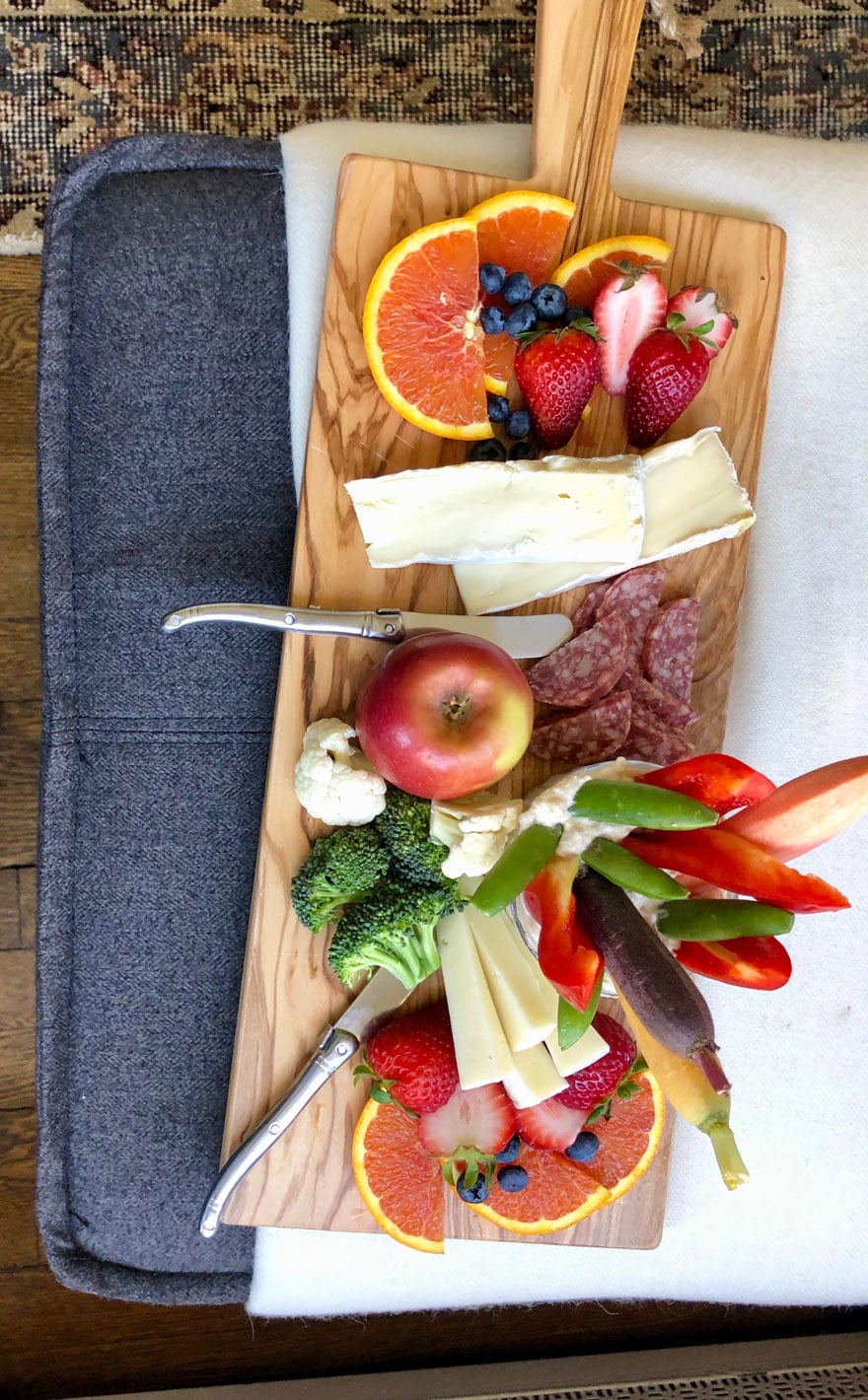 The table set for a ladies lunch
Mary Ann's Office
Mary Ann has a long narrow office with an incredible view. She has used the space wisely for working on design projects and storing samples.
The Galley Kitchen with Golden Gate Bridge Views
Her galley kitchen also has an incredible view. The light filled kitchen is warmed up with original art, cookbooks, fresh herbs, fruit and copper pans.
Colorful paintings, cookbooks and copper pans
The Master Bedroom
The master bedroom is a serene space with neutral linens from Serena & Lily. She updated her lamps with gorgeous new lamp shades and recently added the chests on each side of the bed that serve as night table and dressers for much needed storage.
the guest bedroom
The guest room in blue and white and a ticking stripe bed that coordinates with the bathroom. To make it extra cozy she has rugs on each side of the bed and hooks on the wall facing the bed making it the perfect guest room. She had a white noise machine, but I insisted that I loved hearing the cable cars..and I did! How romantic, right?
The Guest Bathroom
The bathroom with beautiful linens, soap and her collection of vintage clock faces.
Sunset Views
Can you imagine having this view from your living room? Thank you for reading about Mary Ann's beautiful home. Please visit Mary Ann's blog to see her menu for our ladies lunch right here. You can see more of Mary Ann's home on Cindy's blog, Rough Luxe Lifestyle and next month we will be sharing a home tour of Cindy's home and garden.
get the look