Today I am sharing the beautiful home and gardens of my friend Cindy Hattersley. Cindy and I met through our mutual friend Mary Ann of Classic Casual Home a few years ago. Mary Ann is also sharing Cindy's home, so make sure you check out her post today!
Cindy lives with her husband in a home in the Salinas Valley they built for their family over 35 years ago! Cindy and Steve met in college in their home state of Indiana. Their first chance at home building started soon after college graduation. They bought a" shell of a house" as Cindy's puts it and built the home where they started their married life. When they decided to make the move to California to join Steve's older brother, the home sold quickly and they soon found themselves taking on the project of building his brother's home. This launched Steve's construction company.
Cindy and Steve have a long shared interest in collecting antiques, home design, and gardening, and their beautiful home and property is proof of that!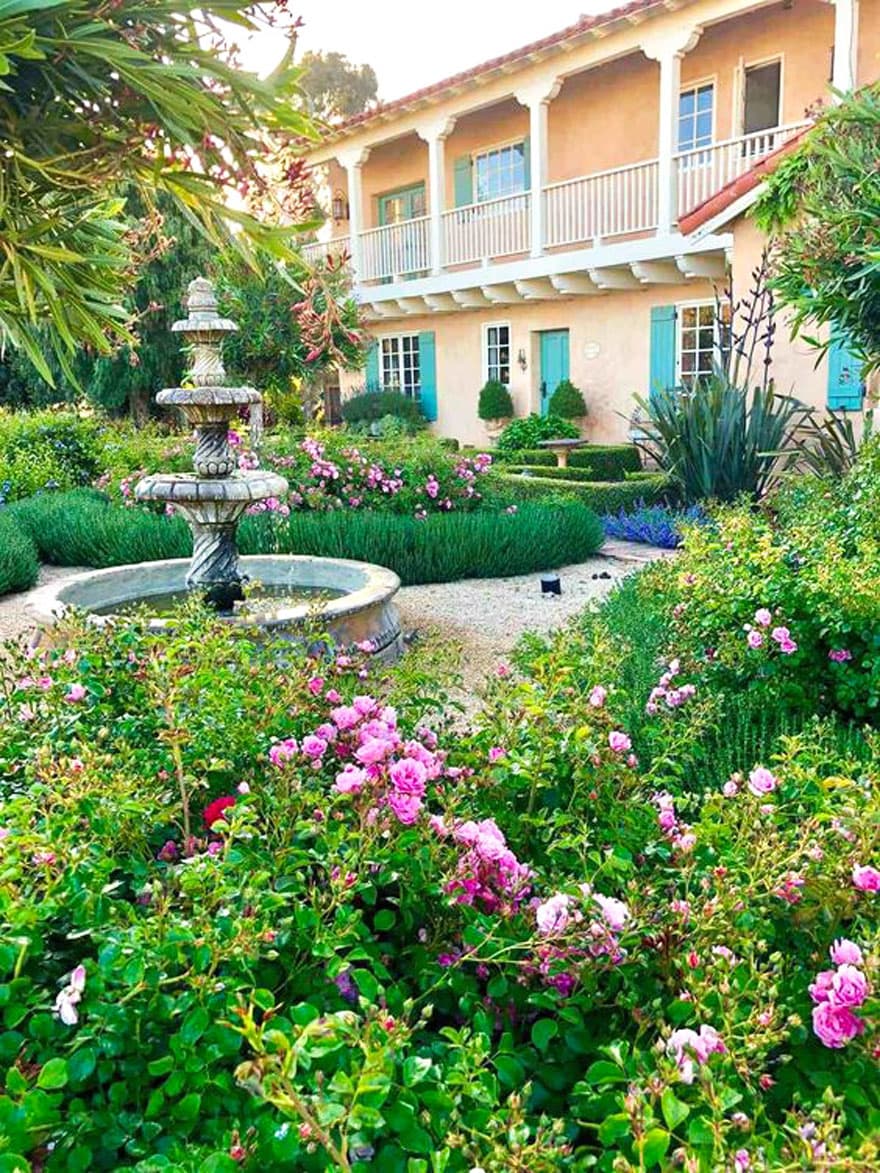 Cindy's home is considered a Monterey Colonial. Before building their home they made several trips to Santa Barbara where they loved the architecture. The style is characterized by two stories with a porch along the entire front.
Home Exterior & Gardens
Looking at their gardens and property now, it's nearly impossible to imagine that when they purchased the land it had no trees. Originally this garden was designed like a Spanish Mission garden. Cindy said this is because there are a lot of micro-climates in the Monterey Peninsula and the average temperature is around 60 to 75 degrees year round.
Cindy said there was a lot of trial and error and research that went into their gardens. This area gets a lot of fog and many plants, like bougainvillea that grows all over California, do not do well here.

I asked Cindy about the beautiful green color on her exterior door and shutters and she said it was a color she saw in France and knew she loved it. She said she has no idea what the color is anymore, but it has been color-matched many times!
Cindy said this barn was built originally for their horses when the lower barn flooded in the rainy season. They no longer have horses and this was only needed once for the original purpose. I love how the Wisteria frames it beautifully.
Front Door and Entryway
The iron work on the staircase, the exterior door hardware, and the fireplace screen were all had-crafted by a local blacksmith who has since passed.
The Kitchen
Cindy and Steve designed the cabinets and they were built by Steve's construction company, Hattersley Construction. The hardware is from Mexico, as is most of the lighting throughout the home.
Family Room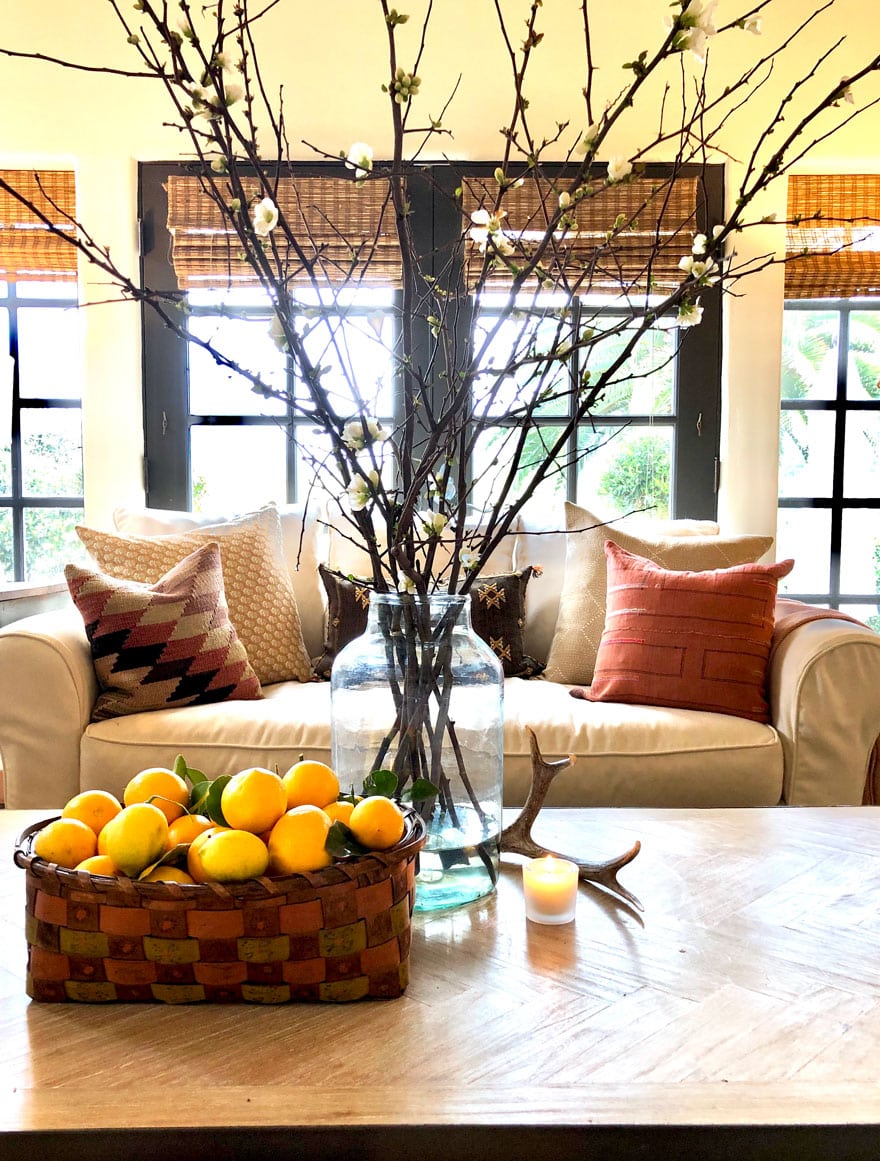 Cindy loves to bring in whatever is growing outside. Lemons, branches, flowers, whatever is in bloom.
Guest Room
Make sure to check out Rough Luxe Lifestyle where Cindy shares home decor, travel, and fashion. She's known for her Ageless Style Posts in addition to her interior design project that include homes, restaurants and a tasting room. Get more inspiration on her Instagram and Pinterest!
Shop the look
Cindy loves the collected look and her home is filled with interesting textiles, art and objects that are one-of-a-kind. She says her favorite local shops and where she can always find something include Perch Decor, Tancredi & Morgen and Center Street Antiques.
Make sure to check out Mary Ann's post today, she's featuring Cindy's home and I'm guessing she got photos of the gorgeous pool. Cindy's home is warm and inviting…it's true what they say…the nicest people are from the midwest!
Cindy's home has been featured in several local and national publications, like Tuscan Style (She says, "even though it's Spanish"), Better Homes and Gardens and on HGTV.