Today Mary Ann and Cindy and I are joined by some friends to talk about spring fashion. We are all over the world and so spring means something quite different to each of us. For me here in the northeast, spring is sort of the time of year that I pretend I'm not cold. I so badly want to ditch my winter coats and boots that I end up being underdressed and cold for at least half of the season.
It's my own fault, I love a trench coat. So if I would just remember to layer properly, grab a scarf, I would probably be ok! Trench coats are synonymous with spring at least here in New York/Connecticut. The Mac coat from Everlane is my favorite trench coat, but first, let me show you how I came to this conclusion.
A Vintage Burberry Trench from the 1980s
I have two Burberry trench coats. One is at least 35 years old and it's your traditional Heritage Kensington Trench Coat that for some reason we bought way too oversized back in the 1980s. I've been seeing them quite a bit lately in the city. And I'm guessing the young women I'm seeing wear them are maybe wearing their mother's Burberry from the '80s. They are wearing it very casually with athletic clothes and a hoodie. I've seen a few wearing theirs with Golden Goose sneakers. Can Someone please tell me why these are so popular? I was standing in a queue at a plant shop in Brooklyn last weekend and there was a cute little family ahead of us. And there they were, Golden Goose sneakers with her vintage (looking) Burberry trench coat layered over a hooded sweatshirt and worn with a baseball cap…oh to be young.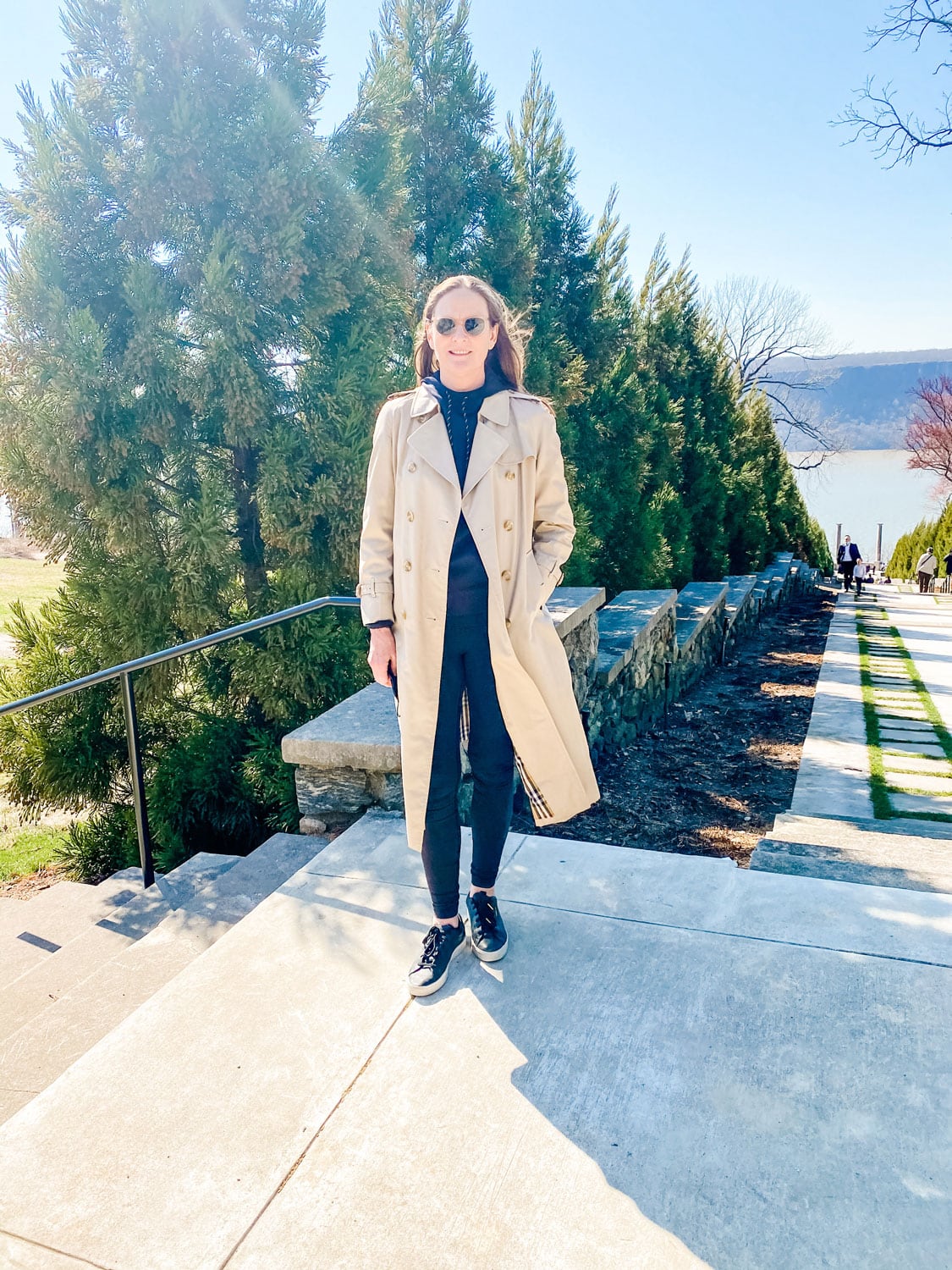 The above photos were taken at Untermyer Gardens in Yonker, New York. It is a spectacular park to visit in the summer and fall. It overlooks The Hudson River.
My other Burberry trench coat is at least 15 years old and I still pull it out every spring. It's double-breasted, making it not the easiest to wear, but putting on a lined Burberry coat always feels special. Wearing it with my favorite pair of Gucci loafers, Madewell jeans, this $15 striped t-shirt from Old Navy, and a cotton silk bandana from Rag & Bone which is on major sale!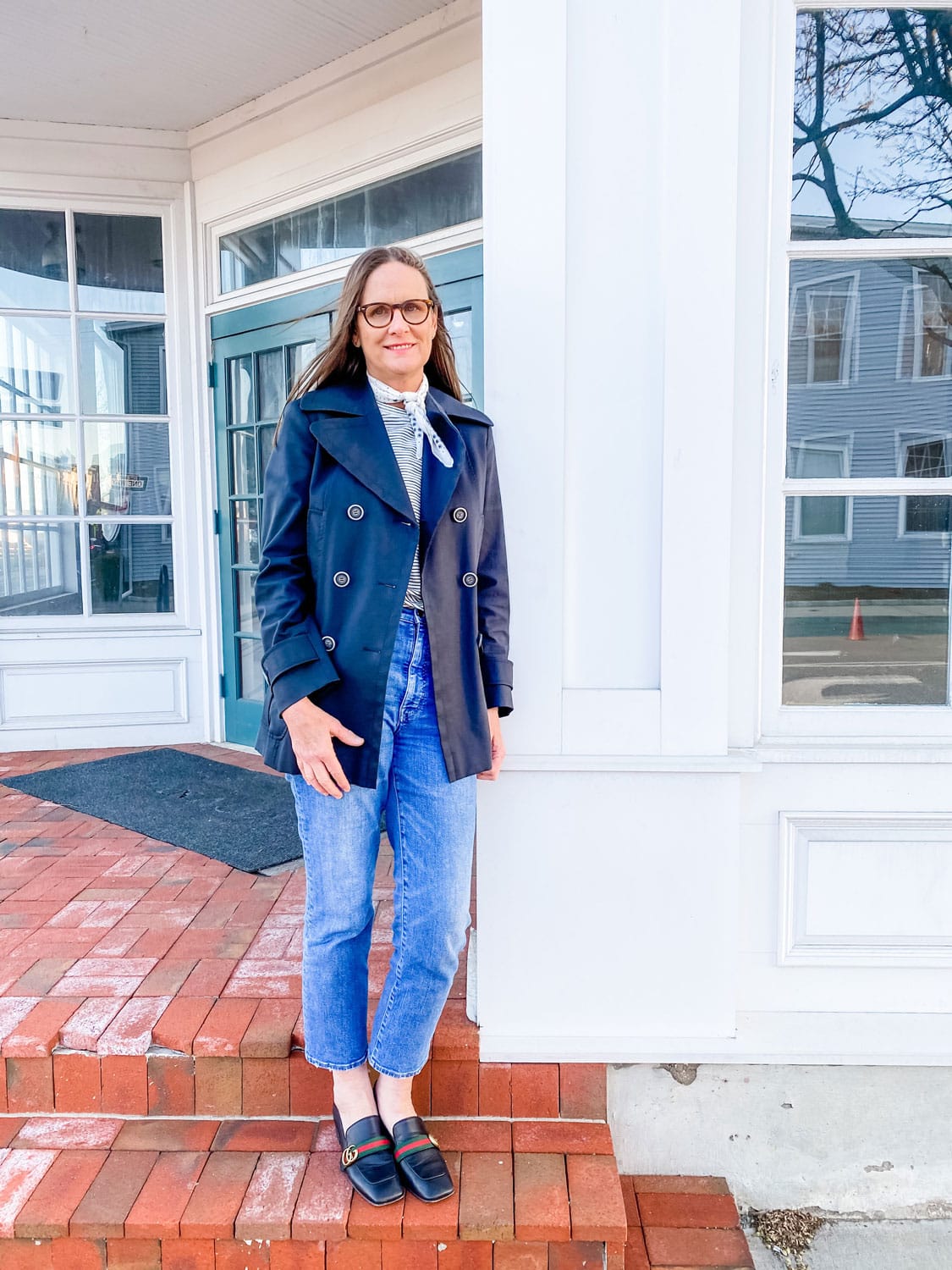 Wearing all black in spring, this must be New York!
The above photo was taken at the Unisphere at Flushing Meadows-Corona Park.
Last year I got a Mac Coat from Everlane and it's the perfect coat. The best part… it's only $130! This is my second season wearing it. I love the rust color. I think they call it cocoa brown. It looks great with denim, black and white jeans. I wore it with my new favorite spring pants (that are actually wool) but I think they look sort of spring-like with colors of pink and turquoise in the plaid. (sold out from Anthropologie) and as I mentioned earlier, spring is actually quite cold. This photo was taken at Queensbridge Park after a visit to The Noguchi Museum on a (you guessed it) brisk day!
What I love about the Mac Coat is that it's great to dress it up a bit wearing all black or I can wear it with a hooded sweatshirt, leggings or jeans, and a pair of sneakers. It's a great coat for travel and my preferred length for any coat. I think this mid-length coat is perfect for everyone. It is also available in a more traditional natural khaki color. I love this coat and it's the only coat I need! I highly recommend it!
This photo was taken at the market on Arthur Avenue in The Bronx.