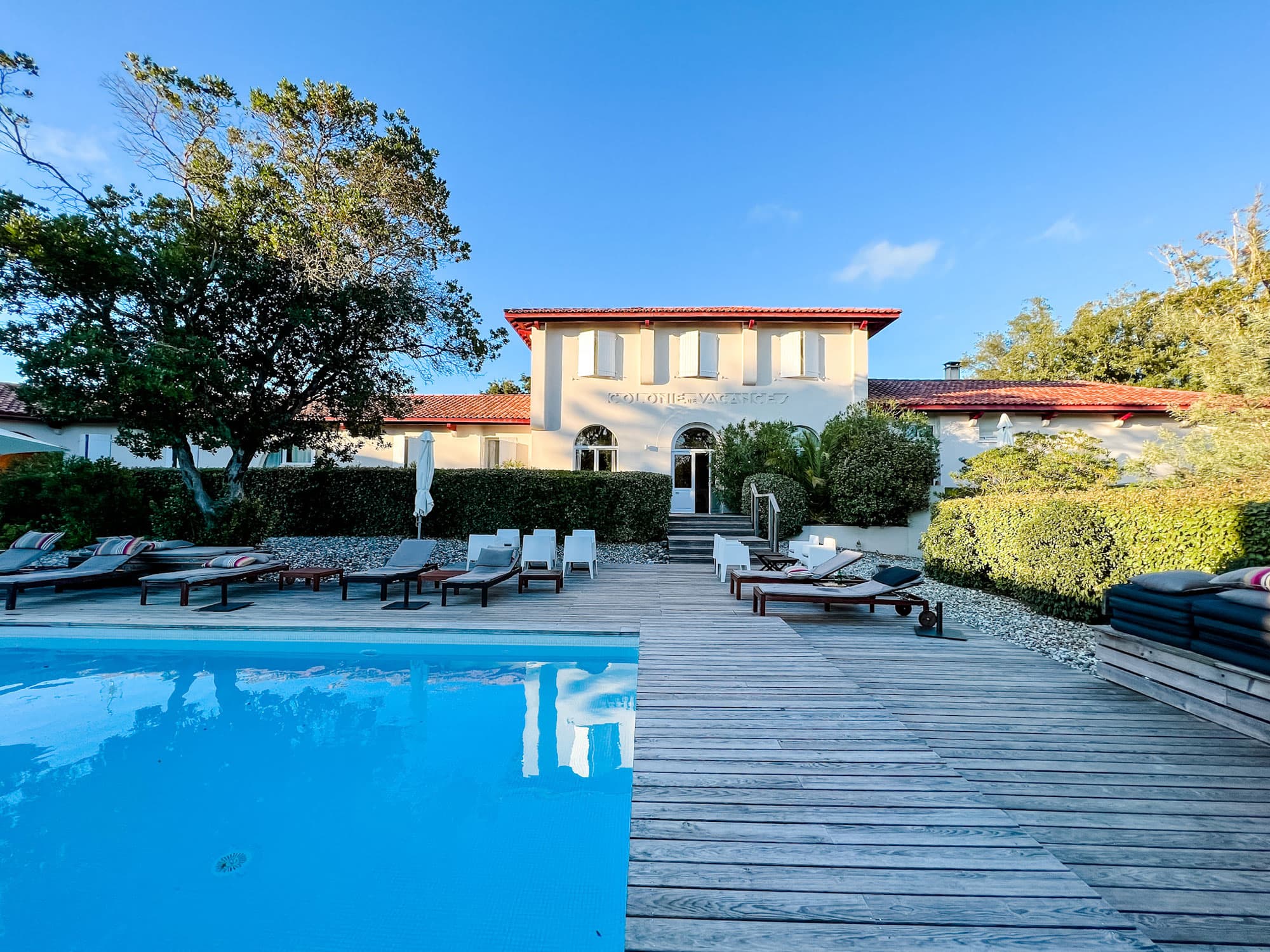 [mv_video doNotAutoplayNorOptimizePlacement="false" doNotOptimizePlacement="false" jsonLd="true" key="nwxom3rd0a2ughskw2ll" ratio="16:9″ thumbnail="https://mediavine-res.cloudinary.com/v1665320996/bov6xnaowkfkdo2tx59m.jpg" title="La Maison de le Prade" volume="70″]
Discover the best casual beach hotel in France, nestled in a small pine forest on the outskirts of Messanges, France. Almost exactly one mile from the beach (and what seems like in the middle of nowhere) is the quaint and charming La Maison de la Prade, a former summer camp renovated to become a 14-room boutique hotel. It's easy to lose yourself in the relaxed atmosphere and, for a brief moment, feel like you are off the grid and completely detached from the rest of the world. Life slows down a bit, in a good way – and by a bit, we mean a lot. It's the kind of place where you can lounge by the pool, head down to the beach, and on a clear summer night, you can lay down on a pool chair, gaze up and see nothing but a sky full of the brightest stars you'll ever see.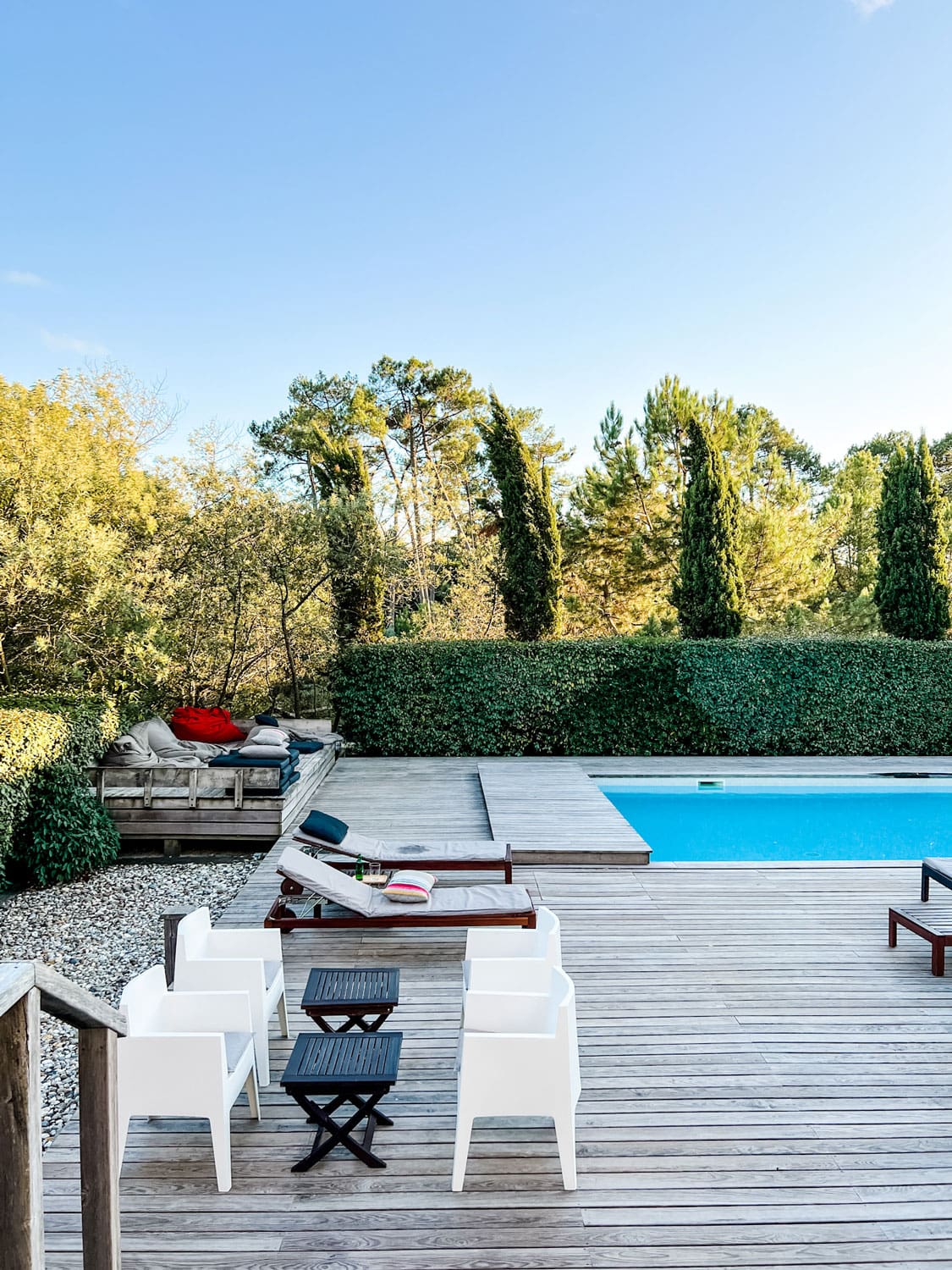 Whenever the summers permit, we like to take a trip to the south of France and hit the beach – not the Mediterranean side, mind you, but the less renowned Atlantic side, where we think some of the nicest beaches in the world are. It's a great place to escape, relax, surf a little and eat a lot of great food.
What really stands out for us is how clean and pristine the beaches are – aside from the fact that they seem to go on forever. Like back in the States, locals flood the beaches on weekends and bring their coolers, lunches, and snacks. Yet, you can't find a single piece of trash left behind after a busy weekend at the beach.
Why We Chose Messanges, France, and how we discovered the best casual beach hotel in France
Biarritz, known to most of us in the United States as one of the stops in the surf documentaries Endless Summer and Endless Summer II, has become one of our favorite family vacation spots. But feeling very adventurous after being grounded for almost two years and without our kids, who are now working and doing their own exploring, we decided to change it up this year and try something new. We were not disappointed.
We used Tablet Hotels to Help Find the Hotel
By now, you know we're huge fans of Tablet Hotels, which is where many of our accommodation searches begin once we've selected a destination. After scouring the Biarritz area without finding what we were looking for, we moved our search up the coast for about an hour and stumbled onto La Maison de la Prade, a lesser-known Tablet hotel and a true hidden gem.
What We Loved About this Casual Beach Hotel
Being endless romantics, we always have great expectations – sometimes larger than life. Some places live up to those expectations, and sadly, some don't. But upon arrival, to say we were surprised (blown away might be a more accurate term) is a gross understatement. It's not a fancy place by any means. That's what we loved most about it. But it also couldn't be more charming. From the cozy pool area to the small breakfast area to the rustic rooms and open-air hallways to the people who run and work at the resort, it's simply charming.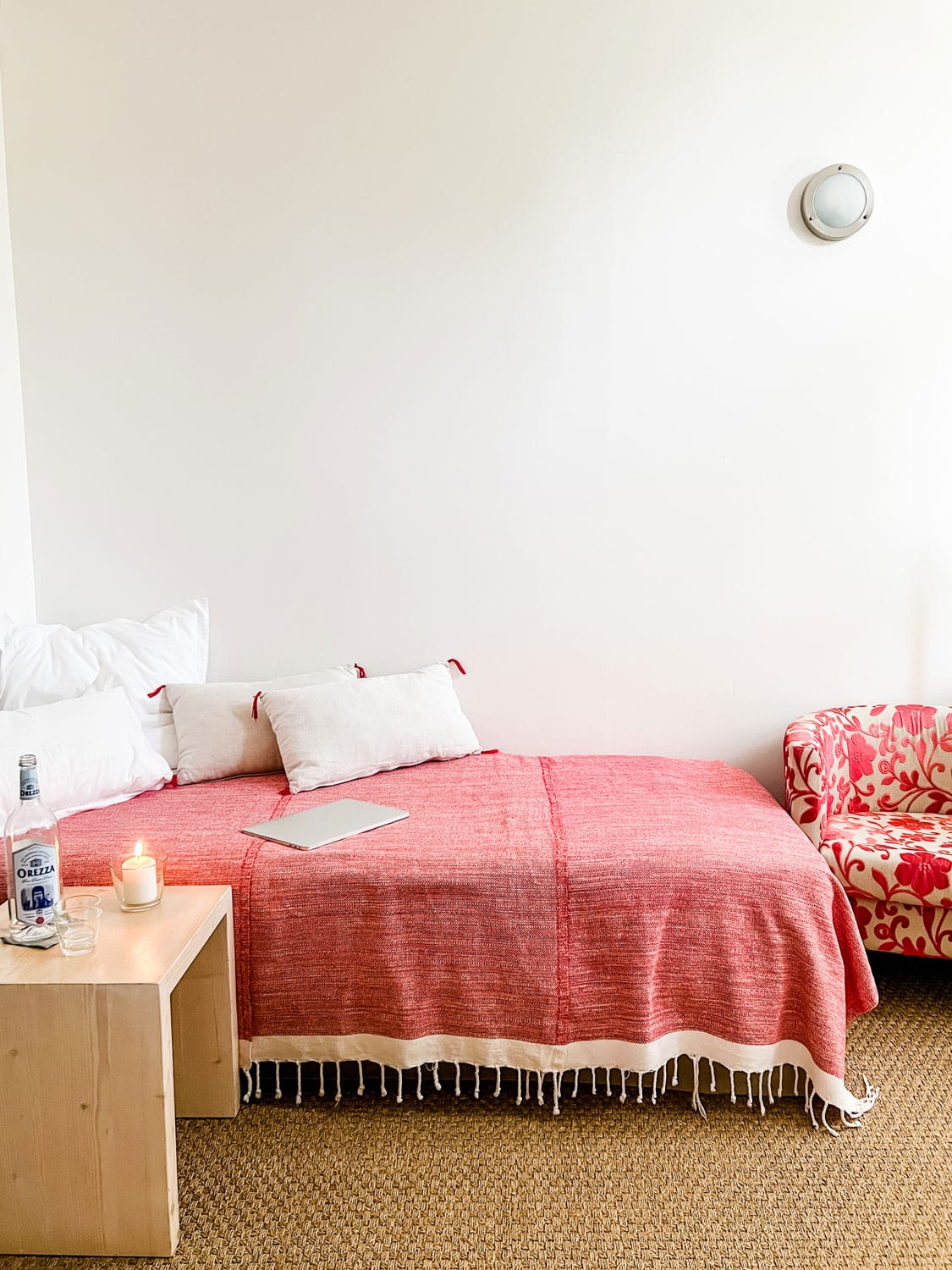 Once a Summer Camp, Now a Boutique Hotel
Discover the best casual beach hotel in France that still has a few hints of the former summer camp that it once was but is now a boutique hotel.
An Amazing Coastline of Endless Sandy Beaches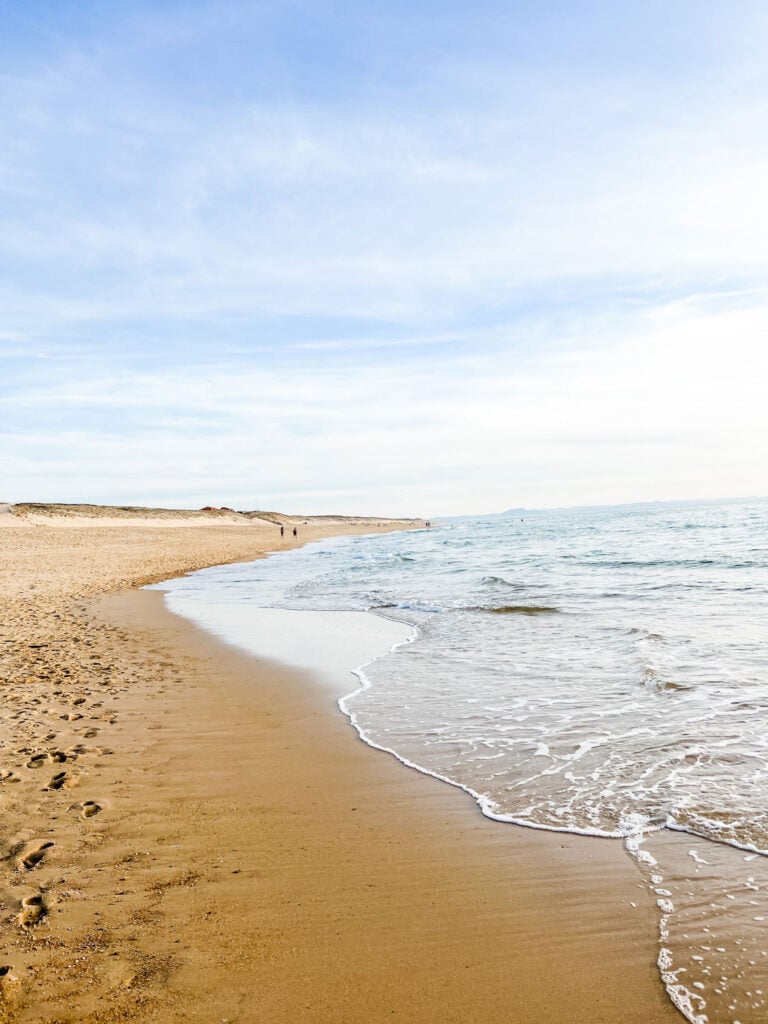 Once settled into our room with our own touch of decorating, we decided to drive the mile down to the beach and check it out. We entered a small parking lot and walked up the hill that leads to the beach. At the top of the hill, much to our surprise, we found miles of beautiful, endless sandy beaches that lead from the water up to the sand dunes and into the sandy pine tree forests. At the top of the hill also sits a little restaurant serving up all the local catches. We dined on giant prawns, freshly caught that day, along with a salad and Pommes Frites. After all, we were in France and felt obliged to dine on the local cuisine.
We Started Each Day with Coffee at a Locals Spot
Each day started with a search for coffee and some kind of delightful French pastry; always in a new village we hadn't yet explored. The days were filled with beach and pool time; every evening was spent exploring the tiny surrounding villages, looking for great food, and capping each night off with gelato.
Hossegor, France – Where the Real Surfers Surf and We Don't
Hossegor, a short 20-minute drive south of Messanges, is the quintessential surf town. The evenings are alive with locals and tourists strolling through the town, window shopping, and dining. The outdoor tables seem to spill out onto the streets, and the town feels very alive – even on weeknights, especially on weekends.
Much like the beach near where we were staying, Hossegor has a small parking lot and a wood plank path over sand leading up the hill and to the beach. And atop the hill sits another great little outdoor restaurant named La Graviere that serves tapas nightly. They are also open for breakfast and have great coffee, crepes, and pastries.
Why Go to the Beach in France?
Many people ask us why we go to the beach in France when there are great beaches in the U.S. It's a good question with a simple answer. Airfare to the west coast is roughly the same. On east coast beaches, you can usually find it for less. We'd need a rental car at all locations, so that's a wash. But when it comes to great hotels, Europe is far less expensive than the U.S. The U.S. dollar is pretty much on par with the Euro right now, making it even more intriguing. And then there's the food (also less expensive), the exploring and the romance of Europe and being someplace different, very different. In our minds, those things make the difference and keep us coming back time and time again.
So if you're in the mood to try something new and different, check out La Maison de la Prade and all the surrounding beach towns. Who knows, you might just find your new happy place.