You probably already know my friend Cindy, but on the off chance that you haven't been introduced to Cindy Hattersley of the blog Rough Luxe Lifestyle, Christmastime is perhaps the best time to do so. Cindy has the most beautiful home in California and her style of home decor and fashion is like the name of her blog– Rough Luxe Lifestyle. It's a bit rustic, but so luxurious at the same time. It's my favorite combination because all the details really shine against the more rustic (rough) elements. Take her beautiful monogrammed dining chair covers, for example. No detail is too small when it comes to creating a beautiful yet relaxed home…especially at Christmas. Cindy is also a wonderful gardener and uses elements from nature throughout her home. She mixes it all with comfortable furnishings that make you feel instantly welcome.
Cindy Hattersley
I met Cindy for the first time last March at a blogger conference in LA. She is just as warm in person as she is on the pages of her blog and instagram. Visiting Cindy's blog is like stopping by your favorite shop. You always leave inspired with an idea or two you can incorporate into your own home. Check out her holiday home tour posts here and here for more ideas!
Cindy's California home at Christmas
Cindy has an effortless way of incorporating the holidays into her home. She used her needlepoint stockings and hung them on her vintage green shutters. I love how she used ticking stripe on her chair cushions combined with Peter Dunham Kashmir Paisley print pillows. She mixes fresh greens and even a few faux berries for a little holiday mix on her twig table. Cindy says she doesn't mind mixing in a little faux if it looks real.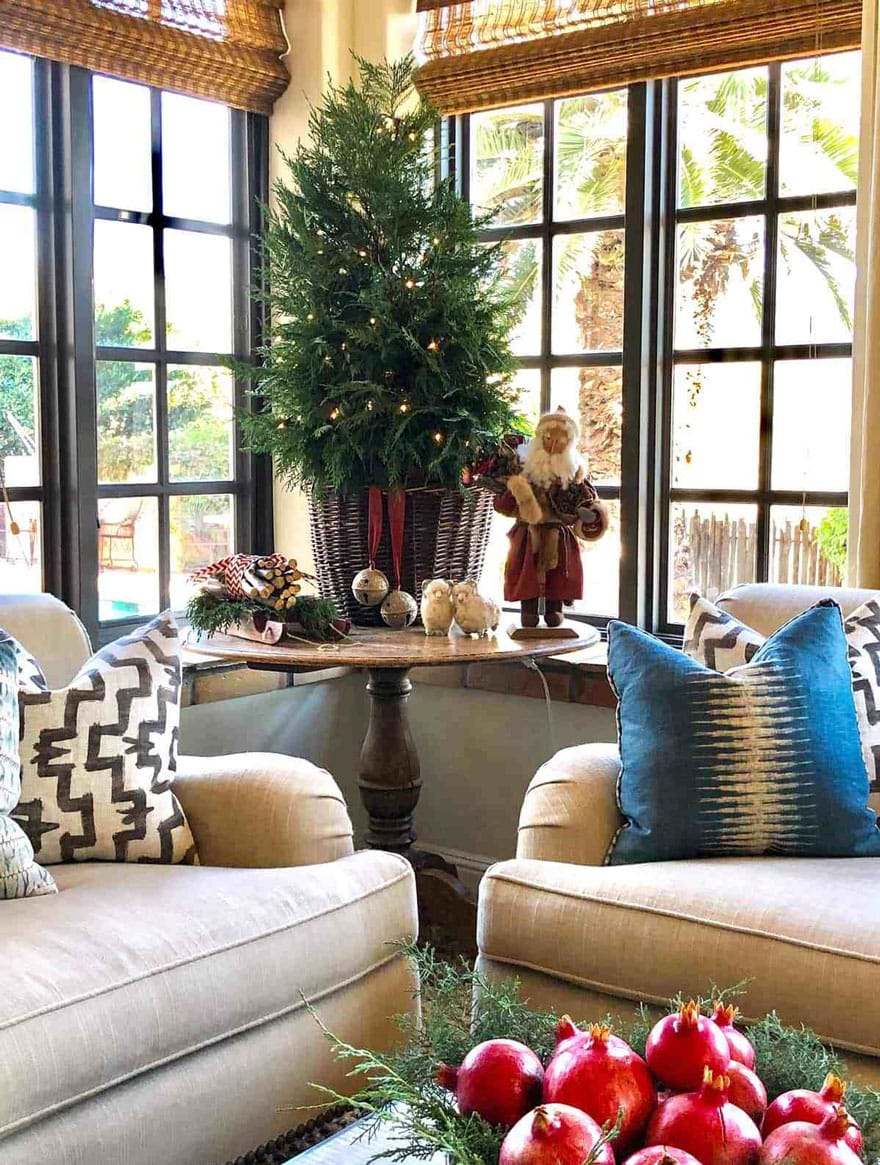 A small tree in a corner on a round table with white lights is a perfect addition in her living room. On the table she has fresh pomegranates in a bowl with fresh greens.
Cindy uses simple wreaths from Costco and adds a few foraged things like moss and berries (or maybe they are faux) with a wide piece of ribbon for a gorgeous arrangement above a pair of animal print ottomans and perfectly folded cozy throws.
Cindy uses a small round table and wicker chairs on a round sisal rug in her kitchen. Again, here she says she's using faux berries with fresh greens.
Another example of how Cindy incorporates rustic with refined is her chandelier. She uses fresh greens, silk ribbons and amaryllis bulbs in a stone planter with her monogrammed chair covers. No detail is overlooked at Cindy's. She also helps her son and daughter-in-law with decor at their craft beer and wine bar in historic downtown Salinas, California, Farmers Union Pour House
Another Costco wreath with vintage bells and a few foraged greens and pinecones. So simple, but beautiful. Make sure to check out Cindy's blog and website for more inspiration or for help with your next design project. Thank you Cindy for sharing your home and photos!