How to make Café de Flore's Croque Monsieur. This week's tartine was inspired by a late afternoon snack at Café de Flore during our recent trip to Paris.
As we were exploring the Saint Germain area, we ended up in front of Café de Flore. It was too late for lunch and too early for dinner. So we decided to stop in for a drink.
I know it's about as "touristy" as Paris can get (right up there with the Eiffel Tower), but it's always been one of our favorite places. There's something about it that just draws us in. Maybe it's because it has been around forever. Or maybe it's because of all the movies it's been in. In spite of being so "touristy," it just feels like a Parisian thing to do. And, after all, it is at one of the busiest intersections in the fashionable Saint Germain area and is the perfect spot for some of the best people-watching in all of Paris.
Although we were just going to have a drink, we couldn't help but check out the snacking menu, and we found the Le Flore – traditional Croque Monsieur. We decided to share it along with the complimentary black pepper chips they bring when you order drinks. It was the perfect snack on a lovely, warm, and sunny afternoon. And the people-watching did not disappoint.
Since it's Tartine Tuesday, we decided to recreate the Croque Monsieur. Though technically not a tartine, we're calling it that because the cheese is melted on the outside of the bread, and you eat it with a knife and fork – just like most tartines.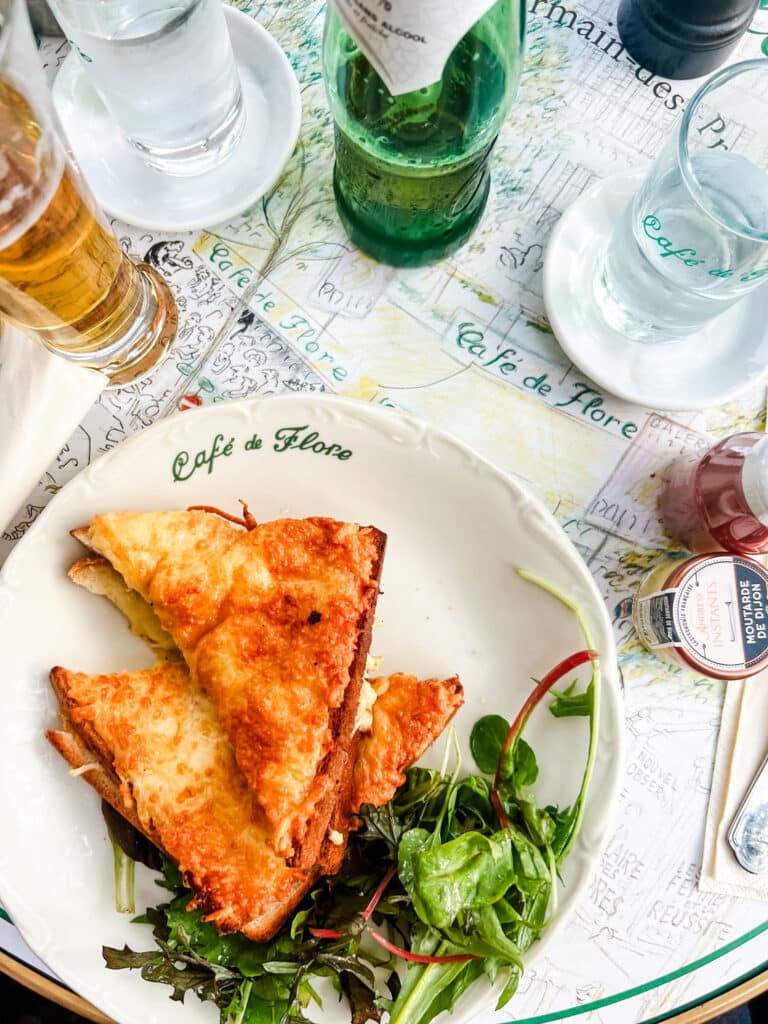 Why is Cafe de Flore so famous?
Back in the gloomy days of Paris during the German occupation of World War II, Café de Flore developed a reputation as one of the gathering places for the most forward-thinking people at that time – Picasso, Simone de Beauvoir, Trotsky, Descartes, and more. Much later, it attracted people like Bridgette Bardo, Quentin Tarantino, Yves Saint Laurent, and Givenchy. It was even featured in the television show Gossip Girl as a chic Parisian hangout. Most recently, it was featured in Emily in Paris.
A little history about the Croque Monsieur
Literally translated, Croque Monsieur means "Mister Crunch". And it's really a glorified grilled ham and cheese sandwich. But, you use really good ham and high-quality gruyère cheese along with a really good Dijon mustard. That all elevates it to Croque Monsieur status.
We usually buy the Jambon Royale from the Whole Foods deli when we make it home. But I'm sure your local deli has something very similar.
Two different theories on the origins of the Croque Monsieur
One theory goes that one day, a French worker left his lunch too close to a radiator, which melted his traditional ham and butter sandwich and became the first Croque Monsieur.
Another funny but more elaborate theory is that a French Chef ran out of baguettes and embarrassingly substituted toasted white bread. His guest loved the sandwich and told everyone about it, which became the first Croque Monsieur.
Regardless of its origin, it still remains one of my all-time favorite dishes.
What's the difference between a Croque Monsieur and a Croque Madame sandwich?
A Croque Madame is basically the same thing as a Croque Monsieur, except the Croque Madame has a fried egg, usually sunny side up, on top of the sandwiches.
Croque Monsieur recipe
The Ingredients for the Traditional Parisian Croque Monsieur
White bread (toasted)
Pieces of ham – good quality
Very good Dijon mustard
Gruyere or emmental cheese
Salted butter
The Equipment
Non-stick frying pan
Oven broiler
Cheese grater
How to make a Parisian Croque Monsieur
Pre-heat the broiler of your oven
Butter one side of each slice of bread
Place bread butter side down in a skillet/pan on medium heat and toast until golden brown and crispy on one side
On the non-toasted side of the bread, spread a thin layer of mustard
Place slices of ham (depending on thickness) over the mustard
Place another slice of bread on top (toasted side up)
Sprinkle a nice thick layer of grated gruyère cheese (slices of cheese work too, but they don't melt as evenly and therefore don't look as good as the grated cheese)
Place under the broiler until the cheese has melted and becomes brown in some places
Serve immediately with a side salad and/or some chips
Print
How to Make Café de Flore's Croque Monsieur
This Croque Monsieur is comfort food but with a personality and charm. Every time I make one it takes me back to warm, sunny afternoons in the bistros and and brasseries of Paris.
Author:
Prep Time:

10 minutes

Cook Time:

10 minutes

Total Time:

20 minutes

Category:

lunch
Good country white bread (toasted)
Pieces of ham – good quality
Very good Dijon mustard
Gruyère or emmental cheese (grated)
Room-temperature salted butter
Instructions
Pre-heat the broiler of your oven
Butter one side of each slice of bread
Place bread butter side down in a skillet/pan on medium heat and toast until golden brown and crispy on one side
On the non-toasted side of the bread, spread a thin layer of mustard
Place slices of ham (depending on thickness) over the mustard
Place another slice of bread on top (toasted side up)
Sprinkle a nice thick layer of grated gruyère cheese (slices of cheese work too, but they don't melt as evenly and therefore don't look as good as the grated cheese)
Place under the broiler until the cheese has melted and becomes brown in some places
Serve immediately with a side salad and/or some chips
Keywords: lunch, brunch, tartine, French, sandwich
If you enjoyed reading How to Make Café de Flore's Croque Monsieur, you may also like this one: