A home tour of a modern country estate in Connecticut.  I met Sarina while working at Serena & Lily, but we sort of "knew" each other through social media before meeting in real life.  It's funny how that works.  You meet people that you may have never met in real life circumstances, but oddly enough you have things in common way past living in the same New England town which may have been how you "connected" in the first place.  Sarina has lived all over the world and her home reflects that in a well-traveled sort of way.  Sarina worked in book publishing which took her to Europe several times a year.  She said each trip gave her the opportunity to pick up unusual and beautiful items that remind her of her wonderful adventures.  She finds the most exquisite shops and things. She posts them on her instagram Swisserfound.
Sarina has reimagined spaces in her home that were once painted dark red and yellow and opened up rooms by taking down walls and painting everything Benjamin Moore White Dove.  Her home is calm and comfortable.  Every detail is thoughtfully considered.  Whether it's a small brass figurine next to a vintage photograph of her maternal grandmother and her siblings taken in Manila c. 1932 or the coat closet in the foyer painted black–each space is intentional.
A powder room near the foyer is stunning painted in Farrow & Ball Off-Black (No. 57).  The fabric curtain was made by a Tessa Pimontel.  She described it as dyed and painted black on the edges to give it an ombré effect.  The brass accents and art placed exactly opposite the pedestal sink frames itself in the mirror beautifully.
Throughout the home are columns of all different styles and each displaying an object of importance.  The two above were found in antique stores in Hudson, New York.  It's these little details that make her home special and unique.  When I arrived at her home, her second grader was playing the piano, quite well I might add.  Her music room is a mix of styles.  She blends in modern pieces while still honoring the traditional architecture of the home.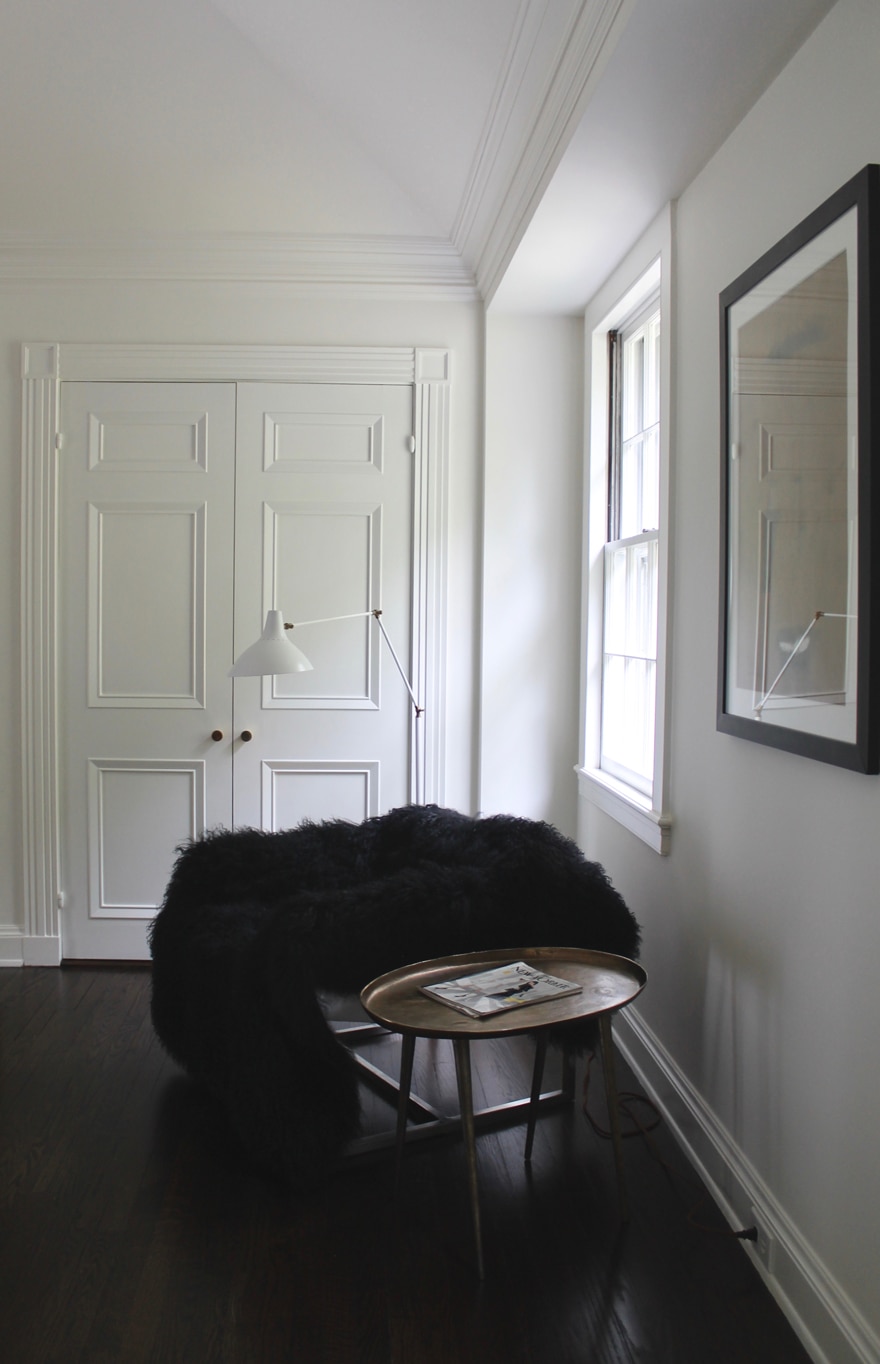 Sarina said she has always loved spaces with white walls and dark floors.  She kept the original doors in the house, but added simple modern hardware throughout the home.  She didn't want to take away the old charm of the home, but rather add to it with a more modern approach.  With everything painted white, it accentuates the homes original good bones.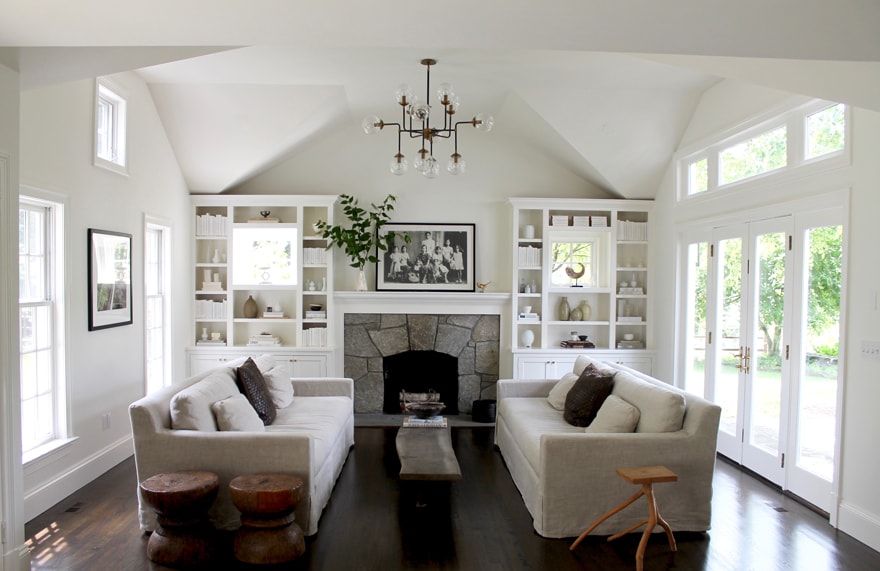 Sarina uses neutrals, white and wood to create a cozy, yet open space for her family.  The family room is drenched in light surrounded by gardens. The light streams in throughout the day with windows on all sides including windows inset into the built-in book cases on each side of the stone fireplace.

The book cases have Sarina's curated collection of objects and books that she has grouped together by color, shape and size. 
The dining room was once two rooms.  Both would have been still generous in size, but Sarina felt that one large room for the way they entertain would suit the family.  "The light fixture glows like little moons when it's on," Sarina said.  She later explained while walking the property that the branches in the dining room are actually a weed.  She loved the way it looked so allows it to grow so she can cut stems for the house.  There's something pretty cool about a tall pokeweed stem in a clear glass jar in a beautiful modern space.
Sarina said the concrete column was designed by Oliver Gustav and made in Vietnam.  The framed textile was purchased at Aero Studio in NYC and is a bleached cotton piece that was indigo-dyed to create the simple circle design.
The coat closet in the foyer is absolutely beautiful and again shows Sarina's curated collections.  On the shelf above coats hung on brass hangers is a collection of brass objects. The interior is painted black and the doors which once had fabric to conceal what was behind the doors was replaced with woven wire mesh to show what's inside.
A beautiful barn was added to the property.  She had Diptyque "Gris/Gray" Wood Fire candles lit as we walked through the main level and then the loft area of the barn.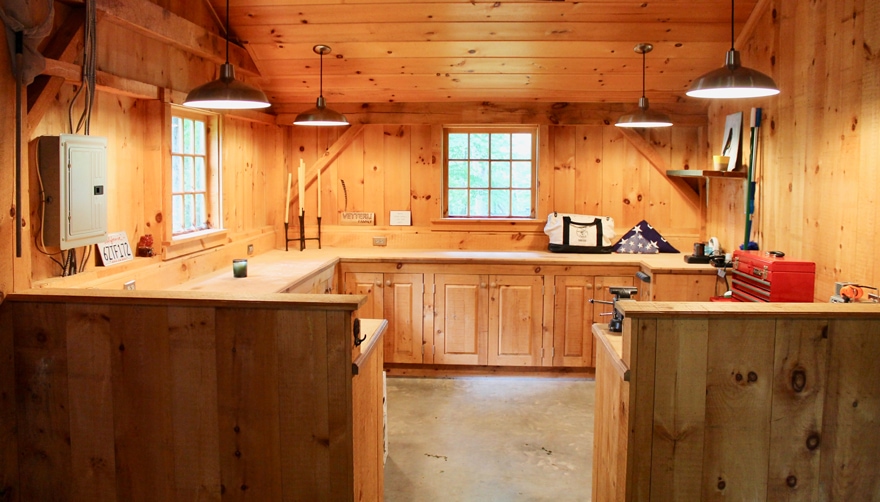 The property is beautiful and she said she has allowed the once vegetable garden become a pollinator garden.
Thank you Sarina for allowing me to share your home and garden and for your time.  Sarina has generoulsly provided a list of places she loves to visit on her trips into the city.  She says while the prices are sometimes astronomical for most pieces, she loves the beauty of each space and the array of goods on display and always leaves with new ideas.
Sarina's Top Five Home Stores she loves to visit in NYC:
SaveSave