Today I'm joining my friends Mary Ann and Cindy and a few friends to share some beautiful kitchens. The kitchen that I am sharing today is the kitchen of my friend Caitlin (@thepicketfenceprojects) who lives a few towns away from me in Fairfield, Connecticut. I adore her style and have featured their home a few times! She has a very clean and streamlined look throughout her beautiful home and her newly remodeled kitchen is no expectation. Caitlin's attention to detail is what makes it cozy and lived-in, but very intentional with every item that takes up residence on her wood open shelving or beside her sink. You can see more of Caitlin's house here, here, and here!
It's all in the details: A leather vase, glass jars, and a wooden bowl for the scrub brush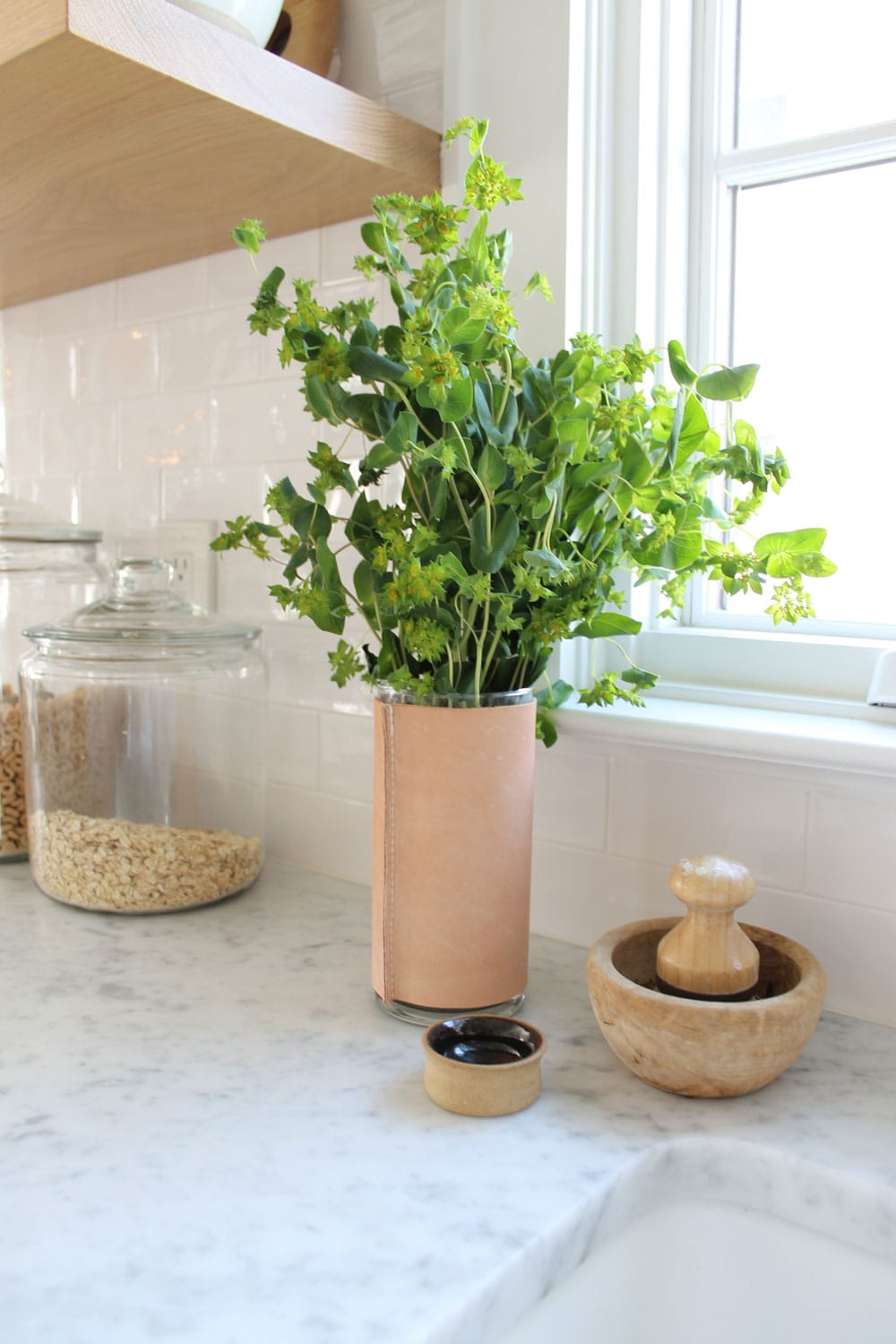 Counter Stools for the kids!
Warm Wood Open Shelving
Thrift store vintage finds and lovely things from a few surprising sources for a stream-lined collection of beautiful things
A Clean White Uncluttered Kitchen is like a breath of fresh air
It's all in the details . . .
A white built-in refrigerator and pantry
Farm Sink
Caitlin lives only about 20 minutes away, but since we are still in the midst of the pandemic, I asked if she wouldn't mind sending over the photos. I loved every detail and then had a shortlist of questions that she so generously answered so that I can share them with you!
A: What was the inspiration for your kitchen?
C: The Aesthetics of my kitchen design was inspired by so many beautiful spaces I come across on Pinterest and Instagram.
A: How did we even do it before Pinterest?! I used to have binders full of pages ripped from magazines!
A: What were the goals that you wanted to achieve from redesigning the space?
C: I knew I wanted it to be light and bright because it's a smaller kitchen. So for that reason, I chose open shelving by the sink so that that wall would feel less obstructed than it would if it were upper cabinetry. I also love how the oak shelves warm up the mostly white kitchen.
A: I love the warm wood shelves with the all-white cabinets and subway tile.
A: What do you love most about your new kitchen?
C: Overall, I am so happy with the end result of our renovation! Our former kitchen felt incredibly closed in and small. With little kids, that made daily life difficult. Removing the wall between the dining room and the kitchen changed all of that! Now, the flow is so much better and our kitchen feels much bigger.
Make sure to scroll to the bottom for a list of resources. Caitlin finds the most amazing things!
Make sure to check out these kitchen posts from my friends! So many great ideas from the best designers/bloggers!
Source List
Caitlin has provided resources for most of the items shown. There are a few things that are vintage or purchased at Home Goods or Trader Joe's. Like the little wood bowl holding her scrub brush. I love that Caitlin has a mix of old and new.