Many of you probably already know Kelley of Kelley & Company, but if you don't know her, let me introduce you.  I have been following Kelley's work for as long as I can remember.  I think maybe even before I started blogging.  Kelley's homes have been featured in several magazines over the years and she pops up on my pinterest feed several times a day.  The funny thing is that we've never really met…in person that is.  But I feel like I know Kelley.  She's warm, funny, and her style is lovely.  Last Friday we spoke on the phone and I sort of interviewed her, because if you're like me, you're wondering…how DOES she do it?
Annie:  "How would you describe your style in three words?"
Kelley:  "Only three?  That's all I get?  Collected, welcoming, personal."
I could not agree more!  Looking at her rooms, you definitely get the feeling there's collecting going on, and yet her way of pulling a room together never feels overdone, over-styled, or cluttered.  In fact, it's just the opposite.  Kelley has a way of making a room with a chippy painted piece of furniture, layers of textiles, and a collection of old pottery with wild flowers look clean, bright and airy.  That takes talent.
A few of Kelley's collections
Annie:  "When you go to flea markets, do you have any rules that you shop by?"
Kelley:  "I try to stay focused, but often get caught up with so much fun stuff.  I've had buyers remorse.  When I go to antique malls, I give myself the 24 hour rule. If I'm still thinking about it 24 hours later, I go buy it."
Kelley says she has a few collections.  For years she collected large clear glass apothecary jars. Right now she's loving Italian pottery. A beautiful collection of copper pots hangs above her stove on a simple rack with S hooks.  A vintage crock holds utensils and narrow marble shelves hold useful cooking things like olive oils, salt, pepper, and a few jars that give a little color in the kitchen.
Kelley said one thing she's been collecting for years are old signs.  She's been collecting them before most people even thought about using them in their homes. So not only does this mean she has some great ones, but that she didn't pay too much.  I love how she mixed a mid-century Saarinen table and modern chairs and light fixture, but what really makes this room interesting is the sign and the mix of old and new.  Kelley said she likes to group like things together, like the pottery.
Kelley does not shy away from mixing patterns.
Annie:  "What is your best find to date?"
Kelley:  "Nothing exceptional. Just small things with great stories and wonderful impact when placed in a room."
When I look at Kelley's work, I am struck by how there's an interesting combination of textiles or plants, something old, something collected, and something modern in each room.
Creative Work Space
Kelley uses a small desk (or console table) with clean lines, a modern copper desk lamp, wood shelves with photos, and art propped so that it can be changed out. She warms up the space with interesting plants and containers and adds small details like a crystal vessel with pens on the bottom shelf.
Kelley keeps things light and airy in the bedroom with her bed against a window and nightstands and lamps in all white.  She uses a combination of white bedding mixed with pastel pillow covers and an indigo throw.  The upholstered bench in gray velvet at the foot of the bed also adds texture.
An LA apartment on the 27th floor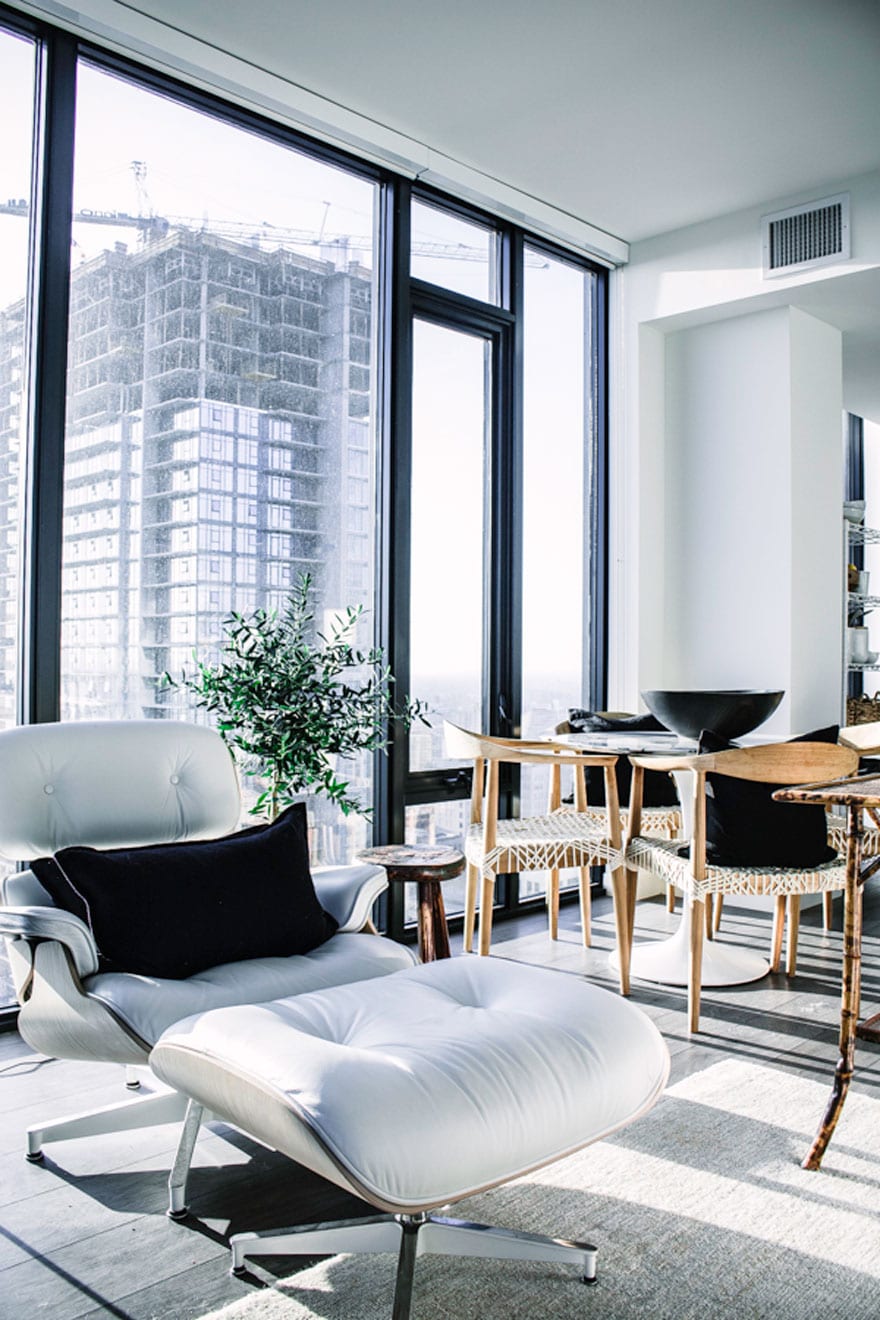 Annie:  "Currently you have a home in Santa Barbara and you also have a city apartment, do you have the same style for both?"
Kelley:  "Not really. Each house has its good and bad qualities so the key is to embrace both with equal effort. I do tend to like more collected houses, so I try to incorporate unusual items in every house.  I'm definitely not an off the shelf decorator and I really dislike the staged model home look.  A great example of someone who knows how to take the average and make it amazing with furniture and decor is Meredith Baer.  She is a home stager and is incredible at working a space to its every advantage."
Annie:  "How many homes have you done?"
Kelley:  "Too many."
Annie:  "What is the biggest thing you've learned from doing houses?  That is if you want to share."
Kelley:  "Sometimes the worst rooms turn out really wonderful.  Maybe because I spend more time trying to make them great."
Annie:  Has anyone influenced your style?"
Kelley:  "Menswear designers like Ralph Lauren.  The old Country Living style of decor with just less stuff.  I love the classic modernist creatives too.  Mid-Century is cool too, just in small doses for me.  I guess you could say I love all great design in small doses.  I'm especially drawn to minimalist pieces either very modern or primitive.  Rustic fabric.  I love anything with a sense of being handmade."
Annie:  "Looking at your gorgeous images, I'm imagining that your entertaining style is rustic casual?"
Kelley:  "I think everyone should have a great easy meal up their sleeve to serve 1 to 10 depending on the situation.  You can never go wrong with a great crispy chicken.  I make a salad dressing from scratch which is so simple and delicious when you make it fresh and serve it over simple fresh farmers market greens. And I just learned how to make the perfect martini.  It took practice, but I enjoyed it! Bakery purchased cheesecakes or carrot cake cupcakes are my go to dessert for anytime of year. You can add berries or edible flowers to both and it looks like you are a pastry chef!!"
Casual entertaining outdoors in Santa Barbara
Kelley entertains in her Santa Barbara garden.  Notice the string lights above and the pillows at every seat.  In several of Kelley's photos I noticed that she incorporated a small stool…here there's a tiny one right on the table!  Kelley could not have described her style in three words more perfect that when you look at this photo…Collected, welcoming, personal!
Thank you Kelley for taking the time to chat with me and share your beautiful homes with MLT readers. Check out Kelley's work here and follow her on instagram for daily inspiration.
You might also like this post!  Are you following me on Pinterest?
SaveSave
SaveSave