I'm joining a group of bloggers brought together by Rachel of Cherry Street Blossoms to share our second-hand, thrifted tables. While I love the idea of buying a few things for a gathering, there's also something that's wonderful about using what you already have …or some items passed down or found at a thrift store, a tag sale. Whenever I travel I often will search out a flea market to bring one little thing back. It makes the perfect souvenir or memory. They become those treasured items that something purchased new at Ikea or Pottery Barn will never be…and that's okay, but for this project…it's all about honoring the past.
The Participants:
Use what you have to create A one-of-a-kind table
I used a combination of glassware. The clear glasses were once my moms and she sent them to me about a year ago. I will always remember her fancy holiday tables using her china, silver and these goblets. The smaller amber glassware is from Goodwill for $2 (for all of them)! Several years ago we made birch branch place-card or photo holders and I use them at all my rustic tables.
Second-hand Vintage Glassware & silver soup spoons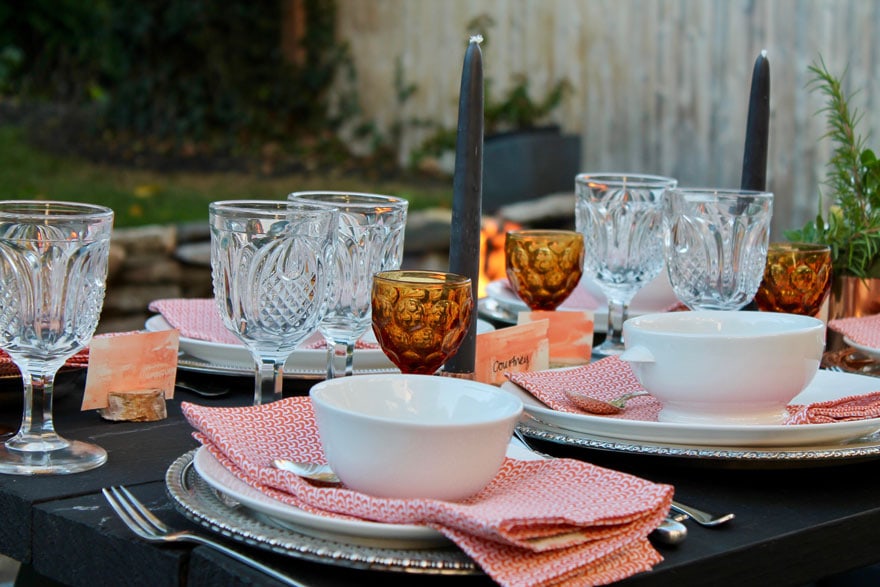 Foraged free flowers are always my favorite. Rosemary and sage grows wild this time of year and it's safe until the first frost. I love the texture and shapes of each and the table smells earthy…in a good way! Water color place-cards are another favorite thing I make for a lot of gatherings. Even for small gathering of six or eight, its's fun to have them on the table. I try to be strategic about where I place them, but I never mind if people change them up!
Second-hand Silver Trays as chargers & diy Birch branch place-card holders
I started with two round silver trays as wedding presents, then over the years my collection grew. Some were purchased for $2 at Goodwill, others maybe $7 or $8 at a thrift shop where the ladies had them all polished up. Each one feels like it has history! I once displayed them on a wall in our dining room.
Foraged herbs in a vintage copper vessel
The flatware is Dansk and we've had it even before we were married in 1987. My husband bought it at the Dansk outlet in Providence, Rhode Island and we've used it ever since. The soup spoons were collected one by one by my mom and each is a little different.
You might also like this post on how to create simple water color place-cards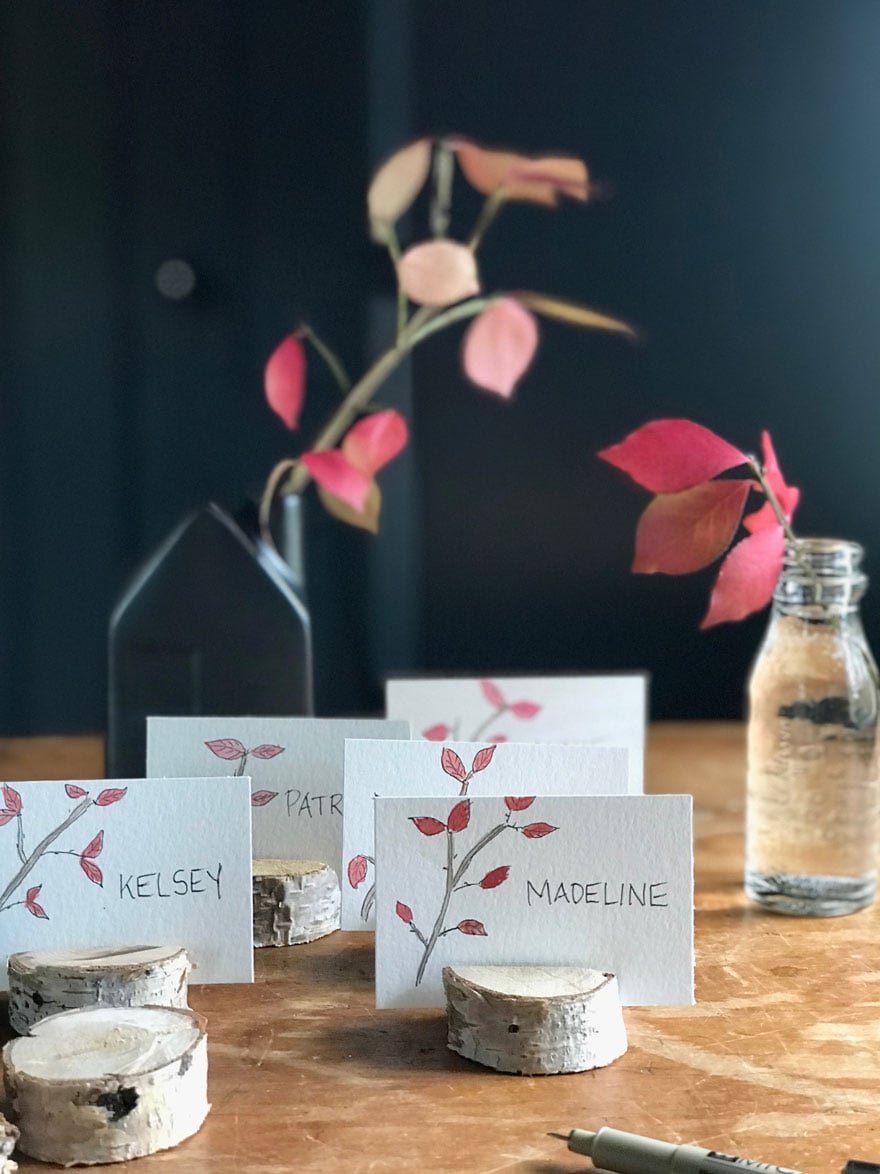 And here's a simple idea for a thoughtful hostess gift during the holidays or anytime!
Who doesn't love fresh baked bread? I make no-knead bread that is simple, but just takes time. You can wrap the bread in a new dish towel or you can make it in a Lodge Dutch Oven that becomes part of the gift. Or if you wanted to spend more, you could choose a Le Creuset
Print
Easy no-knead bread recipe
This recipe is based on the one found in the New York Times and then there's the one from Nesting with Grace and I also looked at Pinch of Yum. Basically, there's very little you need to do to make wonderful bread. All you need is a few minutes of prep time and a lot of waiting time.
Author:
Yield:

1

-

2

loaves of bread

1

x
Scale
Ingredients
3 cups

all-purpose flour

1 1/2 teaspoons

salt

1/2 teaspoon

instant yeast

1 1/2 cups

warm, but not hot tap water
Instructions
To Prepare the dough:
In a large mixing bowl, whisk together the flour, salt and yeast.
Stir in the water until a thick, messy dough forms. Trust me, it's not like making pizza dough where you get this nice smooth ball that you gently place in a bowl. Nope, it's not like that at all. It's a lumpy mix.
Place it in a large bowl and cover with plastic wrap and leave in a warm spot in the house. I sometimes have to turn my oven on 200º just to make sure it's warm enough. Leave for 12-18 hours or even overnight. but don't leave the oven on.
Prepare the dough for baking:
Preheat oven to 450º
Place one 6 quart dutch oven or two small 2-3 quart dutch ovens in to then oven to heat.
The dough should be big and have lots of little bubbles. Scrape it out onto a well floured surface and gently shape it (no-kneading) into a ball (or two if you are using small dutch ovens like I did).
While the pans are heating in the oven, place the dough ball(s) onto a square piece of parchment and cover with the plastic wrap again.
Bake:
Remove the plastic wrap and lift the dough with the parchment paper into the dutch oven.
Cover and bake for 30 minutes if you are baking one large bread or bake 20 minutes covered if you are baking 2 smaller breads.
After 30 or 20 minutes, remove the cover(s) and bake an additional 10-15 minutes so your bread gets a nice color and a little crispy.
Keywords: bread, home made bread, no-knead bread

Reader Interactions