When we bought this house I thought we would drastically change the fireplace. We envisioned a smooth modern concrete fireplace. But then we moved in and we quickly became comfortable with the natural stone.  We did not like the mantel..at all.  We painted the inside black which is something we always do. I think it makes a big difference for very little effort and cost. We used high-heat enamel paint from Home Depot.
Again, we thought we would do a new mantel, but then with so many house projects that needed our attention, we opted for painting it graphite using Behr paint and it made a huge difference. We're happy with it, at least for now.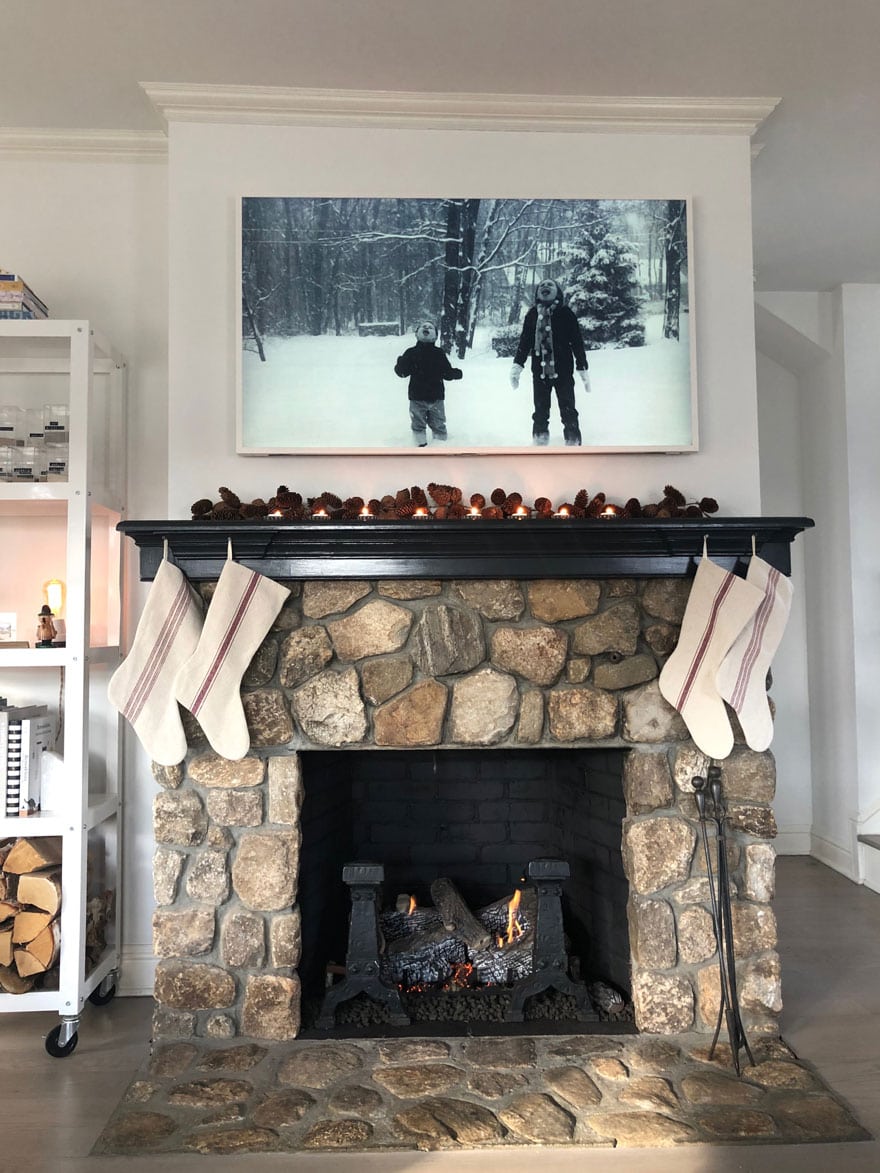 When I shared our fireplace during the Holiday House Tour post, my friend and real estate agent Anne Krieger texted me and said she also had blackening around the fireplace (see before photo below) and that a little bleach and water solution and wire brush should do the trick. Well…she was exactly right. Within a few minutes of scrubbing the stone, it was clean(er) and looks so much better. She said she sees it all the time in older homes. I love easy fixes!
A lot of people have asked if we would be painting this stone fireplace white. No, I don't think so. The New Canaan house had a raised hearth, the stone was massive and it was not original to the house, so painting it white like the walls and trim made it sort of blend in and added texture, but not color. This one feels right just the way it is…for now.
We are keeping it very simple this Christmas. I used the grain sack stockings we had from a few years ago. They are so lovely and still available on Etsy. Fresh greenery indoors just does not last, so I already removed it and placed a simple pinecone garland along the mantel and a row of mini steel tartlets that fit a votive candle perfectly. I must confess that I borowed this idea from The Cook's Altelier.
I hope you are enjoying the holidays! Are you following me on Pinterest? I have a board just for Stacked Wood & Fireplaces and one for Holidays. There's so much inspiration on Pinterest!

Fireplace Before
Amazing what paint can do to freshen things up. We painted the inside black, the mantel graphite and the walls Super White. We also had the floors sanded and stained much lighter.