Wow! Can you believe we have entered a new decade? Not only do we get to start a brand new year, but a brand new decade. I'm ready for the best year ever, but feeling incredibly thankful for the last one! Just a little over a year ago we moved into our new (old) house and have been working on making it feel like home ever since. Over the last year I've partnered with my favorite store, Serena & Lily to create a home that feels comfortable, but looks pulled together. I don't love an over "decorated" or over "designed" room and Serena & Lily has that pulled together, relaxed look that works for our casual lifestyle. I'm sharing some of my favorites from Serena & Lily and a few shots of some of the pieces I love and have moved from our former home into this home. Maybe not to the same room, but they have found their way into our new home and will find a spot in the next one as well!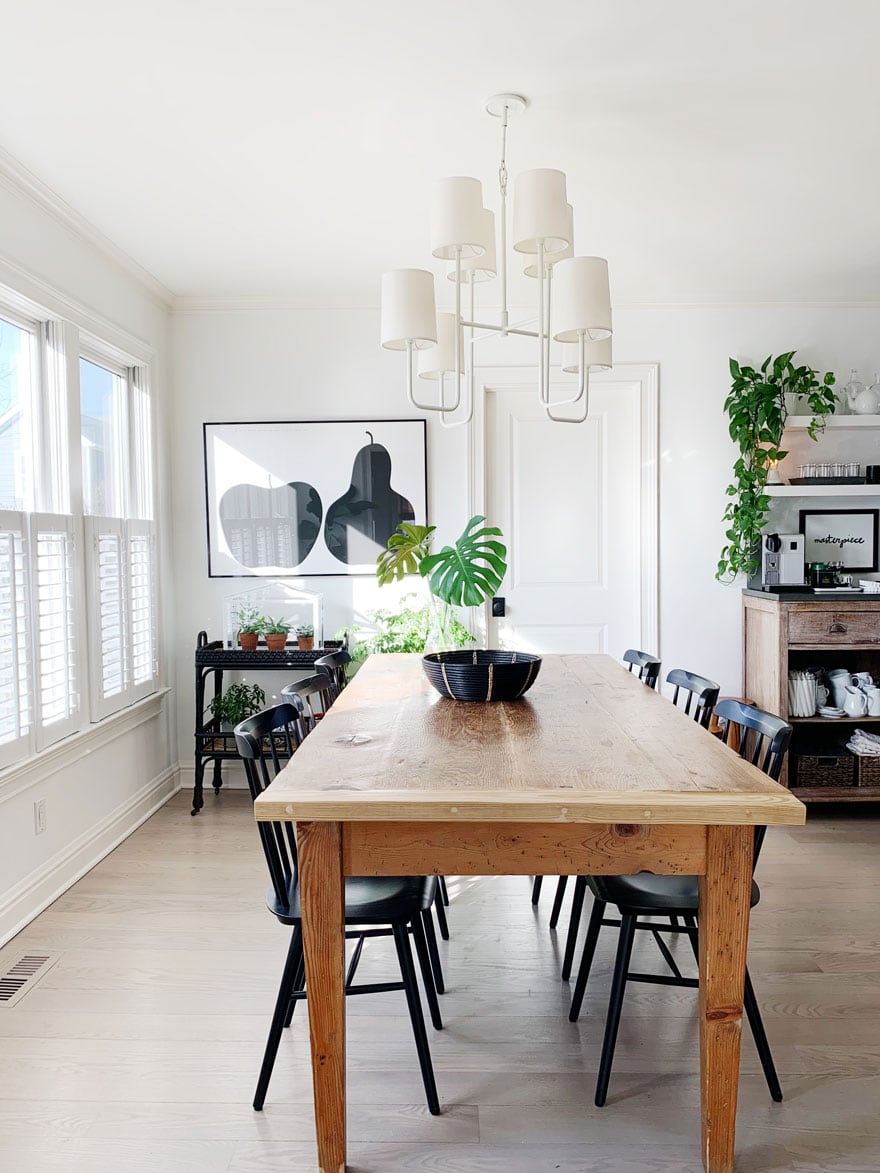 The Tucker Chairs work with every style. They are right at home with our farm table that Brent made over 30 years ago, but work equally as well with our Saarinen table. The South Seas Side Cart is a new addition and it's a perfect piece to use in multiple rooms. For now I'm pretty happy with it taking a spot in the dining room. I love the Fairmont Chandelier because it fills the room with soft light. In our last house we had a Santa Barbara pendant and I liked the look, but the light only filled the space under it, not the entire room. We have the Fairmont on a dimmer so we can turn it all the way up if we need light while working on a project at the dining room table, but most often it will be turned down very low.
Our dining room has a table we made over 30 years ago along with the Tucker chairs from Serena & Lily for a pulled together look that's simple and classic.
Fairmont Chandelier // 2. Dip-Dyed Stools // 3. Dip-Dyed Cake Stands // 4. Napkins // 5. Tucker Chair // 6. South Seas Side Cart
What I appreciate more now than ever about the holidays is time spent together with our family under one roof. Madeline loves to cook and our kitchen is just a little bigger than her NYC kitchen. She made this recipe for our New Year's Day breakfast. It's very rich, but worth bookmarking for the next holiday…it's that good! She's wearing her new flannel pajamas from Serena & Lily and right now they are on sale! They are quite beautiful…I think I need a pair too! Perfect to wear everyday or save them for when you are a house guest.
Favorite Flannel Pajamas, white sheets and a cozy rug
Dalton Flannel Pajamas // 2. Banff Rug // 3. Brass Table Lamp // 4. La Jolla Basket // 5. Solana Sheet Set // 6. Santa Monica Sheet Set // 7. Solana Duvet
Our new Mirabelle Rug! I can't wait to show you more of this room…which happens to include the painted stone fireplace! Soon…
A few Classics from Serena & Lily that I will always love!
What I love most about Serena & Lily is how they keep things fresh, but yet you don't feel like you have last year's styles. Many items come and go and that's great, but there are a few items that continue from season to season. For example the Camille pillows available in Ivory and Indigo have been around for a few years. Recently they added Smoke to the collection. The Round Jute rug under the Saarinen table used to live in Madeline's room, but now warms ups this corner. I saw this same rug with a Saarinen table on SF Girl and immediately went to the basement, brought it up and put it under our table. Sometimes you just need to see something for inspiration, which is why I love Pinterest! I have an entire Pinterest board titled: Inspired by Serena & Lily.
Favorite Rugs & Pillows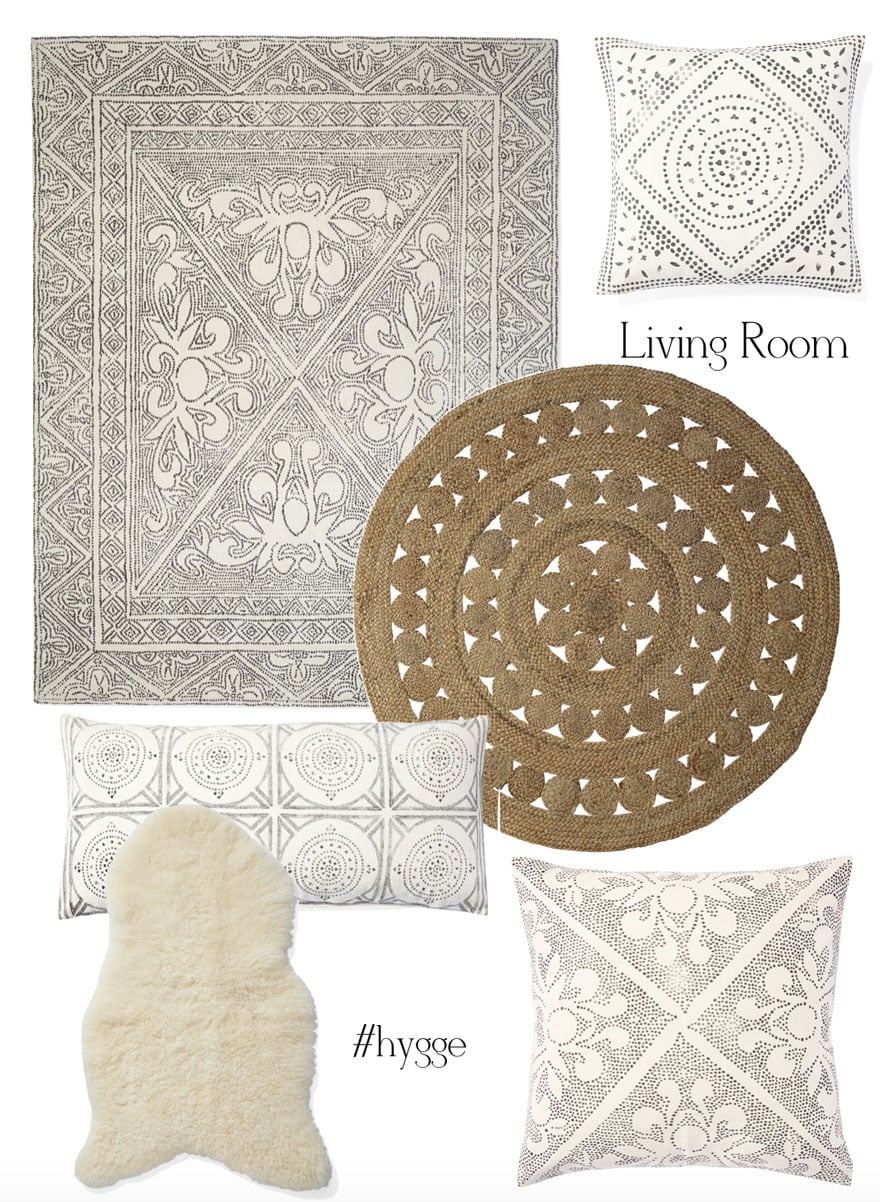 Mirabelle Rug // 2. Camille Diamond Medallion Pillow // 3. Round Jute Rug // 4. Camille Mosaic Lumbar Pillow // 5. Sheepksin // 6. Camille Scroll Pillow
The Mirabelle Rug in Ivory and Charcoal works as a neutral. Look how it works beautifully in Mary Ann's San Francsico living room!
Make sure to check out the Winter Tent Sale at Serena & Lily for 30-70% off.
SHOP THE POST